Images Depicted Range in Maturity & Container Size
Pots Not Included Unless Otherwise Stated
Peperomia Puteolata Plants for Sale Online
Peperomia puteolata or Parallel Peperomia produces almond-shaped leaves that are variegated with alternating stripes of dark and light green.
The leaves emerge in groups of three or four and stand out against the upright, reddish stems. An amazing house plant for a beginner grower. This semi-succulent would look great in a room with bright indirect sunlight. As the tropical plant grows, the stems have a dropping effect, making it great for a hanging basket. 
---
Growzone: 9-11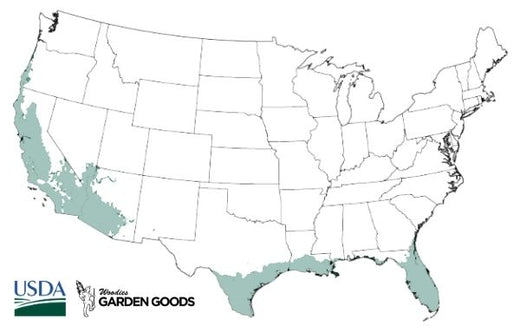 | | |
| --- | --- |
| Hardiness Zone: | 9-11 |
| Mature Height: | 11 to 18 Inches |
| Mature Width: | 30 to 36 Inches |
| Classification: | Colorful foliage |
| Sunlight: | Fluorescent to bright indirect |
| Habit: | Compact habit, densely branching, insignificant flower |
| Flower Color: | Green |
| Foliage: | Green with silver stripes |
| Soil Condition: | Likes to dry out some between watering |
| Water Requirements: | If unsure, do not water |
| Uses: | Attractive plant to be featured or in the background of any room in the house, does well with minimal care |
---
How to Care for Peperomia Puteolata
Before you buy a Peperomia Puteolata, make sure to read about the recommended care instructions to keep this plant healthy and thriving.

How do I fertilize Peperomia Puteolata?
Indoor houseplant fertilizers fall into two groups: water soluble (liquid quick release), and granular, slow release fertilizers. Jack's Classic Indoor plant food works well as a powder, quick release fertilizer that is mixed with water. The fertilizer provides nutrients to a plant that has been in a container for an extended time. On the other hand Osmocote Indoor/Outdoor is an option as a granular, slow release fertilizer that can be applied while potting and planting. Any type of fertilizer offers nutrients that help plants with the transition to a new environment.

What Is The Best Soil For Peperomia Puteolata?
Houseplants tend to want a well balanced mix of peat moss, perlite and vermiculite. Typically, any reputable potting mix will work well and includes those ingredients. Although, adding a slow release fertilizer while planting is a good way to help the plant thrive in the transplanting transition. However, if the soil you've chosen already has fertilizer, there will be no need to add.

How Do I Water Peperomia Puteolata?
The Peperomia Puteolata should be watered relatively infrequently, as the plants like to dry out some between watering. The easiest way to tell if a plant needs to be watered is by the weight of the container. Sometimes, water pours out of the container without being retained by the soil. Soaking the dry soil in a small dish or saucer can be a useful way to solve this problem. It is important not to water the foliage of these plants, or to over-water them. Over watering will lead to leaf damage or plant death.

What is the best light for a Peperomia Puteolata?
Peperomia Puteolata is easy to grow indoors. Simply place the plant where it will receive bright but indirect light, watering regularly and shielding from the direct sun.
---
Frequently Asked questions
Are peperomia puteolata plaants safe for cats?
Why is my peperomia puteolata dropping leaves?
What is the best method to propagate a peperomia puteolata?
---
Other Products you may be interested in
---
Customer Reviews