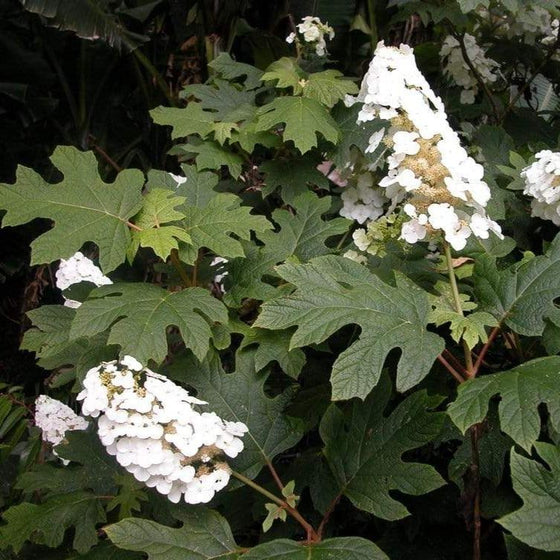 Images Depict Mature Plants
Snow Queen Oakleaf Hydrangea for Sale Online
Snow Queen Hydrangea is an oakleaf hydrangea with fragrant, white flowers and dark green oak leaf foliage. It is a multi-stemmed deciduous shrub that produces show-stopping 8-inch long, conical flower clusters.
Boasting relatively long bloom times, you will enjoy the Snow Queen's large flower heads from early summer through to the season's first frost. Oakleaf hydrangeas are ideal for foundation plantings and shrub borders and their clippings are elegant interior design accents.
Botanically referred to as 'Hydrangea Quercifolia Snow Queen,' this flowering shrub enjoys conditions of part shade for best results. Hydrangeas tend to be very adaptable and hardy garden plants, and this versatile beauty can also tolerate full sun if needed.
The showy plant typically grows 4-6 feet tall when planted in organically rich soil. Additionally, the Snow Queen appreciates a well drained soil and pruning in early spring. This hydrangea also blooms on old wood, so the buds will form for the next year at the end of the bloom season.
Snow Queen Hydrangea's deeply lobed leaves have an upright broadleaf growth habit. The oak leaf-shaped foliage produces outstanding fall color and the showy flowers take on purplish-pink hues when dried. Cut flowers are beautiful in vases and the exfoliating bark is attractive if you are looking to add texture and life to your home decor.
This exceptional fragrant shrub is native to the southeastern United States, where it is found growing along stream banks. It is equally stunning in a mixed border or woodland setting. Snow Queen Hydrangea are typically happiest when planted right at the edge of the woods just under the canopy of larger trees.
---
Growzone: 5-9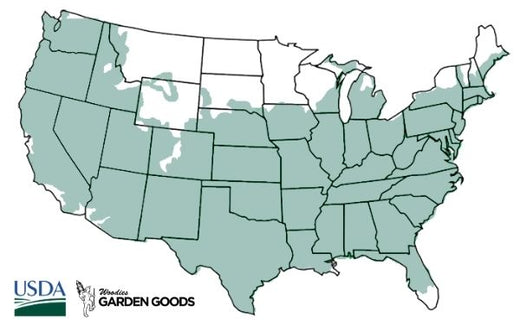 | | |
| --- | --- |
| Hardiness Zone: | 5-9 |
| Mature Width: | 5 to 6 Feet |
| Mature Height: | 4 to 5 Feet |
| Classification: | Broad leaved deciduous shrub, mid-summer flowering |
| Sunlight: | Part sun to part shade |
| Habit: | Upright, densely branched |
| Flower Color: | White flowers in summer turn rose-pink in fall |
| Foliage: | Dark green turning reddish bronze in the fall |
| Soil Condition: | Any well drained soil |
| Water Requirement: | Water well until established |
| Uses: | Extremely attractive when used as a focal point in the woodland border, mass planting, or a specimen planting |
---
How to Care for Snow Queen Oakleaf Hydrangea
Be sure to read our planting instructions to ensure a healthy and happy plant for years to come!

What type of fertilizer should I use for my Oakleaf Hydrangea?
Snow Queen Hydrangea grows best if they are fertilized once or twice in the summer. Although some authorities recommend special fertilizer mixes to get the maximum results, hydrangeas do amazingly well with a more relaxed approach. Either chemical fertilizers or organic matter can be used successfully. Espoma Plant-Tone is an excellent multi-purpose fertilizer that you might want to consider keeping on hand to keep your garden healthy and thriving.

How do I prune my Snow Queen Hydrangea?
Pruning has been described as a "combination of art and science." I find pruning to be one of the most relaxing, yet rewarding chores in the garden. The most important reason for pruning hydrangeas is to improve the overall health of the plant which in turn will reward you with a plethora of blooms. Hydrangea Snow Queen likes to be pruned to 18 to 24 inches a few times in its life. This allows the plant to regenerate and produce far more new growth. When this is done correctly, you'll notice an increase in flower production as well as increased vigor.

How do I plant my Snow Queen Oak Leaf Hydrangea?
Oakleaf Hydrangeas can thrive in USDA Zone 5-9 in part shade and moist soils. We suggest when planting your newly purchased shrub, that you dig a hole twice as wide as the root system but not deeper. Depending on the quality of your existing soil, you may need to add a locally sourced compost or topsoil to the back-fill soil.

What type of mulch should I use for my Hydrangea quercifolia?
We highly recommend that you mulch your Snow Queen Hydrangea with either a ground hardwood mulch or a ground cypress mulch depending on your local availability. Any type of mulch will do but cypress or hardwood mulch will be of a higher quality and provide better nutrition overall as they breakdown.
---
General questions
What do the pot sizes mean?
---
---
Other Products you may be interested in
---
Customer Reviews