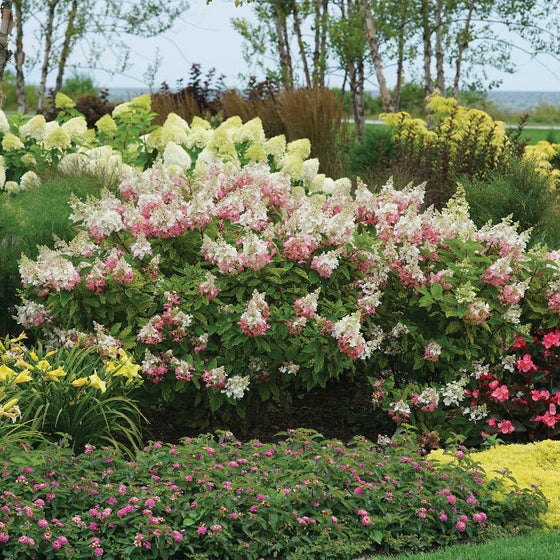 Images Depict Mature Plants
Pinky Winky Hydrangea for Sale Online
The Pinky Winky Hydrangea is a flowering shrub that's just as unique as its name. These beautiful hydrangeas' large panicles open white in the mid-to-late summer and gradually turn pink. These two-tone flower colors set this Hydrangea apart from its cultivar.
Botanically referred to as Hydrangea Paniculata, the Pinky Winky Hydrangea is a repeat bloomer giving you lovely color from mid-summer to early Fall. With full colorful blooms reaching up to 16 inches in length, the Pinky Winky shrub will take your breath away and make for a stunning summer garden.
Ideal care for these Proven Winners shrubs includes part sun to full sun and loamy, well-draining soil. However, the great thing about Hydrangeas is their high tolerance to various conditions! Your Pinky Winky plant can also tolerate partial sun conditions and is adaptable to many soil Ph levels. The plants' easy care regimen and adaptability make them ideal for first-time gardeners.
As an added tip, we recommend pruning your deciduous shrub in late winter or early spring. Feeding your shrubs with a slow-release fertilizer in the spring and summer growing months will aid in promoting optimal growth. Ideal for USDA growing zones 3-8, this pink plant boasts long bloom times, gorgeous flowers, and an easy-to-grow attitude!
These shrubs are popular for use as border plants, as well as in mass plantings and as focal point specimens. But regardless of how you choose to plant your shrub, the Pinky Winky Hydrangea will shine wherever it's planted. The large pink and white flower heads make for a gorgeous cut flower to enjoy throughout the season.
---
Growzone: 3-9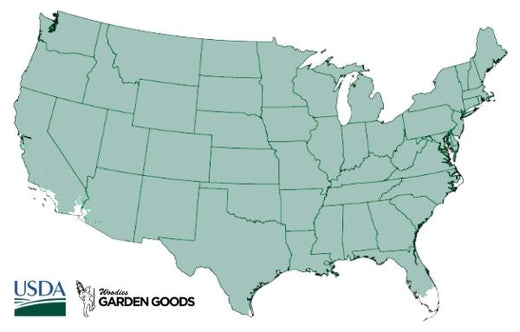 | | |
| --- | --- |
| Hardiness Zone: | 3-9 |
| Mature Height: | 6 to 10 Feet |
| Mature Width: | 6 to 10 Feet |
| Classification: | Flowering shrub |
| Sunlight: | Full sun to partial shade |
| Habit: | Mounded |
| Foliage: | Green |
| Flower Color: | White and pink |
| Soil Condition: | Any well drained soil |
| Water Requirements: | Water Frequently |
---
How to Care for Proven Winners® Color Choice® Pinky Winky® Hydrangea
Be sure to read our planting instructions to ensure a healthy and happy plant for years to come!

When Should I Fertilize my Pinky Winky Hydrangea Shrub?
Your Pinky Winky Hydrangea shrubs will grow best if they are fertilized once or twice in the summer. Pinky Winky shrubs naturally have pink flowers; however, their colors can be enhanced when you add a soil acidifier, such as Espoma, to the soil. Some experts recommend feeding your Hydrangeas with special fertilizer mixes to ensure your plant receives the best nutrients, but your Hydrangeas will thrive even with a more relaxed approach.

How Do I Prune My Pinky Winky Hydrangea?
The most crucial reason for regularly pruning your Hydrangeas is to improve the overall health of your shrubs. Doing so will reward you with a plethora of healthy blooms all growing season long. If you have not pruned your Hydrangea shrubs in a few years, they will develop dead or degenerative branches. When you remove the dead and dying limbs, you are not only minimizing the possibility of diseases such as dieback, but you are also allowing your Pinky Winky shrub to re-concentrate its energy. Your plant's energy will focus on reproducing healthy branches instead of keeping dying branches alive.

How Often Should I Water My Pinky Winky Hydrangea Shrubs?
If you live in the Northern parts of the United States, you can plant your Hydrangea shrubs in full sun as long as they are in soil that does not dry out quickly. However, if you live in the Southern parts of the United States, your Hydrangeas will require afternoon shade. Regardless of where you live, do not plant your Pinky Winky shrubs in an area that is hot, dry, and exposed to unlimited amounts of sunlight. Doing this will dry out your plant's soil, burn their leaves, and most likely kill off their flowers. If you live in a hot climate, add mulch around their stem to conserve moisture and buffer soil temperatures.

What is the Best Soil for My Pinky Winky Hydrangea?
We recommend planting your Hydrangea shrubs in soil that is well-draining but stays consistently moist. Pinky Winky hydrangeas also love to be in soil conditions that are rich in organic matter. The rich soil conditions will help their flowers be as vibrant as they can be during that growing season. Despite the name, your Pinky Winky shrub will produce white flowers that mature to a soft beautiful pink color. The best way to get your plant's blossoms to be extra vibrant is by adding a soil acidifier. Hydrangea shrubs will change colors or brighten colors when they are in soil that changes in acidity.
---
Frequently Asked questions
How Far Apart Should I Plant my Pinky Winky Hydrangea Shrubs?
---
General questions
What do the pot sizes mean?
---
---
Other Products you may be interested in
---
Customer Reviews