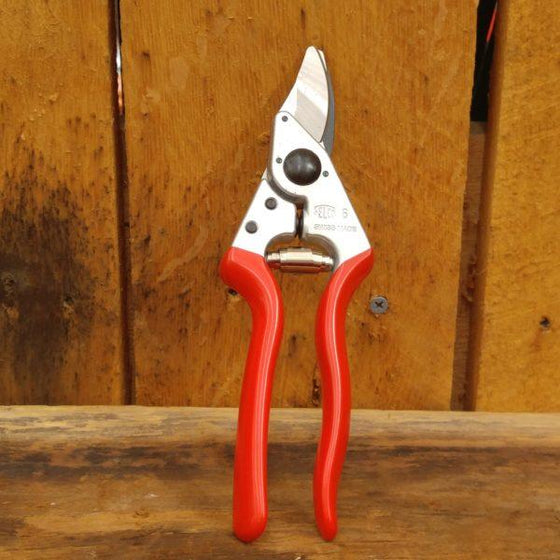 Felco 6 Pruners for Smaller Hands
The Felco 6 Ergonomic Compact Pruner is a high-performance model specially designed for smaller hands while providing the same clean, precise pruning ability of other shears in the Felco line. 
Features include lightweight handles made of forged aluminum with nonslip coating and a lifetime guarantee, hardened steel blade, anvil blade, wire cutting notch for damage-free cutting of small wires, sap groove for clean, easy cutting of sticky wood, and micrometric adjustment system for optimal cutting head adjustment.
About Your Felco 6 Pruner
FELCO's aim has always been, and always will be, to offer innovative and durable solutions to commercial pruning and cutting markets. Even though thier business strategy is very much oriented towards the professional market, domestic users are not left out: those who enjoy the satisfaction of a job well done must also have access to the best cutting and pruning tools. FELCO has forever sought to produce very high quality tools by making use of precise procedures, with a single goal in mind: excellence. Various third-party certifications in areas as diverse as Quality, Environment and Safety are testimony to this. FELCO's Quality, environmental and safety policy is available upon simple request at info@felco.com. FELCO tools are designed to work in harmony with nature. Pruning professionals worldwide appreciate our clean, precise-cutting models because they guarantee the quick healing of the pruning wound. We use Felco's here on our farm and we think it is the first purchase a gardener should make. They are a well crafted tool which will last forever. I was given my first Felco's as a gift at graduation and I still have those today. They have spent everyday with me in the field.

---
| | |
| --- | --- |
| Wire cutting notch: | The blades feature a notch that allows for the cutting of small wires without damaging the cutting edge. |
| Sap groove: | The sap groove prevents the blade sticking when cutting "sappy" wood. It saves time and makes pruning easier by removing sap and debris after each cut. |
| Micrometric adjustment: | FELCO's micrometric adjustment system guarantees an optimal adjustment of the cutting head throughout the life of the tool. It ensures a clean and precise cut. |
| Shock absorption system: | The cushion and shock absorber soften the impact upon finishing cutting. The hand and wrist are also protected. |
| Forged aluminum handles: | Lightweight, strong and sturdy thanks to special aluminum alloys and advanced precision forging methods. |
| Angled cutting head: | Inclined cutting head to reduce the risk of muscular-skeletal injuries and to maximize user comfort. |
---
Customer Reviews