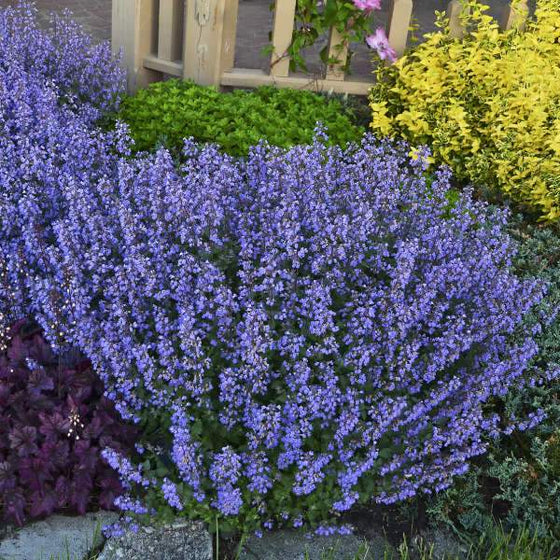 Images Depict Mature Plants
Purrsian Blue Catmint for Sale Online
Purrsian Blue Catmint is a dense mound-forming perennial that produces periwinkle purple flowers in the summer that last through the fall. Both their silver-green foliage and bright blooms are aromatic and attract not only pollinators but cats! (giving Catmint its very apt name).
These plants look especially good when planted in masse along a border garden. During the peak of the season, the Purrsian Blue Catmint plant can grow to 2 feet wide while keeping a tidy and clean form.
---
Growzone: 3-8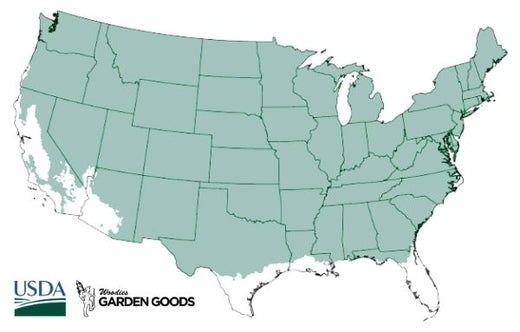 | | |
| --- | --- |
| Hardiness Zone: | 3-8 |
| Mature Height: | 1 to 1.5 Feet |
| Mature Width: | 1.5 to 2 Feet |
| Classification: | Perennial |
| Sunlight: | Full sun |
| Habit: | Spreading, clump forming |
| Flower Color: | Bluish purple |
| Flowering Season: | Late May through September |
| Foliage: | Blue-green fragrant foliage |
| Soil Condition: | Prefers dry, average to sandy soil |
| Water Requirements: | Water well until established |
| Uses: | Extremely attractive when used as a focal point in the mixed border, mass planting; attracts pollinators |
---
How to Care for Purrsian Blue Catmint
Before you buy a Purrsian Blue Catmint Plant, make sure to read about the recommended care instructions to keep this plant healthy and thriving.

How do I plant a Purrsian Blue Catmint Plant?
We suggest when planting your newly purchased Purrsian Blue Catmint plants that you dig a hole twice as wide as the root system but not deeper. The most common cause of plant death after transplanting is planting the new plant to deep. A good rule is that you should still be able to see the soil the plant was grown in after back-filling the hole. Nepeta Purrsian Blue does prefer drier soils so if there was ever a plant that we would recommend not adding topsoil or compost this is one.

How do I water Purrsian Blue Catmint?
After back filling and lightly compacting the 50/50 mix of existing soil and compost give the Purrsian Blue Catmint a good deep watering. This is not to be rushed. Most of the water you put on the plant at first will run away from the plant until the soil is soaked. A general rule of thumb is to count to 5 for every one gallon of pot size. For example a one gallon pot would be watered until you count to 5 a three gallon pot would be 15 and so on. Check the plant daily for the first week or so and then every other day there after. Water using the counting method for the first few weeks.

How do I fertilize Purrsian Blue Catmint?
We recommend feeding your Nepeta Purrsian Blue in the very early spring and again in mid summer after all new growth has hardened off and it begins to set flower buds. Espoma Flower-tone at the recommended rate will give the plant a boost of nitrogen potash that will be needed for healthy foliage and stem growth. Espoma products are easy to use, just sprinkle around the base of the plant and water it in. Be careful with products such as miracle-grow as these products can burn newly planted plants when not used at the recommended rates.

How do I mulch Purrsian Blue Catmint?
Mulching is an excellent and rather easy way to help provide essential nutrients to your plants, protect it from extreme temperatures, retain moisture, and also keep weed growth at bay. In drier climates, adding a layer of pine needles or nutrient-rich bark and leaves. If you live in an area that experiences more humidity, a layer of gravel can help to avoid excessive moisture from accumulating and promote drainage.
---
Frequently Asked questions
---
Other Products you may be interested in
---
Customer Reviews