Images Depict Mature Plants
Calamintha nepeta For Sale Online
Calamintha nepeta subsp nepeta. This minty-scented herbaceous perennial has been voted 2021 Perennial of the Year, and we're glad since it is a dream to work with. Nepeta is a brilliant perennial that will create a floating river of delicate white flowers along your garden edges and borders. Calamintha is an easy-to-grow, drama-free, and reliable summer-blooming perennial. Its shrub-like habit makes it great for borders, ground covers, and rock walls.
Calamintha nepeta is a member of the mint family and has a lovely scent that evokes a mix of oregano and mint. The lavender-white flowers bloom from early summer through mid-fall and sometimes straight up to the first frost in some zones. Calaminta nepeta is a favorite of bees and pollinators but not a favorite of deer. It is similar to catmint but from a distinct genus, hence the common name Lesser Catmint.
2021 Perennial of the Year
---
Growzone: 4-9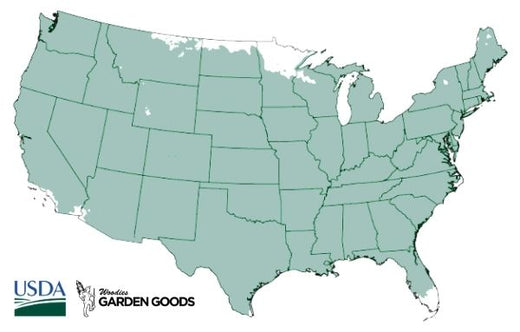 | | |
| --- | --- |
| Hardiness Zone: | 4-9 |
| Height: | 12 to 18 Inches |
| Width: | 12 to 18 Inches |
| Classification: | Flowering Perennial |
| Sunlight: | Full sun, tolerates partial sun |
| Habit: | Spreading, bushy growth |
| Flower Color: | White, some lavender |
| Flowering Season: | Early summer through mid fall |
| Foliage: | Green, minty fragrance |
| Soil Condition: | Prefers dry, average to sandy soil |
| Water Requirements: | Water well until established |
| Uses: | Extremely attractive when used as a focal point in the mixed border, mass planting; attracts pollinators, deer resistant |
---
How to Care for Calamintha Nepeta
Before you buy a Calamintha nepeta Plant, make sure to read about the recommended care instructions to keep this plant healthy and thriving.

How do I plant Calamintha nepeta?
We suggest when planting your newly purchased Calamintha nepeta plants that you dig a hole twice as wide as the root system but not deeper. The most common cause of plant death after transplanting is planting the new plant to deep. A good rule is that you should still be able to see the soil the plant was grown in after back-filling the hole. Calamintha prefers drier soils so there is a less of a need to worry about mulch.

How do I water Calamintha nepeta?
After back filling and lightly compacting the 50/50 mix of existing soil and compost give the Calamintha nepeta ssp. nepeta a good deep watering. Go slow, much of the water you put on the plant at first will run away from the plant until the soil is soaked. A general rule of thumb is to count to 5 for every new plant in a mass planting of 1 gallon calaminthas. Check the plant daily for the first week or so and then every other day there after. Water using the counting method for the first few weeks.

How do I fertilize Calamintha nepeta?
We recommend feeding your Calamintha nepeta in the very early spring and again in mid summer after all new growth has hardened off and it begins to set flower buds. Espoma Flower-tone will give the plant a boost of nitrogen that will be needed for healthy foliage.

Do I need to deadhead Lesser Calamint?
Calamintha nepeta blooms from early summer to mid-fall (sometimes later). In addition to spreading via rhizomes, Calamintha will spread when the self-seeding flowers fall to the soil below. If you want to slow the spreading, shearing the flowers after they are finished blooming, or deadheading, means that the seeds cannot fall to the ground and begin growing new calamint plants. It is recommended that you shear back half of the plant in late winter or early spring to make room for new spring growth. You can also control the growth via division since calamintha is a rhizome and you can dig up the nodes.
---
Frequently Asked questions
How do I propogate Calamintha nepeta?
Is Calamintha nepeta Edible?
---
Other Products you may be interested in
---
Customer Reviews