Images Depicted Range in Maturity & Container Size
Pots Not Included Unless Otherwise Stated
Stromanthe Triostar Plants for Sale Online
The Sromanthe Triostar Plant (Stromanthe sanguinea) is a member of the prayer plant family but stands out with its colorful variegated foliage. It has long, broad, shiny leaves of green and white with burgundy-pink undersides. Often called the tricolor prayer plant, the Stromanthe Triostar plant looks like it was painted. This plant is known for its bright, intense foliage and performs well indoors.
While it tolerates wet roots, it prefers not to be that way. Be sure to set its pot on a bed of pebbles to allow for proper drainage. They like to dry out between waterings. The foliage on this shade-loving plant will fade or burn if exposed to excessive light. It is perfect for offices, bathrooms, or spaces with low light.
---
Growzone: 9-11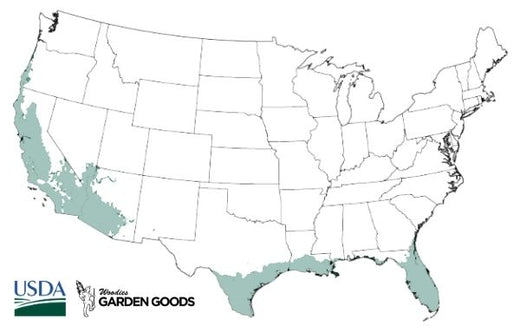 | | |
| --- | --- |
| Hardiness Zone: | 9-11 |
| Mature Height: | 2 to 3 Feet |
| Mature Width: | 2 Feet |
| Classification: | Colorful foliage |
| Sunlight: | Fluorescent to bright, indirect |
| Habit: | Upright |
| Flower Color: | Red |
| Foliage: | Cream, green, pink |
| Soil Condition: | Well draining |
| Water Require: | Likes to dry out between watering |
| Uses: | Excellent indoors in offices or low light areas |
---
How to Care for Stromanthe Triostar
Before you buy a Stromanthe Triostar Plant, make sure to read the recommended care instructions to keep this plant healthy and thriving.

What are the light requirements of Stromanthe Triostar Plants?
Stromanthe Triostar Plants do well with bright, indirect light. An eastern or northern-facing window would be ideal. A western or southern window would work, as long as a curtain or blind prevents direct sunlight from touching the foliage. This plant also performs well under fluorescent lighting only.

What are the watering requirements of Triostar Stromanthe Plants?
Allow the Stromanthe Triostar Plant's soil to dry out occasionally between watering. If the top inch of soil is moist, do not water. The best way you can tell if the soil is wet or dry is by sticking your finger about an inch down. If the potting soil is dry, you can water it. They will tolerate staying moist but prefer not to have constantly wet soil. Stromanthe Triostar appreciates a humid environment; a pebble tray or window in the kitchen or the bathroom would suffice.

What type of fertilizer should I use with a Stromanthe Triostar Plants?
Any all-purpose foliage fertilizer will work for Stromanthe Triostar Plants. Indoor houseplant fertilizers fall into two groups: water-soluble, liquid quick release, and granular, slow-release fertilizers. Jack's Classic Indoor plant food is a powder, quick-release fertilizer, and when mixed with water, it quickly provides nutrients to container plants. Osmocote Indoor/Outdoor is a granular, slow-release fertilizer used while potting and planting. Any fertilizer offers nutrients that help plants transition to a new environment. Only fertilize the Stromanthe Triostar during its growing season. You should only do this during the spring or summer.

What type of soil should I use for Stromanthe Sanguinea Triostar Plants?
Stromanthe Triostar Plants need very well-draining soil and prefer to have slightly dry conditions. Regular potting soil or potting mix with sand mixed in works well for plants potted in containers. Stromanthe Triostar likes to be root-bound.
---
Frequently Asked questions
Why are the leaves on my Stromanthe Triostar turning brown?
Is the Stromanthe Triostar toxic to pets?
Why are my Stromanthe Triostar leaves curling?
---
Other Products you may be interested in
---
Customer Reviews