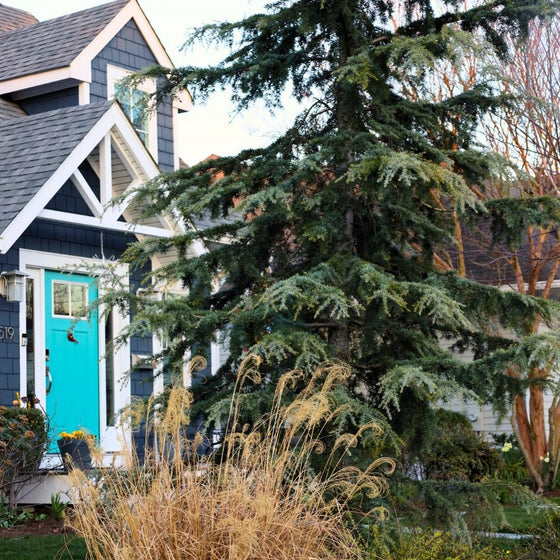 Images Depict Mature Plants
Blue Atlas Cedar Trees for Sale Online
Blue Atlas Cedar Trees are the most popular of all Atlas Cedar Trees. They are a majestic evergreen tree with flat-topped limbs covered in patches of silvery blue-green needles.
The Atlas Cedar (Cedrus atlantica) takes its name from the Atlas Mountains of Northern Africa, from which it is native. In 1827 on a visit to Tangier, Morocco, English botanist P.B. Web discovered the Blue Atlas cedar. By 1840, Britain and Europe began to cultivate the tree, which was later introduced to local nurseries in the United States.
Oil extracted from the Blue Atlas Cedar was used by ancient Egyptians for embalming, cosmetics, perfumery, incense, and medicinal purposes. The natural aroma serves as an insect repellent, making the wood a popular choice for modern furniture builders.
These evergreen conifers need plenty of room to grow. In the garden, the Blue Atlas Cedar grows quickly in height to about 20 feet and then begins to spread out to upwards of 35 feet across, so siting the perfect location for this tree is critical. 
It is a good idea to fertilize in the spring every other year with a well-balanced solution. Fertilizing in the early spring to early summer helps promote growth, but it is not required for the success of your specimen.
While these trees are very drought tolerant, they have a particularly slow growth habit without adequate moisture levels during the initial establishment period. Therefore it is important to plant them in well-draining soil and water accordingly.
This tree's drought tolerance makes it an especially great addition to full-sun areas of your landscape that you are looking to brighten up. Keep in mind that staking young trees is recommended to minimize the stress on the stem from winds blowing the tree. 
The striking blue foliage and pyramidal form that the Blue Atlas Cedar offers makes it a great choice for a specimen or garden accent. Its blue color especially stands out when placed with complimentary colored plants.
---
Growzone: 6-9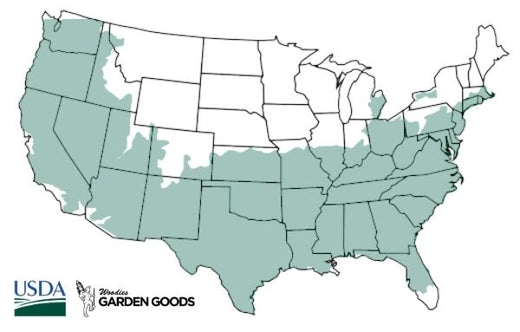 | | |
| --- | --- |
| Hardiness Zone: | 6 - 9 |
| Mature Height: | 45 to 50 feet tall |
| Mature Width: | 20 to 25 feet wide |
| Sunlight: | Full Sun |
| Foliage Color: | Silver Blue |
| Habit: | Upright pyramidal |
| Soil: | Very tolerant of dry soil types and salt spray. |
---
How to Care for Blue Atlas Cedar
Follow these guidelines for the best results

How do I plant a Blue Atlas Cedar Tree?
In general, the hole should be big enough to accommodate the size of the root ball. Some recommend a sloped-side hole about a foot deep and five times as wide as the root ball. The root collar should be above the level of the land. Place the tree in the hole. Aim for the center of the hole. Once inside the hole, the root ball should be above 1-1.5 inches (2.54-3.81 cm) above the ground on all sides, so there is a slight crown to allow for drainage and proper mulching. If the tree collar is lower than ground level when you place it in the hole, add some soil under the root bulb and re-situate the tree. Point the roots downward as best possible, and fill the remaining hole with the pile of dug up soil. Compact the soil very tightly around the roots, and remove any air pockets. Use good planting soil and fresh compost to guarantee the roots have plenty of nutrients.

What type of fertilize do I use for Blue Atlas Cedar Trees?
We recommend when planting your plants to use Bio-tone starter fertilizer by Espoma. We have trialed many so called "starter fertilizers" over the years and have come to rely on Bio-tone exclusively for our own use. Simply mix the recommended amount of Bio-tone into the back fill soil and water in generously when back filled. Bio-tone® Starter Plus is an all-natural plant food that is combined with a stronger concentration of beneficial bacteria along with both endo and ecto mycorrhizae. Basically the "good" fungus in Bio-tone colonizes on the growing roots of your newly planted plant and does not allow disease causing fungus to attack the new roots. It has also shown promise in stimulating the growth of the new roots which means quicker establishment for you plant. After establishment and during the following years we recommend Holly-tone used at the recommended rates. It is also organic and slow release which will feed your trees the proper amount of nutrients over a period of time rather than all at once which can burn the root tips and actually have the opposite effect of slowing down plant growth. It also will help to maintain the acid level in the soil that Blue Atlas Cedar Trees need to thrive.

How often do I water a Blue Atlas Cedar Tree?
Blue Atlas Cedar Trees have a shallow root system so they need to be watered often in the first year after being planted. If the soil is sandy or drains really quickly or if it's been excessively hot out, you should check the soil around your tree to see if it's getting enough water. The soil should be wet about 1 inch below the surface. To fix this issue, simply water your Blue Atlas Cedar more often and/or for longer periods of time. Once established, Blue Atlas Cedar Trees can tolerate periods of drought.

How do I mulch a Blue Atlas Cypress?
Lay a 2 to 3-inch layer of organic mulch, such as pine needles, over the soil surrounding the cedar tree without pressing it against the trunk; mulch assists in deterring weeds, conserving moisture and lowering pH.
---
Frequently Asked questions
Why do Blue Atlas Cedar Trees lose needles?
How Fast Do Blue Atlas Cedars Grow?
What soil is best for a Blue Atlas Cedar Tree?
What insects are attracted to a Blue Atlas Cypress?
---
Other Products you may be interested in
---
Customer Reviews