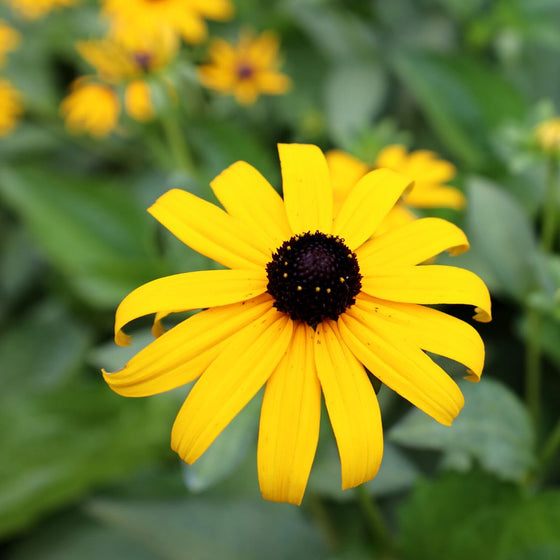 Images Depict Mature Plants
Black-Eyed Susan Rudbeckia Plants for Sale Online
The Black-Eyed Susan (Rudbeckia fulgida 'Goldsturm'), Maryland's State Flower, is a native flowering perennial that is tolerant of clay and sandy soil and is also heat and drought tolerant. Black-eyed Susan thrives in full sun, but it will grow in partial shade as well. This deer-resistant perennial produces showy, long-blooming daisy-like flowers. Black-Eyed Susan plants attract butterflies and seed-eating birds with their golden yellow petals and dark center seed heads.
The Black-Eyed Susan is ideal for gardeners of all skill levels as it is an easy-to-grow, low-maintenance plant that requires supplemental watering only in the first year as its roots are being established. Rudbeckia Goldsturm is an upright, clump-forming perennial that typically grows 1.5 to 2 feet tall. Black-eyed Susan is an ideal cut flower.
The Black-Eyed Susan is the perfect perennial for providing color in late summer and is especially showy in mass plantings.
---
Growzone: 3-9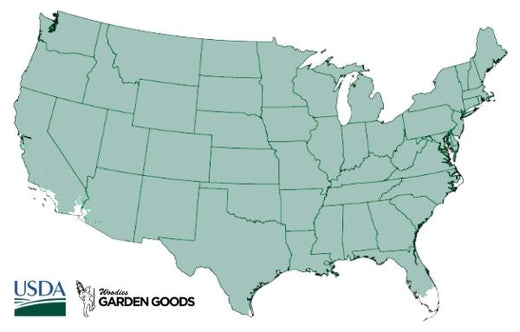 | | |
| --- | --- |
| Hardiness Zone: | 3-9 |
| Mature Height: | 1.5 to 2 Feet |
| Mature Width: | 2 Feet |
| Sunlight: | Full sun |
| Water Requirements: | Drought tolerant |
| Soil Condition: | Sandy soil, clay soil, average soil |
| Difficulty: | Easy |
| Flower Color: | Golden yellow-orange petals with dark center seed heads |
| Selling Points: | Deer resistant, heat tolerant, attracts butterflies and songbirds, Maryland state flower |
---
How to Care for Black Eyed Susan
Before you buy a Black-Eyed Susan plant, make sure to read about the care instructions that are required and recommended to keep this plant healthy and thriving.

How do I plant my Black-Eyed Susan Rudbeckia Plants?
Black-Eyed Susan (Rudbeckia fulgida var. sullivantii 'Goldsturm') plants are a near-perfect perennial choice for gardeners of all experience levels. Plant in most soil types including sandy and clay. Dig holes that are slightly wider than, and just as deep as, each plant's root ball. Remove plants from containers and place them in the holes, checking to make sure that the top of each plant's root ball is even with the surrounding soil. Fill in around each plant, firmly packing the soil, then water deeply. Mulch lightly to keep the soil moist so, weeds cant grow. This Maryland State Flower also makes a gorgeous planter flower in standard potting soil. Black-Eyed Susan bloom time is typically June-September when planted between March and May.

How do I water my Black-Eyed Susan plants?
The Rudbeckia Black-Eyed Susan flower will need to be watered regularly only during the first growing season to establish the plant. Otherwise, the Black-Eyed Susan prefers dry to moderately moist soil. To produce long, healthy roots, provide enough water to soak the roots. Water the soil at the base of the plant, as overhead watering puts the plant at risk for mildew and other moisture-related diseases.

How do I prune Black Eyed Susan plants?
Pruning is an essential part of plant care. Proper and timely pruning of a Black-eyed Susan will help promote new growth and keep it healthy. An owner may selectively cut back in mid-spring to encourage flowers later in the summer. The last flush of flowers should be left on the plant to set seeds.

How do I mulch my Black-eyed Susan?
Rudbeckia plants should be mulched with common mulching materials unless you plant in moist climates where it should remain unmulched.
---
Frequently Asked questions
Do Black Eyed Susan's come back every year?
Can Black Eyed Susans survive the winter?
Can Black Eyed Susan's grow in pots?
---
Other Products you may be interested in
---
Customer Reviews