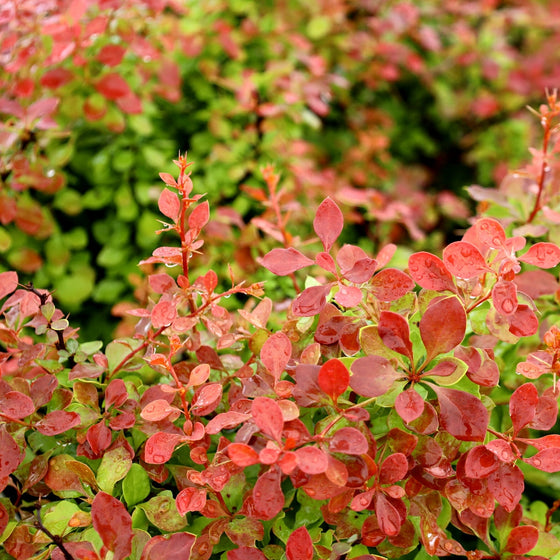 Images Depict Mature Plants
Admiration Barberry Shrubs for Sale Online
Admiration Barberry (Berberis thunbergii) is a strikingly bold shrub that produces red oval leaves edged in neon yellow to accentuate any garden or landscape. 
They are easy-to-grow, hearty plants with unbeatable foliage color that transitions beautifully from Spring to Fall. In autumn, this plant's foliage deepens to a purple-red color. This shrub thrives in full sun to partial shade and prefers well-drained soil.
Admiration Barberry Shrubs have thorns along the stems, deterring deer and other animals from snacking on their foliage. This bush is vigorous, making it ideal for banks and slopes.
It is also excellent for mass plantings and stands out as an accent plant of mixed gardens. Either way, it is sure to capture attention! Only growing to about 2 Feet Tall, these barberries are the perfect dwarf for any garden.
---
Growzone: 4-8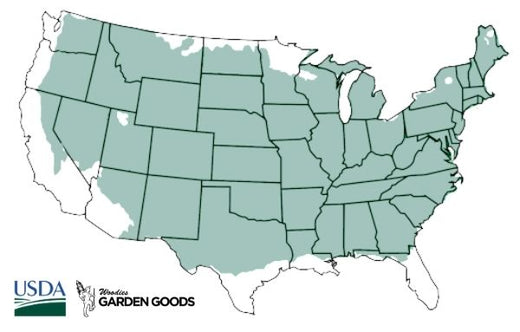 | | |
| --- | --- |
| Hardiness Zone: | 4-8 |
| Mature Height: | 1.5 to 2 Feet |
| Mature Width: | 1.5 to 2 Feet |
| Classification: | Broad Leaved deciduous shrub |
| Sunlight: | Partial to full sun |
| Habit: | Rounded mounding habit |
| Foliage: | Burgundy and yellow margin |
| Flower Color: | Inconspicuous |
| Pruning Season: | Best pruned in late winter before new growth emerges to maintain shape |
| Soil Condition: | Any |
| Water Requirements: | Tolerates slightly moist soil and partial shade or full sun. Full sun brings out the best foliage color. Will adapt to drier sites |
---
How to Care for Admiration Barberry
After you purchase your Admiration Barberry Shrub, be sure to read the recommend care instructions to ensure your plant stays happy and healthy for years to come.

When do I prune Admiration Barberry Shrubs?
Admiration Barberry Shrubs take to pruning and shearing very well, to either promote good color or maintain a manageable size. Pruning should be done while dormant, in either late winter or VERY early spring, before any growth begins. If you prefer a more open and natural form, simply remove up to one-third of the branches down to the ground each year or two. By thinning rather than shearing, you will have a 3 foot tall and wide, elegant mound of gorgeous deep red foliage.

How do I fertilize Admiration Barberry Shrubs?
Apply an early spring fertilizer with a product such as Espoma Tree-tone or Plant-tone at the recommended rate. Doing so will give the plant a boost of nitrogen needed for healthy abundant foliage that emerges in spring. After applying fertilizer, slowly water your shrub to help the plant food sink into the soil and to the roots of your shrub.

What is the best mulch for Admiration Barberry Shrubs?
We highly recommend that you mulch your Admiration Barberry Shrubs with either a ground hardwood mulch or a ground cypress mulch depending on your local availability. Any mulch will do, but cypress or hardwood mulch will be of a higher quality and provide better nutrition overall as they break down. Mulching helps deter the growth of weeds that would otherwise compete with your new investment for water and nutrients. A 2 to 3-inch layer of mulch is sufficient but remember to take care not to cover any part of the stem with mulch. It's better to leave a one-inch gap of space between the mulch and the stem or trunk of the plant.

How often do I water Admiration Barberry Shrubs?
After backfilling and lightly compacting the 50/50 mix of existing soil and compost, give the Admiration Barberry a deep watering. Most of the water you put on the plant at first will run away from the plant until the soil is soaked. A general rule of thumb is to count to 5 for every one gallon of pot size. For example, count to one count of 5 for a one-gallon pot and a count of 15 for a three-gallon container. Check on your plant daily for the first week and then every other day after. We recommend using the counting method for the first couple of weeks. Soaker Hoses can also be used to water when planting a long hedge.
---
Frequently Asked questions
Why are my Admiration Barberry Bushes Dying?
Is my Admiration Barberry Shrub Toxic?
Are Admiration Barberry Shrubs considered invasive?
---
---
Other Products you may be interested in
---
Customer Reviews