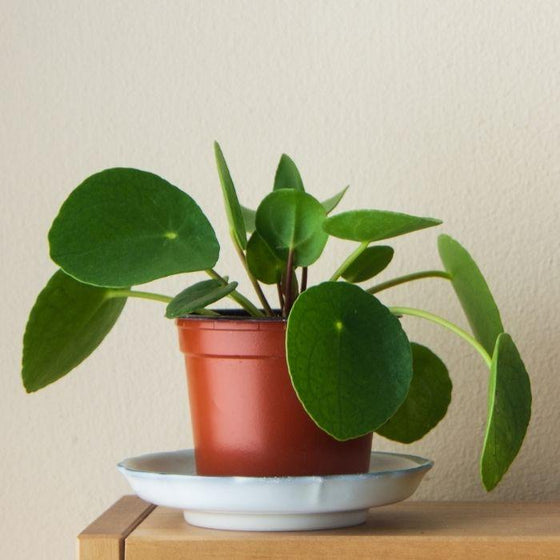 Images Depicted Range in Maturity & Container Size
Pots Not Included Unless Otherwise Stated
Chinese Money Plants for Sale Online
Pilea peperomioides, or Chinese Money Plant, is a rare and hard-to-find indoor plant native to southern China. Known for its round pancake-shaped green leaves, the Chinese Money Plant is popular in modern decor and has become a staple for well-designed interiors. We have carefully cultivated and built up our stock to ensure the availability of this highly sought-after and easy-to-grow plant.
The plant's bright green color contrasts wonderfully against white walls or pots, which is perhaps why it's so highly sought after in the minimalist interior design world. Also called Pancake Plant, Pilea peperomioides has a central upright stem surrounded by its characteristic perky flat leaves.
---
Growzone: 9-11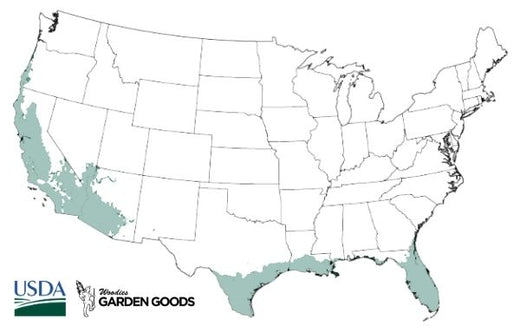 | | |
| --- | --- |
| Hardiness Zone: | 9-11 |
| Mature Height: | 12 to 14 Inches |
| Mature Width: | 12 Inches |
| Classification: | Easy to grow |
| Sunlight: | Fluorescent to bright indirect |
| Habit: | Compact habit, densely branching, insignificant flower |
| Flower Color: | White |
| Foliage: | Green |
| Soil Condition | Likes to dry out some between watering |
| Water Requirements: | If unsure, do not water |
| Uses: | Attractive plant to be featured or in the background of any room in the house, does well with minimal care |
---
How to Care for Chinese Money Plant
Before you buy a Chinese Money Plant, make sure to read about the care instructions that are required and recommended to keep this plant healthy and flourishing.

How to Water Chinese Money Plant?
How you water your Chinese Money plant depends on many different factors. These factors include the size and material of the pot, the quality of your potting soil, and air conditions in your home. For example, if your Money plant is in a terra-cotta pot, you will want to water more frequently. Rather than having a particular watering schedule, check to see if your plant needs water by the weight of its container. Feel how heavy the pot is directly after you water it this should be a good point of reference. Then, every couple of days, pick up the pot to compare weight. If it is very light, it is time to water your houseplant.

How do I plant a Chinese Money Plants?
We suggest re-potting your newly purchased Chinese Money Plants into a container 2 inches wider in diameter, and 2 inches deeper than the container it is in currently. Use a well draining potting mix, and be sure not to disturb the roots when transplanting. We recommend adding a slow release fertilizer to the new potting mix before watering in. The most common cause of plant death after transplanting is planting the new plant to deep. That is why we do not recommend planting in a container any deeper than the soil line of the plant in the pot. If planted too deep, the stem of the plant will be covered with soil, retaining moisture and eventually rotting. Keep in mind that this new potting mix will retain more moisture than the previous container, so watering in the beginning should be less frequent.

How to Fertilize Chinese Money Plant?
Chinese Money plants only need to be fertilized once a month to thrive. Also, make sure you're only feeding them during their growing period. If you fertilize them during their growth dormancy, you can risk damaging your Money plants. You will typically fertilize them once a month, from early spring to early fall. Use a liquid, organic houseplant fertilizer diluted to half of the recommended strength. We recommend your plant is moist and freshly watered before fertilizing, do not feed your plant if its soil is dry. You will know if you have over-fertilized your plant. You will notice white crust on the top layer of soil or white salt buildup on the outside of terra-cotta pots. If you notice this, hold off on fertilizing for a few months, and your plant should have a clean bill of health.

What is the Best Soil for Chinese Money Plant?
The best soil for houseplants is a well-balanced mix of peat moss, perlite, and vermiculite that dries some between watering but takes a long time to compact. Typically, any reputable potting mix will work well and includes those ingredients. Adding a granular, slow-release fertilizer while planting is an excellent way to help the plant thrive in the transplanting transition. However, if the soil you've chosen already has fertilizer incorporated in, there will be no need to add additional fertilizer.
---
Frequently Asked questions
How to propagate Chinese Money Plant?
Why are My Money Plant's Leaves Curling?
Why are the Leaves Falling Off My Money Plant?
---
Other Products you may be interested in
---
Customer Reviews