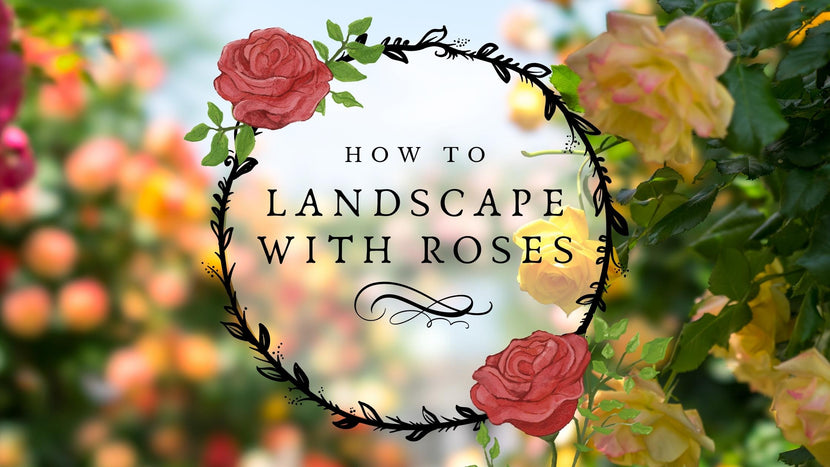 Why We Love Landscaping With Roses
Roses are among the most versatile and diverse of all ornamental flowering garden plants. These woody-stemmed perennials, technically speaking, shrubs, have thorns and are known worldwide for their stunning fragrant flowers.
Roses Can Do More than Just Flower Bouquets
Roses are most known for their elegance in flower bouquets and their guest appearances on the Bachelor. However, these singular rose cuttings have to come from somewhere, and that somewhere is a rose bush. There is a wide variety of rose bushes ranging in color, size, height, growth habits, etc.
Adding rose bushes to your garden can instantly turn it into an elegant oasis, especially if you train your roses to climb or use them as a border. Now that you know roses have many other uses than Happy Anniversary or prom corsages, we put together a list of our favorite bushes for you.
Our Favorite Landscaping Rose Bushes
Knockout Rose Bush
If you love roses but are not sure how to take care of them, Knockout Rose bushes are the perfect choice for you. These easy-to-grow shrubs are known for their simple care requirements, cold hardiness, and disease resistance.
Use these shrubs as mass plantings to add color, dimension, and elegance to your garden. You can also purchase one shrub and use it as a focal point in your landscape. Enjoy the benefits of rose bushes without the hassle of traditional rose bushes.
Oso-Easy Rose Bush
Oso Easy Roses offer an easy to manage growth habit, resistance to blackspot and powdery mildew, and vibrant blooms in shades of orange, red, coral, and salmon. These shrubs produce different types of flowers, from single blooms to fully double blooms. Whether you are a "seasoned" gardener or buying garden plants for the first time, Oso-Easy roses will grow beautifully year after year!
Proven Winners Plants tested many new roses to see which do not require constant dead-heading or weekly sprays of fungicides and worked with breeders from across the globe to find the roses that could stand up to the test. Oso Easy roses were the very best of the best. 
Drift Rose Bush
Drift Roses are unique members of the rose family, resembling something between miniature rose bushes and a groundcover. These compact rose bushes grow only 2 feet tall and 3 feet wide. Their size makes them perfect for planting in smaller, harder-to-reach places.
Each variety of Drift Rosebush has slightly different features. These shrubs produce red, pink, yellow, and white flowers. The Drift rose family is some of the best flowering shrubs you can add to your garden.
Brindabella Rose Bush
Brindabella Rose bushes produce fully-formed double flowers with excellent disease resistance to fungal diseases such as leaf spots and powdery mildew. Their flowers produce a strong rose-scented fragrance that is sure to turn heads.
These rose shrubs bloom in spring into a 6-week cycle throughout the entire season to frost. Brindabella Roses are also self-cleaning, which means no deadheading is required. Most Brindabella rose bushes grow 4 feet tall and wide.
How To Incorporate Roses in Your Garden
Border
A simple yet effective way to landscape rose shrubs into your garden is by adding them to the border of your space. After all, roses are shrubs, and shrubs make excellent border plants.
If you want to amp up the elegance and class of your garden, try planting a border of white roses. Do you want your entryway to look like a million dollars? Add red rose shrubs to both sides and watch your concrete walkway turn into a red carpet.
Climbing
Do you have a tall fence, lattice ladder, or space on the side of your home? You can add a rose shrub and train it to climb upwards. Of course, this will take some time for your roses to grow and climb, but the result will be worth waiting.
If you have a gazebo, try adding a container-planted rose shrub next to the entryway. As the shrub grows, train it to grow up the structure, and before you know it, your gazebo will look like it was landscaped by a professional.
Contrast Colors
Roses come in a wide variety of colors, including red, pink, yellow, white, orange, and multicolored. Their recognizable blossoms make them standout flowers in any garden. For example, say your garden has only white flowers with green foliage. You could add a few specimens of rose shrubs that have color to add a pop of excitement yet elegance to the space.
Or you could create an entire rose garden with a variety of colored rose shrubs. If you are unsure how to mix and match colors in your garden, we have a blog all about Garden Color Theory that breaks it down for you.
Container Planting
If you have a small garden or are looking to add small pops of roses in your landscape, container planting these shrubs might be the way to go. These shrubs can take up a lot of space in a garden, but using them as container plantings lets you take advantage of the space on your deck, patio, or anywhere your heart desires. Another advantage to planting your roses in a pot is that you can control moisture levels and exposure to sunlight.
Planting Roses in Containers
Choose a relatively large, tall pot because roses are known to have deep-setting roots, so the taller the pot the better off you will be. Clay pots are generally better than plastic pots because the potting soil will heat up faster than garden soil. Also, make sure your container has excellent drainage holes. To ensure the best drainage possible, add a one-inch layer of rocks at the bottom.
Use potting soil that drains well but does not drain too quickly. We recommend potting soil that includes compost (garden or manure) and perlite for extra drainage.
Place your potted rose in a location that gets at least 7 hours of direct sun each day, and be sure to space them at least 2 feet apart for air circulation. Don't be scared to move your plant around throughout the day to ensure it receives the most sunlight it can.