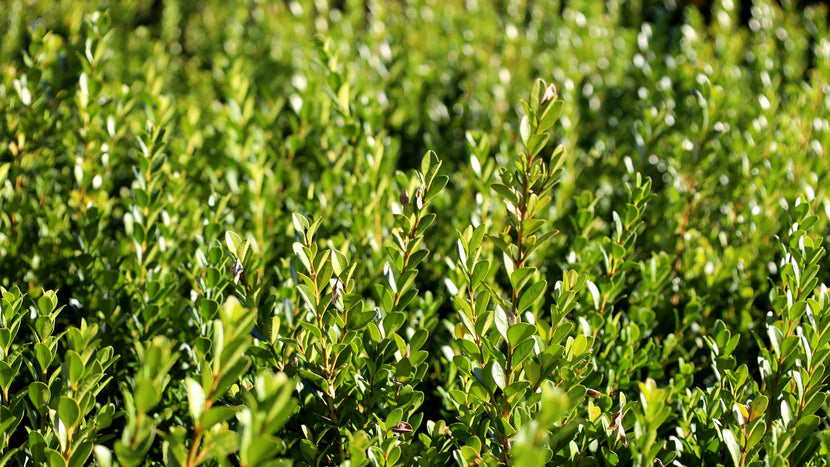 How to Choose The Right Boxwood For Your Yard
It's no secret that boxwood shrubs are a tried and true classic in the landscape. With their versatility, hardiness to the elements, and low-maintenance care regimen, there's just so much to love about these iconic evergreen shrubs!
Boxwood shrubs can be used in so many different landscape projects and add unmatched interest and structure to a property. Whether you decide to use these hardy shrubs as a yard focal point, or as a hedge to define borders, there's no doubt that they will transform and elevate any outdoor space you decide to plant them in.
With such a wide variety of boxwood options, it can be challenging to know which boxwood shrub is the right one for you! We've taken the liberty of simplifying the decision process by giving a breakdown of landscape planning, as well as diving into the numerous boxwood varieties available and their display opportunities in a landscape.
Mapping Out Your Landscape Plan
Determining Your Grow Zone
Before you dive into selecting boxwood shrubs for your yard, you will want to get a plan in place for where you want to grow your plants and what type of style you want to go for.
The first step to mapping out a landscape plan is determining your USDA Grow Zone. With our Find Your Grow Zone Tool, you can easily determine what your hardiness classification is, and you can browse plants that are suited for your specific climate!
Selecting Your Boxwood Based On Spacing
The next step in selecting your boxwood shrub is assessing your yard spacing. It is important that you select boxwood that will properly fill a space, without overwhelming it.
American Boxwoods
For larger landscapes, you will most likely want to opt for an American Boxwood (Buxus sempervirens). This fast-growing strain of boxwood plants reaches an average mature height between 10-12 feet if left unpruned. American Boxwoods work wonderfully as a tall hedge or privacy screen.
Some fan-favorite American Boxwoods, aside from the original American Boxwood, are the Variegated Boxwood, Dee Runk Boxwood, and the Green Mountain Boxwood.
English Boxwood
For smaller landscapes and more secluded garden styles, we would recommend going for a Dwarf English Boxwood (Buxus sempervirens 'Suffruticosa'). This dwarf variety of boxwood has a much slower growth rate and reaches a mature height between three to four feet tall. This is a great option for low hedges and defining edges along pathways and garden beds.
Selecting Your Boxwood Based On Climate
If you are more concerned about finding a boxwood that is hardy to the elements and can withstand drastic temperatures and disease, it is likely that you will want an Asian Boxwood or a Hybrid Boxwood.
Japanese Boxwoods
Asian Boxwoods such as the Japanese Boxwood (Buxus microphylla japonica) is a slow-growing boxwood that is praised for its ability to withstand intensely high temperatures better than its English and American counterparts. The popular shrub is ideal for grow zones 6-8.
The Winter Gem Boxwood is a vibrant cultivar with a spherical growth habit and clean appearance. This is a great shrub choice for more formal garden designs.
Chinese Boxwoods
Korean or Chinese Boxwoods (Buxus sinica var. insularis) on the other hand are ideal for drastically cold temperatures.
While many boxwood shrubs begin to turn color amidst frigid winters, the Chinese Boxwood remains a vibant shade of green year-round.
These plants can impressively withstand temperatures in the negatives. The Wintergreen Boxwood is a great cold-hardy Korean Boxwood option that has deep green foliage that persists even through the harshest of winters.
Hybrid Boxwoods
Hybrid Boxwoods like the NewGen Freedom Boxwood are a great go-to option for boxwood if you are still on the fence about what boxwood will thrive and complete your landscape vision.
The NewGen is a hardy evergreen shrub that is resistant to boxwood blight! The stunning shrub boasts small vibrant leaves and has a moderate mature height and width between four and five feet.
Shop Boxwood Shrubs Online Today
Here at Garden Goods Direct we pride ourselves in growing lush, evergreen boxwoods that are landscape-ready. Browse our wide selection of boxwood shrubs available for purchase online today!
Skip the hassle of crowds and transportation, and have your shrubs conveniently shipped to your front door!