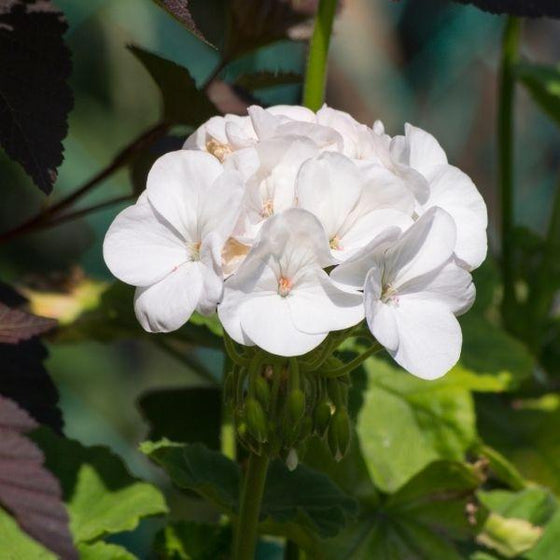 Images Depict Mature Plants
White Geraniums for Sale Online
White Geranium (Pelargonium x hortorum) has classic white flowers that rise above scalloped leaves of green and brownish-red. This mix of colors and heights makes for a unique and dynamic plant that blooms from spring to fall.
Their blooms of White Geranium are not only beautiful, but they attract pollinators such as bees and hummingbirds. Their tall flower stalks and mounding growth habits make the Geranium ideal for hanging baskets and container gardens.
---
Growzone: 10-11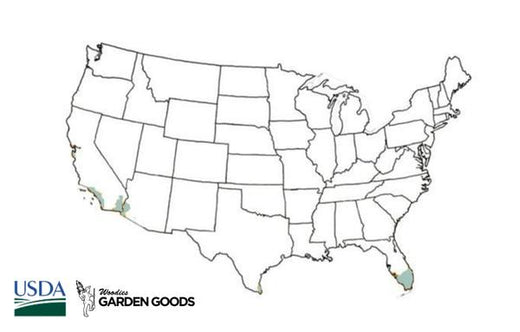 | | |
| --- | --- |
| Hardiness Zone: | 10-11 |
| Mature Height: | 1 to 2 Feet |
| Mature Width: | 1 to 2 Feet |
| Classification: | Flowering perennial |
| Habit: | Upright |
| Flower Color: | White |
| Foliage: | Dark green; scalloped |
| Attracts: | Hummingbirds, bees |
| Soil Condition: | Likes to dry out between watering |
| Light: | Full sun, partial sun |
---
How to Care for White Geranium
After purchasing your White Geranium, be sure to read about our recommended care instructions to ensure a healthy and happy plant all season long!

When Should I Water My Geranium White Flowers?
Annual Geraniums are drought-tolerant and heat-resistant, making them able to tolerate drying out between waterings. We recommend watering your Geraniums about once a week. However, if you live in a hot climate, you may need to water them more. Also, if you live in a more rainy location, you may need to water them less. Do your very best not to overwater your annuals because if they are overwatered, they will risk root rot disease, and that could damage your plants for the rest of the growing season. If you are not sure if you should water your Geraniums or not, we suggest waiting for a day or two more.

How do I Fertilize My White Geranium Flower?
During your plant's growing seasons of summer and fall, we recommend that you fertilize your plants once a week. You can use a slow-release granular or water-soluble fertilizer; your plant will thrive with either option. Fertilizing your plant will help aid your annual to bloom more flowers during their blooming season. You can even apply a slow-release fertilizer at the time of planting to have a one-and-done fertilizer application for their growing season as an annual plant.

How Much Sunlight Should My White Geranium Get?
The best location for your Geranium is in a spot of your garden that receives at least six to eight hours of sunlight each day. Even though your annuals can survive in partially shaded areas, they will not have as much vigor, and they will not produce as many flowers. If your Geranium is in a container, you can have the freedom to move it around whenever, so it receives enough sun throughout the day. Try planting your Geranium in a spot of your garden that most plants cannot be in due to direct sunlight- this is perfect for your Geraniums.

Do I Need to Prune My Geranium?
Pruning your Geraniums is a crucial step to ensuring they have a successful growing season. As they start to die, you should begin to deadhead the dying parts of the plant. You will know they are dying when they start to turn brown or look like they are weakening. When you cut off spent flowers, this encourages the plant to focus its energy on producing more blooms instead of holding onto dead blooms. Prune away any dead or dying foliage as well.
---
Frequently Asked questions
Where Should I Plant My Geranium?
Are Coffee Grounds Good For My Geraniums?
Why aren't My Geraniums Blooming as Much?
---
Other Products you may be interested in
---
Customer Reviews