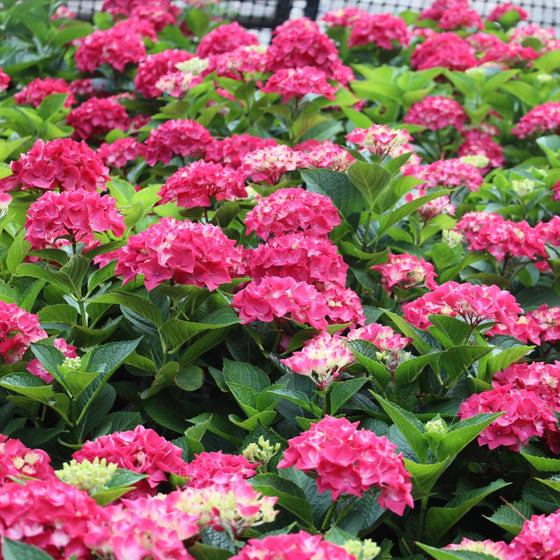 Images Depict Mature Plants
Wee Bit Giddy Hydrangea Shrubs for Sale Online
As we gear up for the new planting season, we have looked into the best-performing new products available for gardens and landscapes. We think the new Wee Bit Giddy® hydrangea is on that list of top new summer bloomers! This stunning display of bright red color comes in a durable, compact package with this hardy, low-maintenance hydrangea. It benefits from its parent cultivars, Cityline Paris and Let's Dance Rave hydrangeas.
Plant a few Wee Bit Giddy® hydrangeas in your garden for vibrant color reblooming and attracting pollinators all summer. Similar to other macrophylla hydrangeas, Wee Bit Giddy® hydrangeas change color depending on the pH of the soil. Planting in more acidic soils will also display blooms with a deep purple-red tone.
Wee Bit Giddy® hydrangeas are a new introduction from Proven Winners, and we love them for our gardens for various reasons. The biggest and best part that caught our eye was their eye-catching, vibrant red color that blooms and reblooms all summer long. These spectacular mophead flowers will stand out in any garden, with bright pink-red blossoms framed with dark green foliage. If you want to punch up the color profile, use Espoma Soil Acidifier to amend your soil - the extra acidity will cause your Wee Bit Giddy® hydrangeas to bloom a rich purple color instead. This color-changing dynamic is one of our favorite traits of Wee Bit Giddy® hydrangeas.
Wee Bit Giddy® hydrangeas are lovely for new gardeners since they have been cultivated to be durable, disease-resistant, and hardy in various soil conditions. These low-maintenance shrubs are also better left to grow their way - pruning or deadheading could negatively affect their natural reblooming cycles. Don't be afraid to take a few cuttings inside; fresh-cut hydrangea flowers will look stunning in a vase on your dining room table, and your hydrangeas outside will continue to bloom.
Wee Bit Giddy® hydrangeas will work in many landscaping and gardening designs since they are both compact dwarf shrubs and vibrant red rebloomers. You could plant a border around your garden, create a low hedge, or place one or two in choice locations as specimen focal points. They would also work in containers, but the color-changing options are best manipulated when planted in the ground. Since these will sometimes continue to bloom into late fall, you can use these flowering shrubs in your winter interest garden - leave the dried flower heads on the plants to attract birds in the winter months. We also love decorating fall and holiday centerpieces with dried flower heads.
---
Growzone: 5-9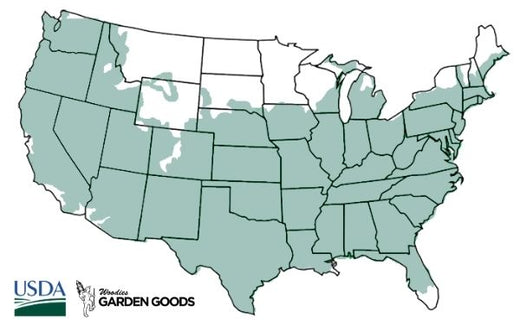 | | |
| --- | --- |
| Hardiness Zone: | 5-9 |
| Mature Height: | 1 to 2 Feet |
| Mature Width: | 2 to 3 Feet |
| Classification: | Broad leaved deciduous shrub, summer flowering |
| Sunlight: | Full sun to partial shade |
| Habit: | Compact-mounded dwarf |
| Foliage: | Green |
| Flower Color: | Bright red to purple-red |
| Pruning Season: | Not needed (remove dead branches in spring after buds show) |
| Soil Condition: | Any well drained soil, acidic soil changes flower color to purple |
| Water Requirements: | Water well until established |
| Uses: | Extremely attractive when used as a focal point in the mixed border, mass planting, or a specimen planting |
---
How to Care for Wee Bit Giddy® Hydrangea
Be sure to read our planting instructions to ensure a healthy and happy plant for years to come!

What is the best soil for my hydrangea macrophylla Wee Bit Giddy?
Wee Bit Giddy Hydrangeas are low-maintenance shrubs that simply need a well draining soil to thrive. However, you can change the colors of your flowers by adjusting your soil. Hydrangea macrophylla are a species of plant that is very absorbent (known as hyperaccumulating plants), and are sensitive to the presence of aluminum ions in their soil. In our gardens, we can see this effect in the color of our blooms - acidic soils with a low pH means a higher amount of aluminum ions are present, and the flowers will bloom with more blueish pigments in their petals as a result. Alternatively, alkaline or neutral soils that do not have a large percentage of aluminum ions present will allow hydrangeas to bloom their main flower color, be that a pink or a red or in that range. Neither state will affect the health of the plant. So, if you wish to see deeper purple tones in your Wee Bit Giddy Hydrangeas, perform a soil test to determine the natural acidity of your garden soil and add acidifying agents such as Espoma Soil Acidifier.

When should I fertilize my Wee Bit Giddy Hydrangeas?
Wee Bit Giddy Hydrangeas bloom and rebloom all summer long, making them a perfect statement of color in your garden. To help encourage lots of blooms, a hands-off approach is sometimes better. These hydrangeas only need fertilizer once or twice a year at most. A nice flower-tone or rose tone granular slow-releasing fertilizer can be mixed into the soil around the dripline of the plant (the ring around the plant just slightly inside of where the leaves reach, not at the base of the stem). Fertilize in early spring, and again in late spring just before the big blooming season starts. Do not fertilize later than mid summer, so that your hydrangeas will enter a healthy dormancy period come fall.

How much sun do my Wee Bit Giddy Hydrangea shrubs need?
Wee Bit Giddy flourish when planted in zones 5 through 9 and they have slightly different sun preferences depending on where you are located. In cooler climates where there is less risk of scorching the leaves, they are happiest front and center in a full sun position. In hotter climates, partial shade will reduce the risk of scorching your plants. They need at least 6 hours of sunlight if they are in a partial sun or partial shade position.

Should I use mulch when planting my Wee Bit Giddy Hydrangeas?
Almost all plants benefit from a layer of mulch over their roots and your Wee Bit Giddy Hydrangeas are no exception. A 2 to 3 inch layer of organic mulch will help to insulate and regulate the temperature of the soil around the roots, as well as protect your hydrangea from pesky weeds looking to steal resources. We recommend either a ground hardwood mulch or a ground cypress mulch depending on your local availability. Any type of mulch will do but cypress or hardwood mulch will be of a higher quality and provide better nutrition overall as they breakdown.
---
General questions
What do the pot sizes mean?
---
---
Other Products you may be interested in
---
Customer Reviews