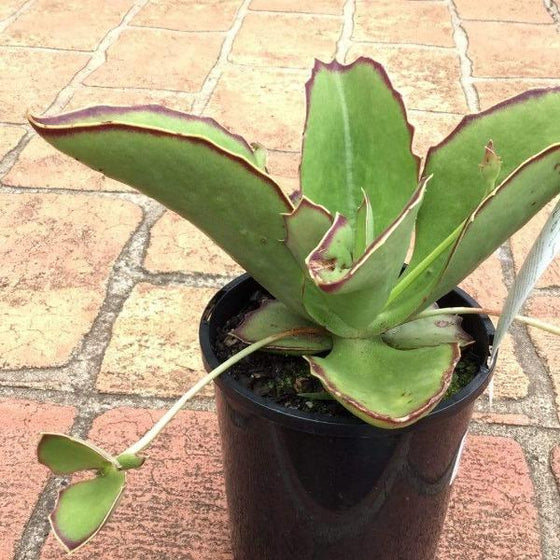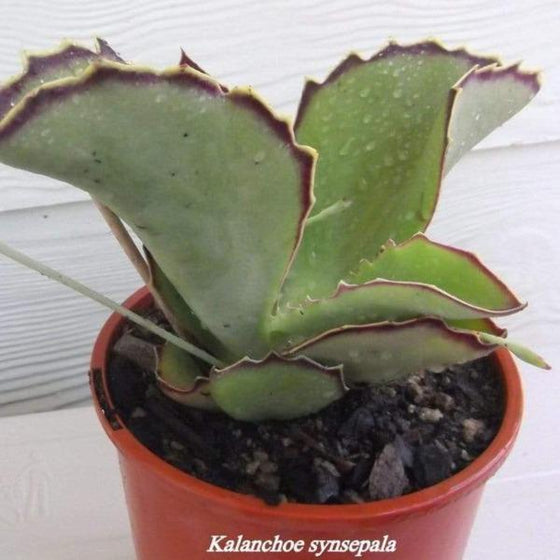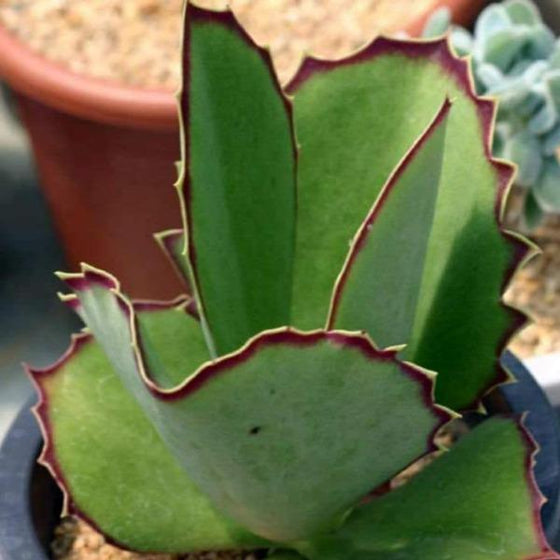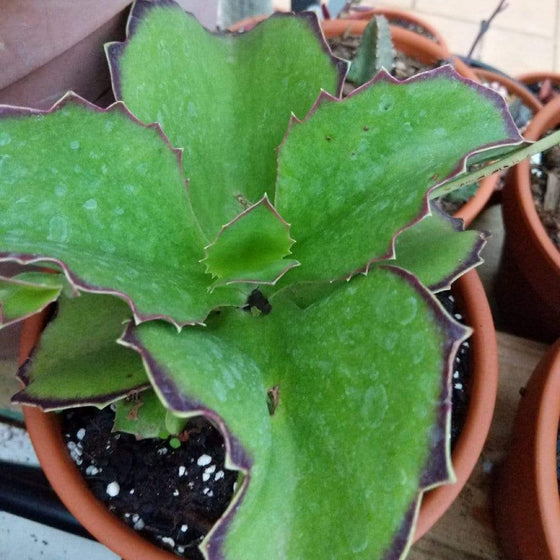 Images Depict Mature Plants
Light-loving Walking Kalanchoe Plants for Sale Online
Kalanchoe synsepala, also known as Walking Kalanchoe, is an attractive plant in the cactus and succulent family that has light green tubular foliage with jagged, palish pink edges on the leaves. It likes bright light and infrequent waterings with an opportunity for the soil to dry out. Kalanchoe synsepala requires little maintenance and can thrive as a house or office plant.
It has green, thick leaves with jagged pink edges. They do well in containers indoors or could be planted outdoors in the summer either in containers or in the landscape. These plants grow best in full sun and well-drained potting soil and will tolerate bright indoor light levels well. However, these plants tend to get leggy in low-light conditions. Ideal temperatures are 45-65 °F at night and 50-70 °F during the day. Cool night temperatures prolong flower life. After flowering, shift the plant to a slightly larger pot. Kalanchoe synsepala are succulents that grow best in a well-drained and well-aerated potting soil, such as 60% peat moss, and 40% perlite. Cut back tall growth and old flower stems. Keep well watered in a sunny, warm window.
---
| | |
| --- | --- |
| Hardiness Zone: | 9-11 |
| Mature Height: | 15 to 20 Inches |
| Mature Width: | 8 to 12 Inches |
| Classification: | Succulent houseplant |
| Light Requirements: | Bright indirect or some direct light |
| Water Requirements: | Likes to dry out between waterings |
Growzone: 9-11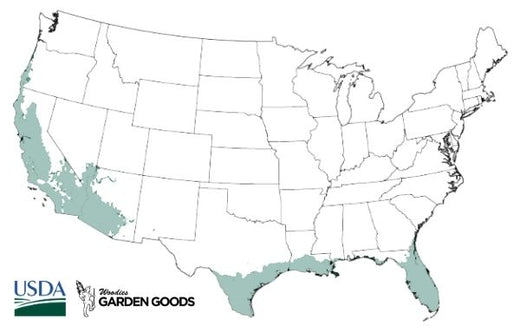 How to Care for Walking Kalanchoe
Be sure to read our planting instructions to ensure a healthy and happy plant for years to come!

What Is The Best Light For Walking Kalanchoe?
Indoors, Walking Kalanchoe does well with bright, indirect light or some direct light. An eastern or western facing window would be ideal. Southern exposure would work as well, as long as some shade is provided while the plant transitions (otherwise leaves will burn or turn brown from too much light).

How Do I Water Walking Kalanchoe?
Walking Kalanchoe likes to dry out almost completely between watering. It does not like to stay or sit in water. Plants that are watered too often will not survive. If unsure, do not water.

How Do I Fertilize Walking Kalanchoe?
Any type of fertilizer offers nutrients that help plants with the transition to a new environment. All of these fertilizers may be used when planting Walking Kalanchoe.

What Is The Best Soil For Walking Kalanchoe?
Walking Kalanchoe needs a very well draining soil, and prefer to have dry conditions. Regular potting mix with sand mixed in works well for plants potted in containers, otherwise a cactus potting mix would work. The cactus potting mix already has sand and other ingredients to encourage drainage.
---
Other Products you may be interested in
---
Customer Reviews