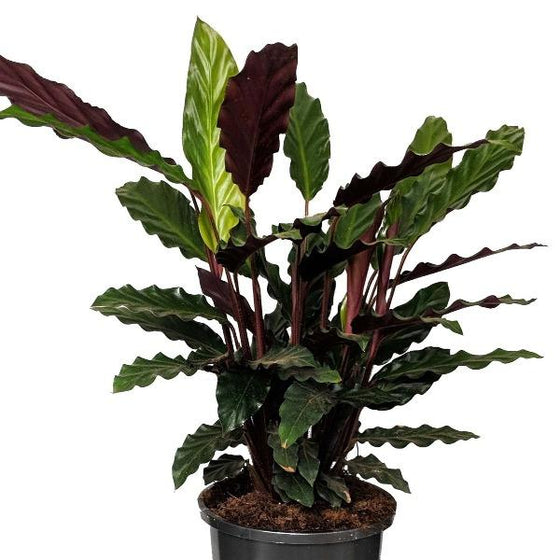 Images Depict Mature Plants
Calathea rufibarba Plants for Sale Online
Calathea rufibarba earns its common name, "Jungle Velvet Calathea" from its soft, velvet textured leaves. This tropical gem is a lover of bright indirect light and a consistently moist soil. The rufibarba is a fan favorite among plant collectors, drawing attention with its purple stems and dark purplish-maroon undersides.
Many members of the Calathea family boast bright hues and intricate patterns. The jungle velvet, however, does not share these qualities. The plant's rich green leaves make up for this lack of vibrancy and draws onlookers with their deep burgundy undersides. The rufibarba's muted tones also make this Calathea a little easier to work into modern home designs.
Calathea are a fun group of indoor plants to collect because of the uniqueness and bold features of their foliage. As a member of the prayer plant family, the rufibara is also loved for its ability to mimic praying hands. Also referred to as Calathea Wavestar, this specific Calathea is also recognized for its rather funky wavy leaf edges.
This plant, though beautiful, can be slightly challenging for the beginner houseplant grower. Some common problems with Calathea include the plant's distaste for tap water, root rot, and undiagnosed infestations of spider mites. Yellowing leaves are often an indicator of one or multiple of these issues.
An unhappy Calathea can be easily avoided by following the plant's proper care regimen. The ideal care for this type of plant includes bright indirect lighting, a well draining soil, and high humidity levels. If you follow those guidelines, your Calathea is sure to be the star of your collection.
---
| | |
| --- | --- |
| Hardiness Zone: | 9-11 |
| Mature Height: | 2 to 3 Feet |
| Mature Width: | 1 to 2 Feet |
| Classification: | Colorful foliage |
| Sunlight: | Fluorescent to bright, indirect |
| Habit: | Wider than it is tall, compact |
| Foliage: | Spear-shaped dark green leaves, velvet texture, dark reddish-maroon undersides |
| Soil Condition: | Evenly moist, well draining |
| Water Requirements: | Likes humidity and even moisture, can tolerate drying out between waterings |
| Uses: | Excellent indoors in offices or low light areas |
Growzone: 9-11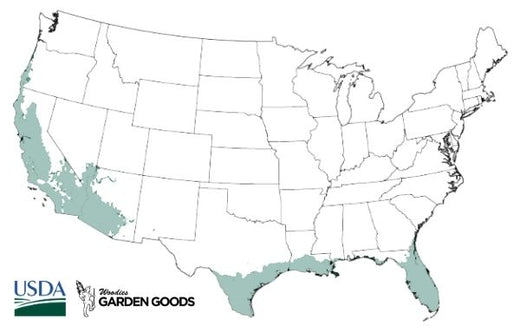 How to Care for Calathea rufibarba
Be sure to read our planting instructions to ensure a healthy and happy plant for years to come!

How often should I water my Velvet Calathea?
Velvet Calathea are similar other Calathea species - they prefer to stay evenly moist in well draining soil. They will tolerate the soil drying out some between waterings, but if you leave them too dry for too long the leaves will droop and may even start to brown at the edges. Leaving them in soil that is too wet is not ideal either, since that could cause root rot. We recommend watering well, until the water drains out the bottom of the pot, and then discard any excess water after you are finished. Then, wait until the top inch or so is dry to the touch before watering again. A humidity tray (a tray wider than the base of the pot filled with stones and water) can help maintain humidity within the leaves. Filtered water is preferable to hard water.

How much light do Velvet Calathea Plants need?
Calathea rufibarba plants are native to tropical environments where they are protected from direct sunlight by a big tropical canopy. Keep this in mind when selecting a place for your Velvet Calathea - they will be perfectly happy in most low light situations. Bright indirect light is better, but direct sunlight can cause the leaves to become scorched.

What is the right potting soil for Calathea rufibarba?
Velvet Calathea do well in any well-balanced organic potting mix. Make sure it retains moisture but still has adequate drainage, so that your plant has the moisture it needs but does not sit in too much water. Potting mixes can be amended to have more drainage with some coarse sand, or to be more water retentive with some peat moss, humus, or other organic matter.

What kind of fertilizer is best for Velvet Calathea?
Velvet Calathea will benefit from any well balanced indoor plant fertilizer. You can use a liquid formula every 4 to 6 weeks from spring to fall, or you can use a slow release granular formula as often as the care instructions say to use. Using your fertilizer at half strength is better for smaller, younger plants.
---
Other Products you may be interested in
---
Customer Reviews