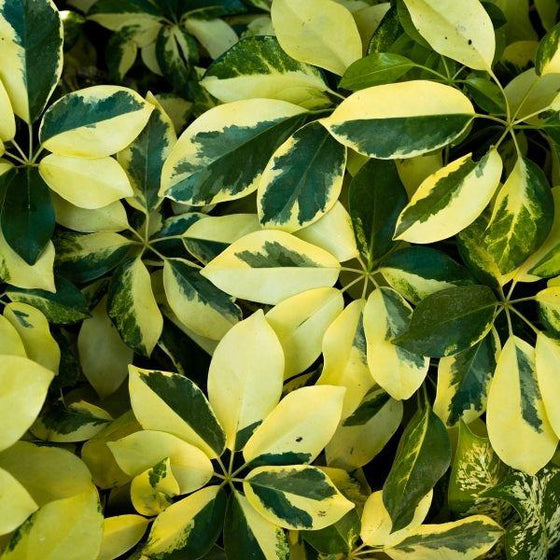 Images Depicted Range in Maturity & Container Size
Pots Not Included Unless Otherwise Stated
Variegated Schefflera Arboricola 'Trinette' for Sale Online
Variegated Schefflera brightens whatever space it's planted in. These yellow and green variegated plants will do well inside with bright indirect light from a windowsill or in very low, fluorescent light.
Variegated Schefflera hails from Taiwan, where the trees grow upwards of 20 feet tall. Indoors, with limited root systems, the plants typically grow to about 10 to 15 feet tall, and about 3 to 4 feet wide. The brightly colored green and yellow foliage lighten and brighten any room or corner indoors or even any dark, shady spot outdoors. Inside, these plants make excellent bonsai as they are tolerant of being trained and pruned, and like to stay fairly root-bound.
Alternatively, Schefflera can have the bottom leaves and branches pruned out to form an upright standard or tree, reaching about 15 feet inside. Or it's possible to let Schefflera have a more natural look and let it branch and stay more compact with leaves and branches.
Outdoors, the variegated Schefflera Arboricola will not tolerate full sun during the hottest part of the day; part to full shade is preferred. As they take well to pruning, Schefflera can also be trained to grow together densely as a hedge.
---
Growzone: 9-11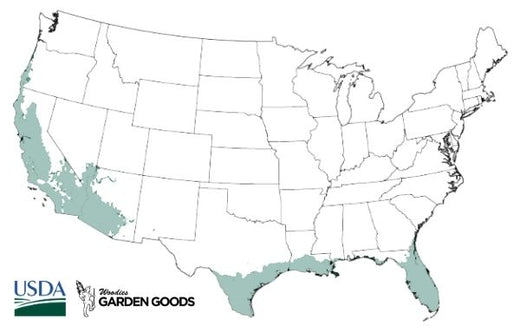 | | |
| --- | --- |
| Hardiness Zone: | 9-11 |
| Mature Height: | 10 to 15 Feet |
| Mature Width: | 3 to 4 Feet |
| Classification: | Colorful foliage |
| Sunlight: | Bright indirect light to part sun (if outdoors) |
| Habit: | Branching bush form or can be trained as a tree |
| Flower Color: | Yellow and red, clustered |
| Foliage: | Green and yellow variegated |
| Soil Condition: | Well draining |
| Water Requirements: | Likes to dry out some between watering |
| Uses: | Tolerant of conditions indoors or outside, brightens spaces |
---
How to Care for Variegated Schefflera
Before you buy a Dwarf Umbrella Tree Plant, make sure to read about the recommended care instructions to keep this plant healthy and thriving.

What is the best light for Umbrella Tree Plants?
Umbrella Tree Plants will tolerate fluorescent light, but prefer bright light from a windowsill for several hours. Eastern or western facing windows generally provide enough light for Schefflera Arboricola to be happy. Outdoors, Umbrella Tree Plants do well in part to full shade. They can tolerate full sun but will grow more slowly, and foliage may burn when first planted outside.

How do I water Umbrella Tree Plants?
Umbrella Tree Plants need to dry out some between watering, they prefer to stay moist instead of drying out too much or staying too wet. The soil should be mostly dry before watering again in containers. Outdoors, Schefflera Arboricola needs to be planted in a well drained location.

How do I fertilize Umbrella Tree Plants?
Any all purpose, foliage fertilizer will work for Umbrella Tree Plants. Indoor houseplant fertilizers fall into two groups: water soluble, liquid quick release, and granular, slow release fertilizers. Jack's Classic Indoor plant food works well as a powder, quick release fertilizer that is mixed with water to quickly provide nutrients to a plant that has been in a container for an extended time. Osmocote Indoor/Outdoor is an option as a granular, slow release fertilizer that can be applied while potting and planting. Any type of fertilizer offers nutrients that help plants with the transition to a new environment. All of these fertilizers may be used when planting Umbrella Tree Plants indoors or outdoors.

What is the best soil for Umbrella Tree Plants?
Umbrella Tree Plants need a rich, well draining soil, and prefer to have moist conditions. Umbrella Trees do not perform well when kept constantly wet or allowed to dry out too much.
---
Other Products you may be interested in
---
Customer Reviews