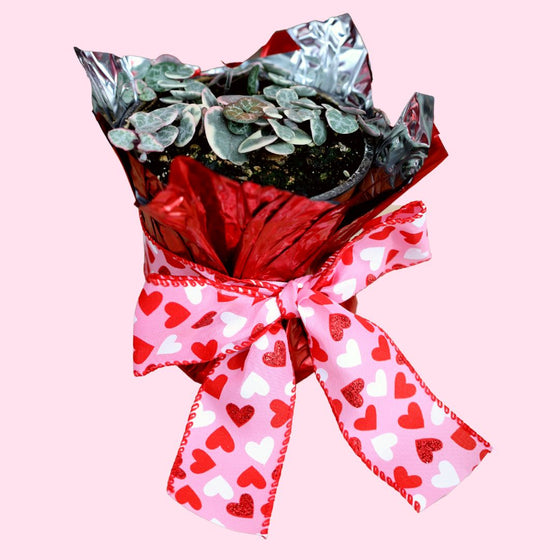 Images Depicted Range in Maturity & Container Size
Pots Not Included Unless Otherwise Stated
Variegated String of Hearts Plant for Sale Online
Ceropegia woodii variegata is a gorgeous trailing succulent adored for its heart-shaped leaves and unique white and pink variegation.
Proper Variegated String of Hearts care includes bright indirect sunlight, well-draining soil, and moderate humidity levels.
These semi-succulent vines have sensitive root systems and prefer to dry out in between waterings. To avoid conditions of excess water and root rot, pot your hearts in chunky soil mix in a pot with a drainage hole.
Although slow-growing, these vining beauties are worth the wait! At maturity, string of hearts plants look spectacular in a hanging basket for the hearts cascade beautifully down the sides of the pot. String of Hearts plants are a great gift option to show that special someone in your life how much your care.
---
How to Care for Variegated String of Hearts Plants
Before you buy a String of Hearts plant, make sure to read about the care instructions that are required and recommended to keep this plant healthy and thriving.

What type of light is best for Variegated String of Hearts?
We recommend placing your Variegated String of Hearts plant near a south or west facing window for optimal growth. This low-maintenance plant enjoys bright, indirect light, but can tolerate small doses of direct sunlight. Avoid placing your String of Hearts plant in direct sunlight for long periods of time which can result in scorched leaves. We don't recommend placing your plant in low light areas.

What is the best soil for Variegated String of Hearts?
This semi-succulent plant enjoys well-draining soil to avoid root rotting. We recommend using an average potting soil with sand or a succulent-mix to make your plant happy! Avoid using soil that retains too much moisture which is guaranteed to kill Variegated String of Hearts.

When should I water Variegated String of Hearts?
Due to Variegated String of Hearts succulent-like nature, we recommend allowing the soil to dry out between watering. A good rule of thumb is to allow the soil to dry 2 to 3 inches before re-watering. If you're unsure if your plant needs water - wait it out until you're completely sure. During the winter, allow your plant's soil to completely dry out during the dormant season.

When should I fertilize Variegated String of Hearts?
We recommend fertilizing your Variegated String of Hearts plant during the spring and fall season to encourage optimal growth. Use an organic houseplant fertilizer or a slow release fertilizer from any local gardening store. This plant doesn't need to be fertilized during the winter dormant season.
---
---
Other Products you may be interested in
---
Customer Reviews