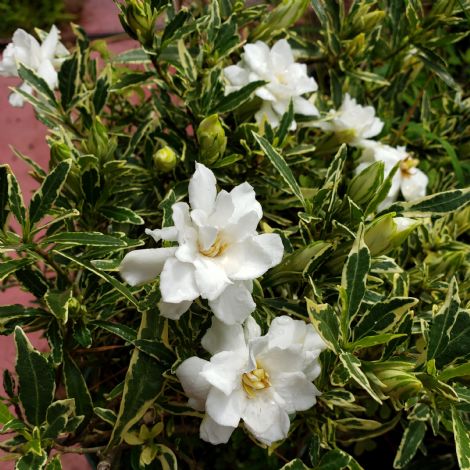 Images Depict Mature Plants
Variegated Dwarf Gardenia Radicans for Sale Online
The dwarf evergreen shrub of all your fairytale dreams has become a reality. The enchanting and magnificent Variegated Dwarf Gardenia is like your classic favorite Radicans Gardenia, but variegated!
The shrub's delicate white flowers not only bring beauty to your yard but also give off a heavenly scent! Beyond the fragrant flowers, these popular ground cover shrubs are loved for their low maintenance care regimen and hardiness to the elements.
Ideal care conditions for these stunning yard plants include partial to full sun and a slightly acidic soil medium. The hardy shrub will also thrive in conditions of part shade. Once the white blooms are spent, you can still expect to enjoy the bright white and dark green foliage all year long.
As an added bonus, this vigorous grower works to attract various pollinators including hummingbirds! Variegated Gardenias work great in a wide range of garden projects, and they can even be grown in a container indoors where not winter hardy.
---
Growzone: 7-11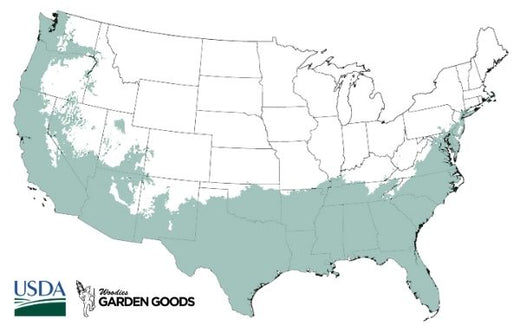 | | |
| --- | --- |
| Hardiness Zone: | 7-11 |
| Mature Height: | 6 to 12 Inches |
| Mature Width: | 2 to 4 Feet |
| Classification: | Evergreen shrub |
| Sunlight: | Full sun to partial shade |
| Habit: | Mounded, spreading |
| Foliage: | Dark green |
| Flower Color: | White, fragrant, reblooming |
| Soil Condition: | Any well drained soil, likes acidity |
---
How to Care for Variegated Dwarf Radicans Gardenia
When purchasing your Variegated Dwarf Gardenia Radicans, be sure to read the recommended care instructions for a happy and thriving plant.

What kind of soil does Gardenia Radicans prefer?
Gardenias, such as Variegated Gardenia radicans, like their soil to be very well draining and on the acidic side. When first planting your variegated radicans, we recommend that you amend the local soil to make sure there is adequate drainage. Fir bark or peat moss are good choices to help create better drainage in clay soils. Also, this is good time to perform a soil test. If your soil is on the alkaline side (higher pH) then a soil acidifier or some lime can help balance your plant's new environment.

How much water do dwarf creeping gardenias need?
Variegated Gardenias are considered to be fairly drought tolerant once they are established. When first planting your Variegated Gardenia Radicans, water thoroughly for a 5 count for each 1 gallon pot size you plant. Then, monitor the soil to see how quickly the top two inches dry out. You may need to water only once a week or up to every other day, depending on your climate. Keep the soil moist but not soggy for the first 4 to 6 weeks. After your plants are well established, you should only need to water them infrequently, or more in extreme heat.

How much sunlight do Variegated Dwarf Gardenia Radicans need?
Variegated Gardenia Radicans prefer full sun to partial shade, but morning sun is the best as it is less harsh and less likely to cause scorching on the leaves. East or south facing walls are preferable. Protect your gardenias from cold or windy areas and make sure they get at least 4 to 6 hours of direct morning sun per day.

Should I fertilize my Variegated Dwarf Gardenias?
Variegated Gardenia Radicans are moderate growing and they make a very handsome evergreen groundcover. In order for gardenias to give their maximum performance, certain fertilization requirements must be met. We recommend fertilizing them when first planting, and then again before their growing seasons. Do not fertilize in fall or early winter - even though they are evergreen, they still need to enter into a growth dormancy in the winter and fertilizing can disrupt this process. We recommend early spring before their spring growth begins, and again in mid summer after they have finished blooming.
---
Frequently Asked questions
What are Variegated Gardenia Radicans resistant to?
---
Other Products you may be interested in
---
Customer Reviews