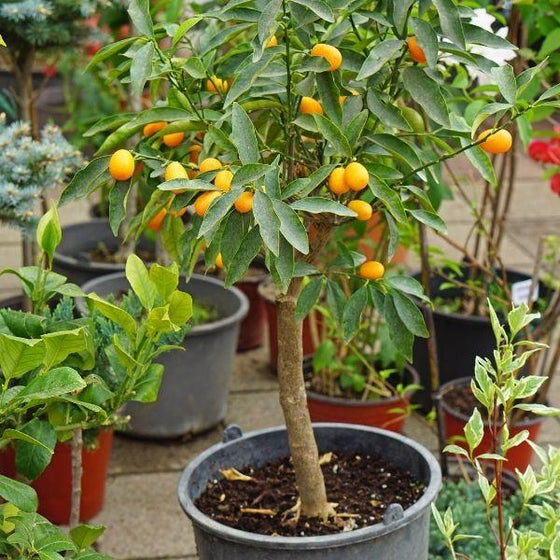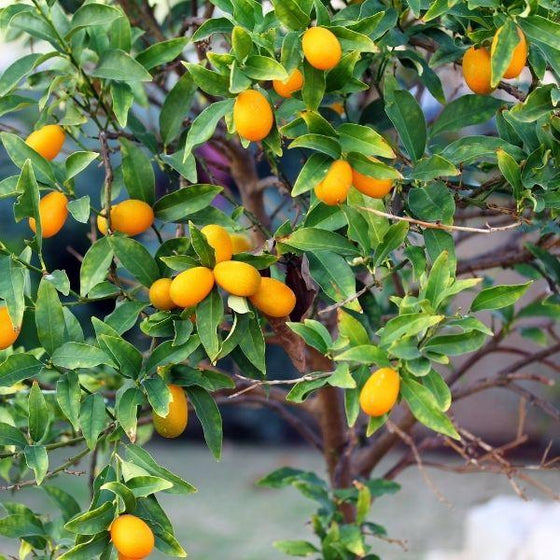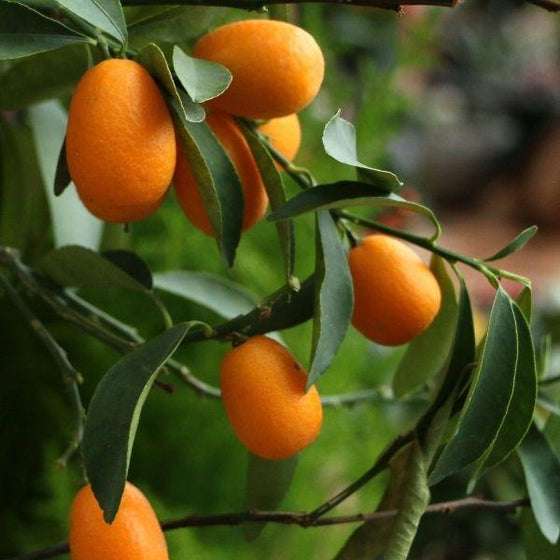 Images Depict Mature Plants
Kumquat Trees for Sale Online
The Kumquat Tree (citrus japonica) is a small citrus tree that grows in climates that typically is too cold for most citrus trees. They produce an olive-shaped fruit similar in look and size to a miniature orange. They are sweet and sour and typically used in marmalade spreads.
Growing Kumquat trees is fairly easy as long as you plant them in an area that receives full sun, slightly acidic pH levels, and well-draining soil conditions. These trees are best suitable as outdoor trees in hardiness zones 9 and 10. These trees can withstand winter temperatures as low as 18 degrees. If you live in any other growing zone this tree can survive as a potted indoor tree. When you give it the correct lighting and watering conditions, it will thrive indoors without a problem.
---
| | |
| --- | --- |
| Hardiness Zone: | 9-11 |
| Mature Height: | 18 to 15 Feet |
| Mature Width: | 12 Feet |
| Classification: | Evergreen fruit tree |
| Sunlight: | Full sun to part shade |
| Habit: | Upright, rounded |
| Foliage: | Dark green |
| Flower: | White, fragrant |
| Fruit: | Orange; tastes like sour and citrus orange |
| Soil Condition: | Well drained; slightly acidic |
| Water Requirements: | Water well until established |
Growzone: 9-11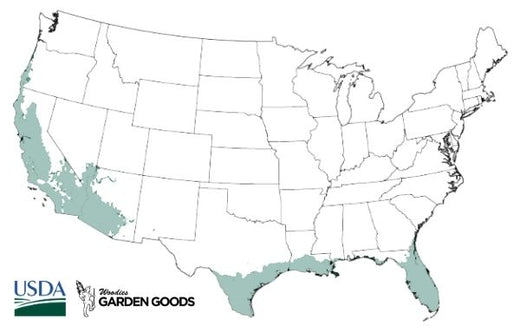 How to Care for Sweet Kumquat Tree
Be sure to read our planting instructions to ensure a healthy and happy plant for years to come!

How Much Sunlight Does a Kumquat Tree Require?
Kumquat trees love full sunlight conditions. We recommend giving them at least 6 to 8 hours of full sunlight each day. They can survive in bright, indirect sunlight for a short period. If your plant is inside, give them as much light as possible. Place it near a sunny window or set it under grow lights fitted with one cool and warm bulb. If near a window, make sure you turn your tree every so often. Leaving it in the same spot could cause part of your plant to burn.

How much water do Kumquat Trees need?
Proper watering is key to growing any citrus tree, and Kumquat trees are no different. Watering your plant enough to keep their soil moist but not wet is very important. If you can stick your finger knuckle deep in the soil and feel dampness, wait to water. If it feels dry, water your plant until the soil seems well saturated. Overwatering these citrus trees could result in root damage and cause them to rot. Try using a thick layer of mulch over the root zone to keep the soil moist. Once your tree is well established, it will only need deep watering during dry spells.

How should I fertilize a Sweet Kumquat tree?
When you first plant your Kumquat tree, hold off on feeding them for the first 2 or 3 months. After it is established, you can fertilize them regularly during the growing season. When winter comes around, stop fertilizing so you can allow them to go into dormancy without disrupting it. In the spring, fertilize with an all-purpose, slow-release, or citrus fertilizer. At the peak of their growing season, give your tree regular applications of liquid fertilizer. It is important to remember to water well before and after fertilizing to prevent burning your tree.

What Kind of Soil Does My Kumquat Tree Need?
Kumquat trees are not too picky about soil pH levels, but they do prefer slightly acidic soil conditions when possible. When planting them in the ground, choose high-quality potting soil to improve drainage and enrich the soil. Stay away from dense clay soils when planting your citrus tree. It could cause too much water build-up and potentially cause root rot disease. If your plant is potted, try adding a layer of rocks or pebbles to the pot to ensure proper drainage.
---
Other Products you may be interested in
---
Customer Reviews