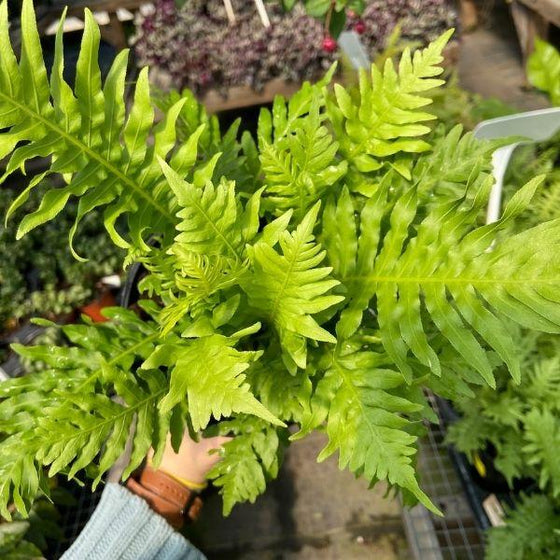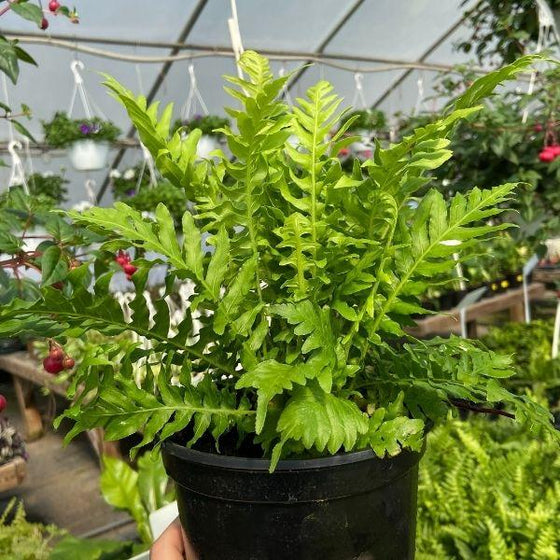 Images Depict Mature Plants
Silver Lady Dwarf Fern Plants for Sale Online
Silver Lady Dwarf Fern Trees are native to New Zealand and in tropical or sub-tropical climates they are grown as trees outdoors. However, in the majority of hardiness zones, these ferns are grown as houseplants. Their bright green fronds grow upwards in a beautiful symmetrical habit and can grow upwards of 3 to 4 feet tall.
These tropical houseplants thrive best in humus-rich and well-draining soils and prefer to be in bright light that provides partial shade throughout the day. Avoid placing your plant near direct sunlight for too long, you could risk drying out the soil or burning your plant's leaves. Dwarf Fern Trees are very easy to grow and make for perfect accent plants in your home for years to come.
---
| | |
| --- | --- |
| Hardiness Zone: | 10-11 |
| Mature Height: | 3 to 4 Feet |
| Mature Width: | 2 to 3 Feet |
| Classification: | Tropical houseplant |
| Light Requirements: | Full shade, partial shade |
| Water Requirements: | Likes to stay moist |
| Soil: | Well-draining, evenly moist |
| Foliage: | Deep green |
Growzone: 10-11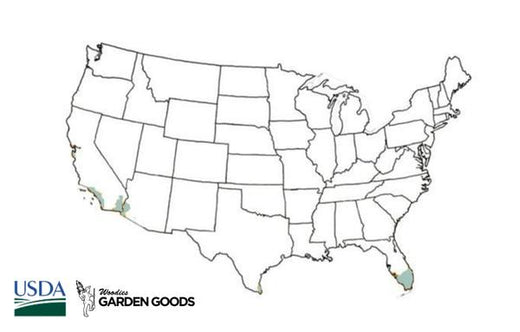 How to Care for Silver Lady Dwarf Fern
Be sure to read our planting instructions to ensure a healthy and happy plant for years to come!

How Much Sunlight Does my Silver Lady Dwarf Fern Need?
Silver Lady Fern trees prefer to be placed in bright light areas that receive partial shade throughout the day. These plants cannot survive in strong direct light. Because these plants are native to tropical areas, they need to bask in the sun as frequently as possible, however too much bright sun could cause their soil to dry out or their leaves to burn. If you have your plant outdoors, try placing them in a shaded area of your patio. This will get them the heat and humidity they require, while not oversaturating them with sun exposure.

What Kind of Soil Should I Give My Dwarf Fern?
Dwarf Fern trees thrive best in a fairly particular soil condition. They love humus-rich, well-draining, neutral to very acidic soils. Also, their soil must always be kept moist and never dry out. The key to not allowing their soil to dry out is placing them in an area that does not receive too much direct sunlight. When you have them planted in a container, try adding compost to their soil to give them the extra nutrients they could be missing out on.

How often should I water My Dwarf Fern Plant?
Similar to other ferns, Silver Dwarf ferns like to grow in moist soil conditions. We recommend watering them frequently during the warmer months to ensure their soil stays rich and moist. Doing so will allow them to grow properly. When the cooler months arrive, your plant will be entering its growth dormancy, meaning you should cut back on your watering schedule. Check if the top inch of soil is dry, if so, then you may water. Try not to overwater, especially during dormancy to avoid any risk of root rot disease. Typically you should water them once a week during the winter. Also be aware they these plants are sensitive to lime in hard water. If you have hard water, try using filtered or distilled water instead.

Does My Silver Lady Dwarf Fern Require Fertilizer?
Silver Lady Dwarf Fern trees do enjoy fertilizer every so often. If you plant your fern outside during the warmer months, when they are actively growing, apply liquid fertilizer at half-strength. We recommend doing this about once a month to help them grow and thrive. When your plant is kept indoors, add a slow-release fertilizer to their soil twice a year. We suggest doing so once in the spring and once in the summer.
---
Other Products you may be interested in
---
Customer Reviews