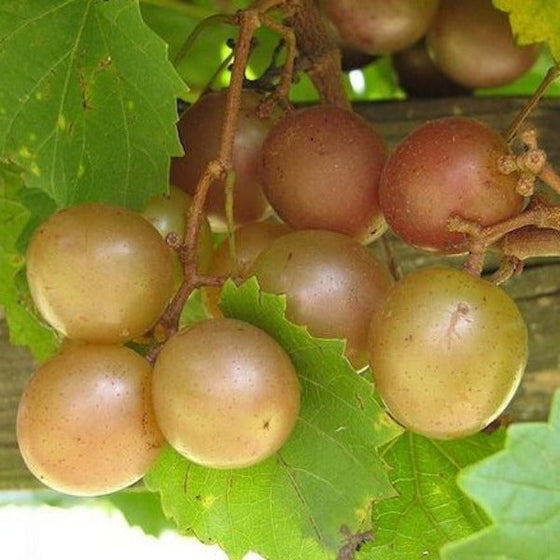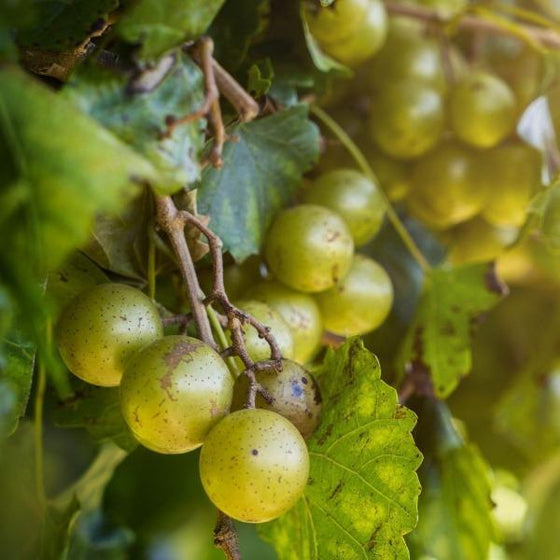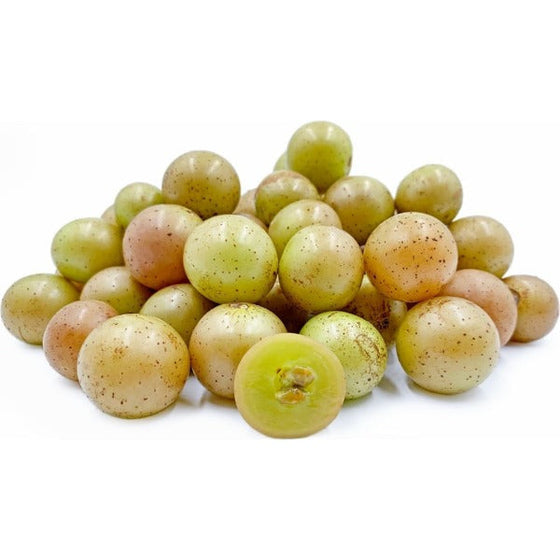 Images Depict Mature Plants
Scuppernong Vines for Sale Online
These native grapes are a deliciously sweet Southern treat, perfect for anyone looking to grow their grapes in a mild climate. Scuppernong grapes are named for the Scuppernong River in North Carolina, where they were first discovered and are the official state fruit. Scuppernong grapes are a golden-green version of muscadine grapes, with substantial bronze grapes, thicker skin, and slightly less to each bunch than traditional white grapes. These grapes are related to a famous vine - the 'Mother Vine' is a 400-year-old muscadine grapevine you can visit on Roanoake Island. Scuppernong is derived from the Algonquian word ascopo, meaning 'Sweet Bay Tree.'
Scuppernong Grapes, also known as Southern Fox Grapes, make delicious sweet wine readily available in the South. They fruit in late summer and are ready to harvest from August to September. They do best in zones 7 to 9; with protection from extreme weather, they can also be grown in temperate areas of growing zone 6. You can also make much more than wine from these vines: grapes make wonderful jams, preserves, or jellies. Or, eat them fresh off the vine as you enjoy a warm summer evening in your backyard.
---
| | |
| --- | --- |
| Hardiness Zone: | 7-9 |
| Mature Vine Length: | 20 to 35 Feet |
| Mature Width: | 4 to 5 Feet |
| Classification: | Vine |
| Sunlight: | Full sun |
| Flower Color: | White, inconspicuous |
| Fruit | Gold-green, bronze, light green |
| Foliage: | Green, deciduous perennial |
| Soil Condition: | Fertile, well draining soil |
| Water Requirements: | Moderate |
| Uses: | Fruit producing garden plant, trellises, arbors |
Growzone: 7-9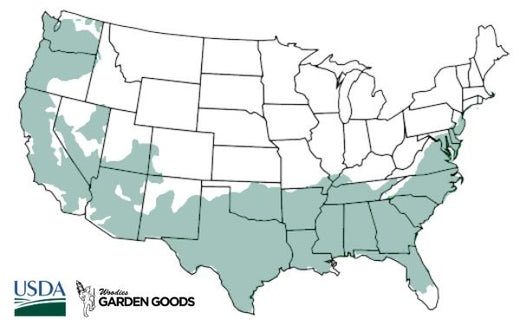 How to Care for Scuppernong Grape Vines
Before you buy a Scuppernong Grape Vine, make sure to read about the recommended care instructions to keep this plant healthy and thriving.

What is the best light for Scuppernong Grape Plants?
Scuppernong grapevines prefer full sun, ideally 6 to 8 hours of sunlight. It is best to protect your muscadine grapes from any extreme weather temperatures, since they can only handle cool temperatures down to 5 degrees Fahrenheit. These vines work well on arbors and can create a lovely spot of shade in your garden or backyard.

How often should I water Scuppernong Grape Vines?
An established grape vine does not have huge water requirements, and overwatering them can cause issues. When you first plant your Scuppernong Grape Vine, give the soil around your new plant a good, deep watering. Then, check for the next day or so to see how quickly the soil in your yard drains. If you need to water every two or three days to keep the soil evenly moist, then do so for the first few weeks. Depending on the weather and climate in your area you may need to water less frequently, or more in extreme heat.

Do I need to prune Golden Muscadine grave vines?
Golden Muscadine Grape Vines do require a certain amount of regular pruning - this will help encourage the growth of larger grapes, create a good leaf to cluster ratio, allows sunlight to reach lower areas of the vine, and increase airflow between the leaves. It's best to do major pruning when your vine is dormant, in late winter or early spring before growth begins. Cut back up to a third of the vine. Then, after your grape has bloomed, another round of pruning leaves and clusters will help your grapevine focus its energy.

Should I use mulch when planting my Southern Fox Grape Vine?
Two to four inches of organic mulch will help your Scuppernong Grape Vine by regulating the temperature around the roots, preventing weeds from growing and stealing resources, and adding nutrients to the soil over time. This is why we recommend organic hardwood or cedar chips, depending on your local availability. Make sure to keep the mulch at least 1 inch away from the trunk of your vine, in order to not inhibit any growth.
---
Frequently Asked questions
Do Scuppernong Grape Vines need a pollinator?
---
Other Products you may be interested in
---
Customer Reviews