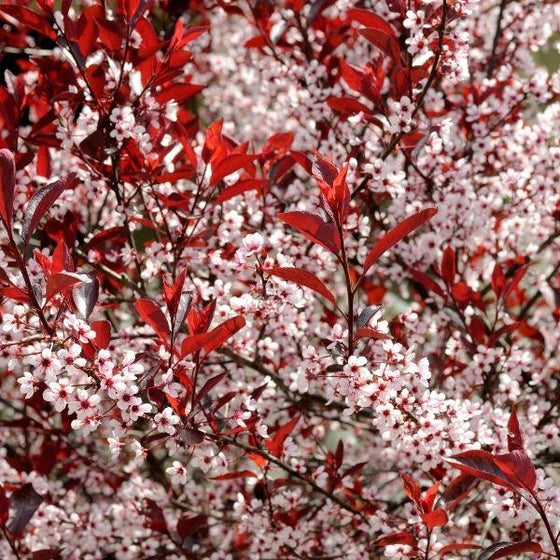 Images Depict Mature Plants
Purple Leaf Sand Cherry Shrubs for Sale Online
Purple Leaf Sand Cherry (Prunus × cistena), or dwarf red-leaf plum, is a hybrid species of a cross between Prunus cerasifera and Prunus pumila.
Purple Leaf Sand Cherry is an upright deciduous shrub that grows 6-10' tall and 5-8' wide. It also may be trained as a small tree. It is well known for its reddish-purple foliage that retains good color throughout the summer. Ovate-elliptical leaves with serrate margins are distinctive and attractive reddish-purple. Fragrant, solitary, white flowers with pink tints bloom in spring after the foliage emerges. Flowers give way to an often meager production of small blackish-purple fruits that mature in July. Birds love to eat their fruit.
---
Growzone: 3-9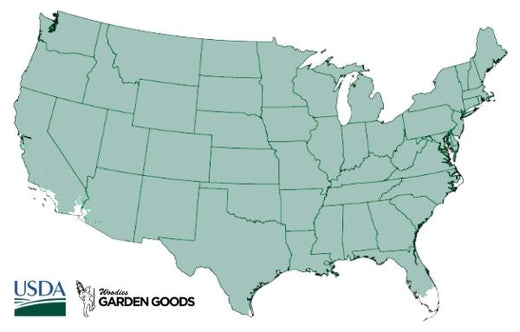 | | |
| --- | --- |
| Hardiness Zone: | 3-9 |
| Mature Height: | 6 to 8 feet |
| Mature Width: | 4 to 6 feet |
| Classification: | Broad Leaved deciduous shrub |
| Sunlight: | Full Sun to part sun |
| Habit: | Upright, densely branched |
| Flower Color: | White fragrant flowers in spring to early summer |
| Foliage: | reddish purple turning yellow in the fall |
| Pruning Season: | Late Winter to Early spring, promotes increased branching and more flowers. |
| Soil Condition: | Any well drained soil |
| Water Requirements: | Water well until established. |
| Uses: | Extremely attractive when used as a focal point in the mixed border, mass planting, or a specimen planting. Provides nectar sources for pollinators. |
---
How to Care for Purple Leaf Sand Cherry
Before you purchase your Purple Leaf Sand Cherry plant, be sure to read the recommended care instructions to ensure your plant remains happy and healthy for years to come.

How Much Sun Does my Purple Leaf Sand Cherry Need?
We recommend that you plant your shrub where it can receive a minimum of four hours of direct, unfiltered sunlight each day. Purple Leaf Sand Cherry shrubs thrive in full sun to partial shade. If your shrub is in the shade during the day, try it during midafternoon when the sun is at its brightest and most intense. This will be especially helpful during the hot summer months. Because your shrub is not drought-tolerant, keeping them in the shade at hot hours of the day will help them stay healthy and not dry out too fast.

How Often Should I Water my Purple Leaf Sand Cherry Shrub?
It is crucial to water your plant thoroughly as soon as it is transplanted. Doing so will allow your shrub's roots to establish in its new soil. Once your plant is well-established, you can usually let natural rainfall do the watering for you. However, if you are experiencing a drought or extremely hot summer, make sure to water your plant occasionally to ensure its soil remains moist and does not dry out.

What Soil Condition is best for my Purple Leaf Sand Cherry Shrub?
Your Purple Leaf Sand Cherry thrives best in moist, sandy, and well-draining soil conditions. Clay and loamy soil are ideal for your shrub to ensure the soil stays moist while not absorbing too much and causing their roots to rot. Root rot disease is serious, and if it is not caught early, it is irreversible. These shrubs are not drought-tolerant.

How Often Should I Fertilize my Purple Leaf Sand Cherry Plant?
Native shrubs such as Purple Leaf Sand Cherry grow best when you fertilize them once in the spring and once in the summer. We recommend using Bio-Tone starter fertilizer at planting to ensure your shrub receives the most nutrients while establishing its roots. Do not fertilize your Purple Leaf Sand Cherry after August because your shrub will be preparing for dormancy. If you do so, it may stimulate growth that will be too tender to withstand winter weather. If you live in the south, a late May and July application would be ideal. More northern areas can do so in June or July. If you are using a liquid fertilizer, do so every month during your plant's growing season.
---
Frequently Asked questions
Are Purple Leaf Sand Cherries Edible?
How do I mulch Purple Leaf Sand Cherries?
Can I Prune Purple Leaf Sand Cherry?
---
Customer Reviews