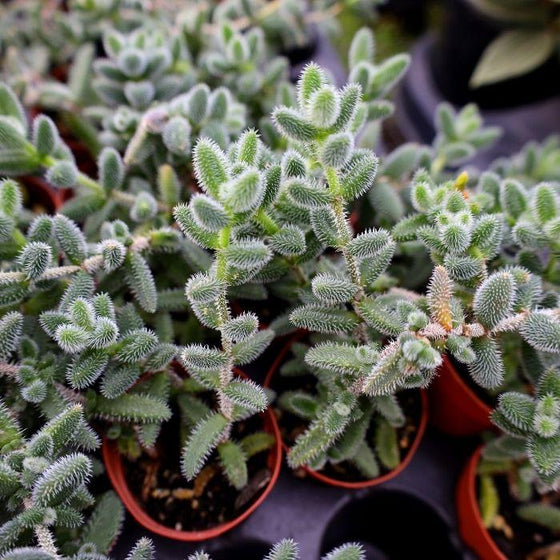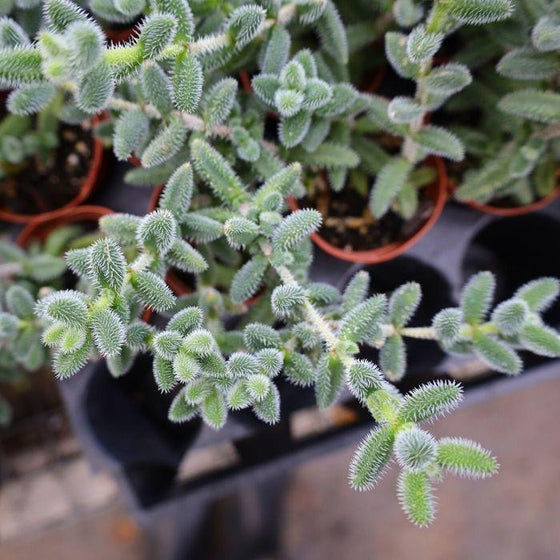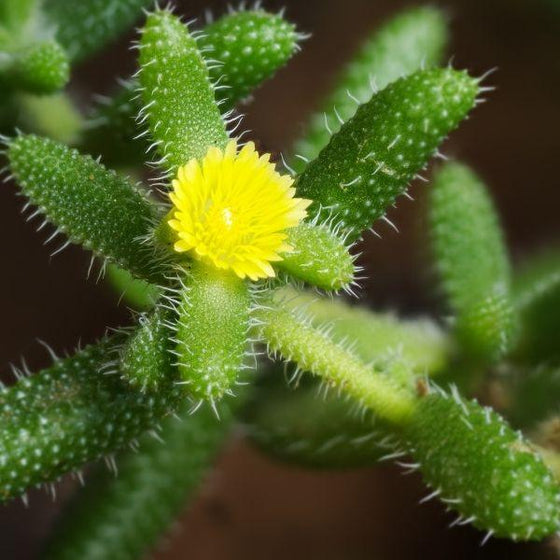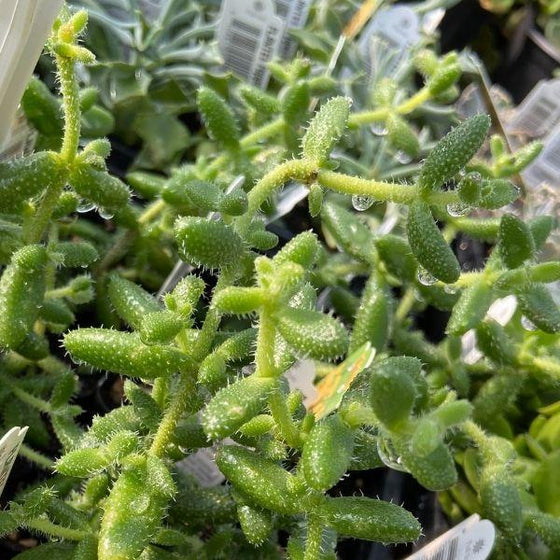 Images Depict Mature Plants
Succulent Pickle Plants for Sale Online
Pickle Plant (Delosperma echinatum) is a succulent native to the Eastern Cape of South Africa. This plant has thick green leaves with tiny white hair-like fibers on the ends. In the warm months, Pickle Plants blossom pale yellow and white flowers. However, if you are using this plant as a houseplant, don't be surprised if you do not see flowers; it rarely blooms indoors.
This plant is very easy to take care of! It requires well-draining, sandy soil conditions and a container with drainage holes to prevent root rot. Pickle Plants also love bright light, unlike some succulents that thrive in shaded areas. It is best to place your houseplant near a window that receives plenty of bright sunlight throughout the day. Pickle Plants are non-toxic to animals and humans and are great air-purifying plants.
---
| | |
| --- | --- |
| Hardiness Zone: | 10-11 |
| Mature Height: | 6 to 8 Inches |
| Sunlight: | Full sun to partial shade |
| Water Requirements: | Water infrequently once established |
| Foliage: | Green, tiny white fibers |
| Usage: | Succulent |
| Habit: | Shrub |
| Soil: | Rich, well-draining |
Growzone: 10-11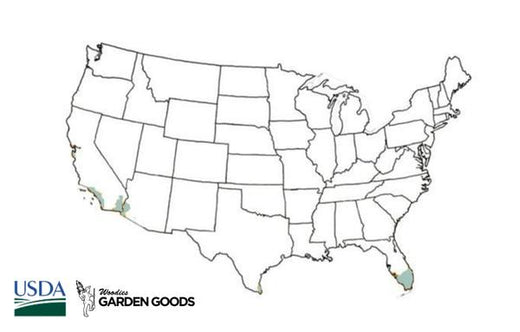 How to Care for Pickle Plant (Delosperma echinatum)
Before you buy a Pickle plant, make sure to read about the care instructions that are required and recommended to keep this plant healthy and thriving!

What is the Best Soil for My Delosperma echinatum?
Your Delosperma echinatum requires rich, well-draining soil to thrive. We recommend using a cactus or succulent potting mix to ensure your plant has the best soil conditions. If you do not use well-draining soil or the container it is in does not have drainage holes, your plant will suffer from root rot. If you have regular potting soil, you can mix it with coarse sand to ensure your plant will have properly draining soil.

How Often Should I Water My Pickle Plant?
Similar to all succulent plants, Pickle Plants require very infrequent watering schedules. It is best to water a new Pickle Plant regularly, but once it becomes established, back off on how much water you give the plant. Never allow your succulent to sit in standing water for too long. If your plant does not have well-draining soil and retains too much water in the container, it will experience root rot. Always allow the soil to dry completely before watering.

When Should I Fertilize My Pickle Plant?
Fertilizing is not an important fact when taking care of a succulent. However, fertilizing every so often will help provide your plant with extra nutrients. Fertilize your Pickle Plant once every 2 to 3 weeks with a low-Nitrogen, diluted fertilizer. Feed your plant this frequently during its growing season. When your plant enters growth dormancy, only fertilize once a month to ensure you do not burn your plant's roots.

What Type of Sunlight Does My Delosperma echinatum Succulent Need?
Unlike some lowlight succulents, Pickle Plants require full sunlight conditions. These plants thrive when placed in a windowsill that receives plenty of light. Your succulent will do fine in partial shade but does require a few hours of full sunlight each day. If you notice your plant getting leggy, this could be because it is not receiving enough sun throughout the day.
---
Frequently Asked questions
Is my Pickle Plant Poisonous?
How do you propagate Delosperma echinatum?
Where Should I Plant my Pickle Plant?
---
Other Products you may be interested in
---
Customer Reviews