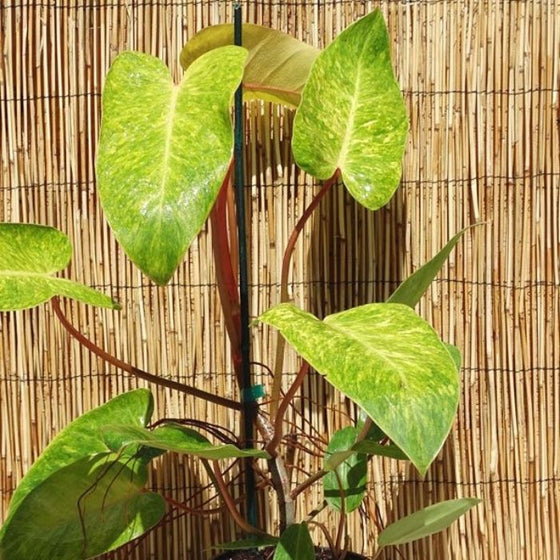 Images Depicted Range in Maturity & Container Size
Pots Not Included Unless Otherwise Stated
Philodendron Painted Lady Plants for Sale Online
Philodendron Painted Lady plants are stunning, tropical indoor plants. Loved for its uniquely speckled light green leaves and climbing nature, the Painted Lady Philodendron is a true masterpiece.
Ideal care for this stunning Philodendron plant includes bright indirect light conditions and a well-draining soil blend. Because these plants have a tropical origin, they will benefit from increased humidity levels. Additionally, applying a well-balanced fertilizer in the plant's growing months of spring and summer would be beneficial.
When it comes to watering your plant, it's best to do so when the top inch of the soil has dried. We also recommend planting your Painted Lady plant in a pot with drainage holes to avoid chances of root rot.
As your plant matures, they love external support to help encourage its climbing habit. We recommend using a brass stake or coconut coir moss pole to help promote your tropical plant's natural climbing tendencies.
As an added bonus to this already, quite fabulous in our opinion, house plant, Philodendrons are also quite simple to propagate! To make multiply your plant, simply take a cutting of a healthy stem with a node. Place the cutting in moist sphagnum moss or a clear vase with water. Your plant cutting should eventually grow roots, and soon you will be surrounded by Painted Ladies!
---
Growzone: 9-11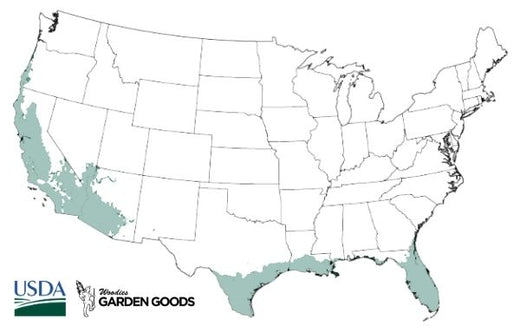 | | |
| --- | --- |
| Hardiness Zone: | 9-11 |
| Mature Height: | 2.5 to 3 Feet with support |
| Mature Width: | 12 to 16 Inches |
| Classification: | Tropical |
| Sunlight: | Fluorescent light to bright, indirect |
| Habit: | climbing |
| Flower Color: | Does not flower often |
| Foliage: | Shiny Green |
| Soil Condition: | Well draining, cactus or succulent mix (part sand) |
| Water Requirements: | Likes to go dry |
| Uses: | Does well indoors and in low light conditions |
---
How to Care for Philodendron Painted Lady
Be sure to read our planting instructions to ensure a healthy and happy plant for years to come!

What is the best light for Philodendron Painted Lady Plants?
Philodendron Painted Lady Plants thrive in medium, indirect sunlight and can even handle partial shade sometimes. We recommend keeping your houseplant in a bright, well-lit room but not under any direct source of sunlight. Direct light will scorch your plant's leaves. If you notice any burns, brown spots, or crisping of the leaves, this could be because your plant is receiving too much sunlight. A good rule of thumb is to keep your plant in 6 hours of indirect sunlight a day but allowing them some shaded time during the hot afternoon hours.

How often should I water Philodendron Painted Lady Plants?
When you are watering your Philodendron Pink Lady, we recommend using the soak and dry method. This method is when you water your plant thoroughly once and then wait for its soil to dry completely before you water them again. You can check if your plant is ready for more water by sticking your finger a few inches in the soil. If the soil is still moist, wait a few days before watering. However, if the soil is dry, you can water your plant. If you water your plant when the potting soil is still wet, it will water-clog your plant and cause root rot or other damage. Make sure to use room temperature lukewarm water when watering your houseplant.

What is the best soil for Philodendron Painted Lady Plants?
Philodendron Painted Lady Plants thrive in rich, lightweight, well-draining soil conditions. We recommend using a cactus mix as the potting soil for your houseplant. Sand and other beneficial ingredients for your plant's growth and proper drainage are already elements of this potting mix. It is also crucial to ensure your plant's container has drainage holes. Drainage holes will ensure any excess water drains out and does not water-clog your plant. If your pot does not have drainage holes, add a layer of rocks or gravel at the bottom of your container before adding in the potting soil.

How do I fertilize Philodendron Painted Lady Plants?
You can use two different types of fertilizer with Philodendron Painted Lady plants; a water-soluble, fast-release, liquid fertilizer or a granular, slow-release fertilizer will both have the same benefits for your houseplant. We recommend feeding your plant once every two weeks during their growing seasons of spring and summer. During their dormancy seasons of winter and fall, you only need to fertilize your plant once a month. Be careful not to over-fertilize your plants; doing so could cause their roots to burn from too many nutrients.
---
---
Other Products you may be interested in
---
Customer Reviews