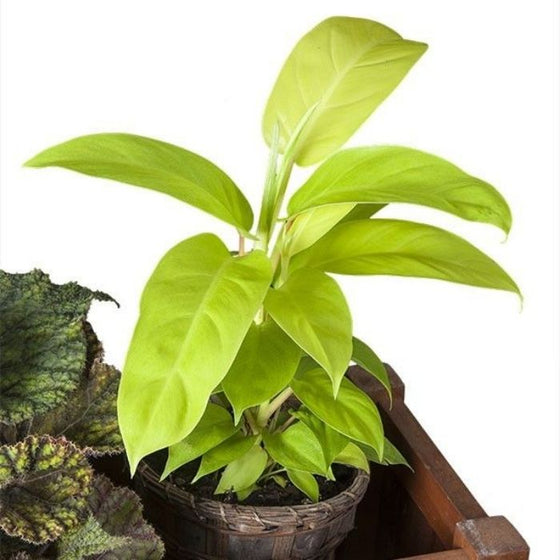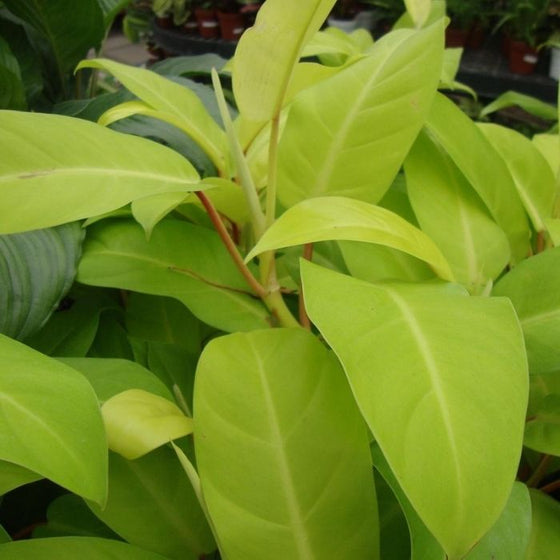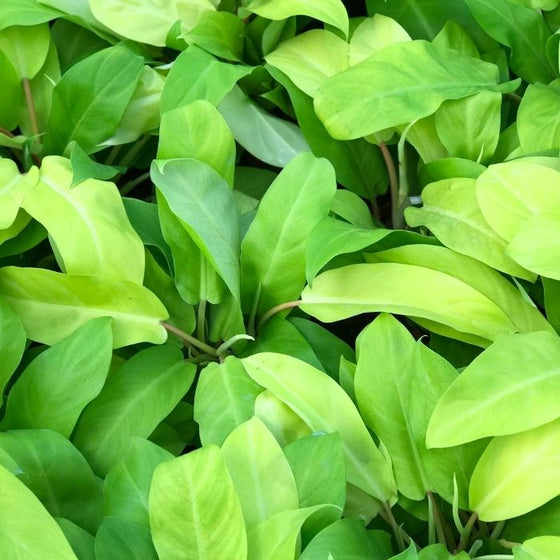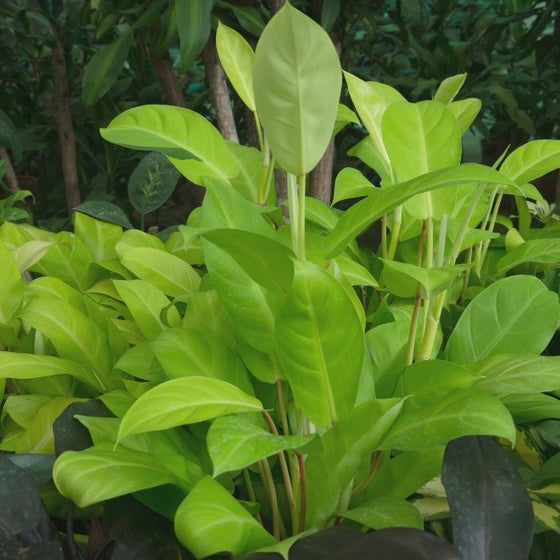 Images Depict Mature Plants
Philodendron Lemon Lime Plants for sale online
Philodendron Lemon Lime is an excellent choice for those just starting out growing houseplants. This indoor plant's bright yellow and lime green colored leaves are brilliant and bold. If you are looking to add color and interest to a space, this is your plant!
Though similar in shade to the Neon Pothos, the Lemon Lime's leaves are much larger in size and are uniquely shaped. Unlike the Pothos, the Philodendron plants' leaves grow up to 7 to 10 inches long and have a more elongated shape.
Botanically referred to as the 'Philodendron Hederaceum Lemon Lime,' the Lemon Lime Philodendron plants grow best in conditions of bright indirect light. These plants also appreciate warm temperatures above 60 degrees fahrenheit. Additionally, we recommend planting your tropical plant in a pot with drainage holes to allow the plant to drain excess water. Allow your soil to dry out in between waterings to avoid overwatering your plant.
Although this plant ideally enjoys a bright light, it is extremely adaptive to a variety of conditions. This adaptive nature makes this Philodendron a good option for the low light areas of your home. Perfect for eccentric and modern aesthetics, the Philodendron Lemon Lime will be the perfect new addition to your plant collection.
---
| | |
| --- | --- |
| Hardiness Zone: | 9-11 |
| Mature Height: | 2.5 to 3 Feet with support |
| Mature Width: | 12 to 16 Inches |
| Classification: | Tropical |
| Sunlight: | Fluorescent light to bright, indirect |
| Habit: | Upright |
| Flower Color: | Does not flower often |
| Foliage: | Yellow changing to lime green with age |
| Soil Condition: | Well draining, cactus or succulent mix (part sand) |
| Water Requirements: | Likes to go dry |
| Uses: | Does well indoors and in low light conditions |
Growzone: 9-11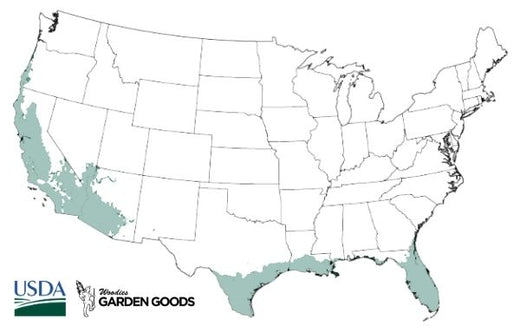 How to Care for Philodendron Lemon Lime
Be sure to read our planting instructions to ensure a healthy and happy plant for years to come!

What is the best light for Philodendron Lemon Lime Plants?
Philodendron Lemon Lime Plants thrive in the low light conditions indoors, living with just fluorescent light which makes them perfect for office buildings and apartments. They can handle some bright, indirect light too, but too much light will cause browning.

How do I water Philodendron Lemon Lime Plants?
Philodendron Lemon Lime Plants do like to dry out between watering. It does not like to stay wet or sit in water. Plants that are watered too often will not survive. If unsure, do not water. Philodendrons can go weeks before being watered again.

How do I fertilize Philodendron Lemon Lime Plants?
Any all purpose, fertilizer will work for Philodendron Lemon Lime Plants. Indoor houseplant fertilizers fall into two groups: water soluble, liquid quick release, and granular, slow release fertilizers. Jack's Classic Indoor plant food works well as a powder, quick release fertilizer that is mixed with water to quickly provide nutrients to a plant that has been in a container for an extended time.

What is the best soil for Philodendron Lemon Lime Plants?
Philodendron Lemon Lime Plants prefer a very well draining soil, and prefer to have dry conditions. Regular potting mix with sand mixed in works well for plants potted in containers, otherwise a cactus potting mix would work. The cactus potting mix already has sand and other ingredients to encourage drainage.
---
Other Products you may be interested in
---
Customer Reviews