Images Depict Mature Plants
Ostrich Fern Plants for Sale Online 
The Ostrich Fern (Matteuccia struthiopteris) is a gorgeous deciduous fern that gets its name from its massive, tall, fertile fronds that resemble ostrich plumes. The Ostrich Fern can grow up to six feet tall and three feet wide, so be sure to plant this ground cover somewhere with space to roam. The ideal growing conditions are moist, cool soil, so you will often find them near ponds and streams. These popular shade perennials are cold-hardy, deer resistant, moisture tolerant, pest resistant, and rabbit resistant.
In early spring, curly green fronds emerge and unfurl into the famously dramatic greeny. At maturity, the Ostrich fern can reach up to 6 feet wide, spreading by underground rhizomes. Once peak summer has passed, the front starts to wild, turning dark brown and eventually losing their leaflets by winter when they become dormant.
---
Growzone: 5-9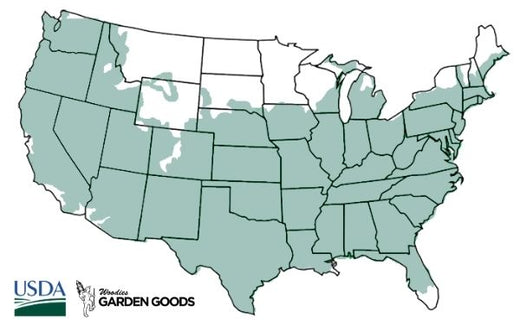 | | |
| --- | --- |
| Hardiness Zone: | 5-9 |
| Mature Height: | 3 to 3.5 Feet |
| Mature Width: | 3 to 4 Feet |
| Sunlight: | Full shade to partial shade |
| Water Requirements: | Average |
| Selling Points: | Deer resistant, tolerates heavy shade, fast growing |
---
How to Care for Ostrich Fern
After purchasing your Ostrich Fern, be sure to read about the recommended care instructions to ensure a happy and healthy plant for years to come.

How do you plant Ostrich Fern Plants?
When it comes time to plant your Ostrich fern, dig a hole that is twice as wide but no deeper than the container the fern came in. Place the plant in the middle of the hole and backfill with a mix of the original soil and organic matter. Water deeply and slowly.

What light is best for Ostrich Ferns?
Ostrich Ferns grow best when planted in full shade to part shade. While they can tolerate full sun in cooler areas, but they will not grow as tall when planted in a sunny area.

How often should I water my Ostrich Fern?
As mentioned, Ostrich Ferns love moist, well-draining soil so it is necessary to water the fern to maintain these optimal growing conditions. This is especially important during the hot summer when soil tends to dry out more quickly. If the fern dries out, it may prematurely go dormant.

How do you mulch Ostrich Ferns?
Their moisture-loving ferns love a layer of mulch surrounding the base of the fern to help retain moisture in the soil. Make sure to leave a gap between the fronts and the mulch to prevent rot and disease.
---
Frequently Asked questions
Are Ostrich Ferns Invasive?
How do you divide Ostrich Ferns?
---
Other Products you may be interested in
---
Customer Reviews