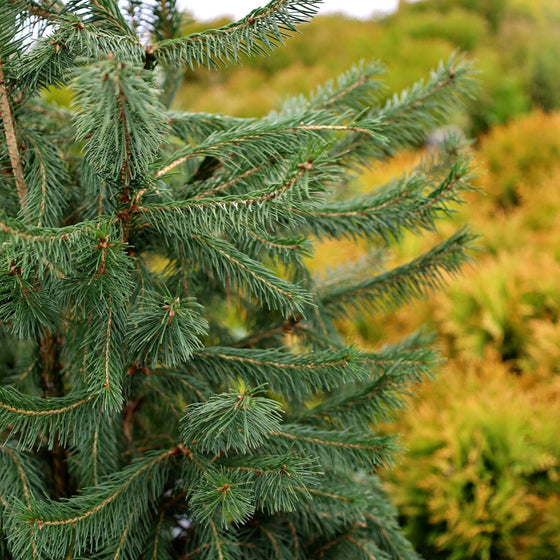 Images Depict Mature Plants
Norway Spruce Trees for Sale Online
Norway Spruce is a fast-growing, cold-hardy evergreen tree with a growth rate of 2 to 3 feet per year. It may grow 5 feet per year in a good year as a young tree. They sport a handsome pyramidal growth habit with elegant branches full of dark green inch-long needles. It can reach up to 65 feet tall and 35 feet wide, making it an excellent conifer for a privacy screen or border.
These trees would work perfectly to block a farm, park, or large landscape project from the noise of a busy freeway since they grow so tall so fast and are considered relatively hardy trees. They have strong but shallow root systems, so it is best to keep your lawn and other plants away from the tree's trunk. They rarely drop needles and can live for hundreds of years.
---
Growzone: 3-7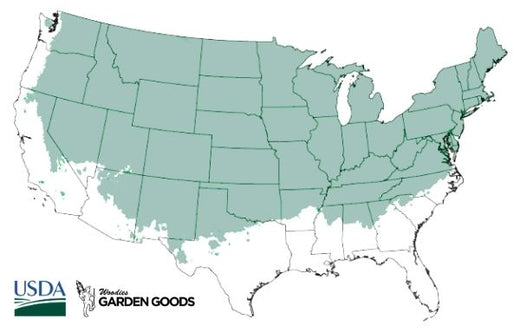 | | |
| --- | --- |
| Hardiness Zone: | 3-7 |
| Mature Height: | 50 - 65 Feet |
| Mature Width: | 25 - 35 Feet |
| Classification: | Evergreen conifer |
| Sunlight: | Full sun to partial sun |
| Habit: | Densely branched, cone shaped, fast growing |
| Foliage: | Green |
| Flower Color: | Inconspicuous pink |
| Pruning Season: | Prune in spring to maintain shape |
| Soil Condition: | Any well drained soil |
| Water Requirements: | Water well until established |
| Uses: | Extremely attractive when used as in the mixed border, foundations, or planted in mass; windbreak or large scale privacy screens |
---
How to Care for Norway Spruce
Before you buy a Norway Spruce Tree, make sure to read about the recommended care instructions to keep this plant healthy and thriving.

How Do I Plant A Norway Spruce Tree?
First, upon receiving your new Norway Spruce, take it out of the box and inspect the tree. If there are any issues please take photos and let us know as soon as possible. Then, water the tree if the nursery pot is dry and let it rest in a shady spot for a day - trees don't typically enjoy the shipping process and can use a break to acclimate. The next day, dig a hole in a full sun area twice as wide as the nursery pot your tree arrives in. Amend your native soil with some organic materials such as compost, pine fines, peat moss, and other elements that add nutrition and encourage drainage. Remove your tree from the nursery pot and gently loosen the roots. Position your tree so that the original soil will be level with the ground, then backfill the hole. Pat firmly, cover the area with mulch, and water.

How Do I Water Norway Spruce?
Norway Spruce Trees will need a regular water routine for the first 6 months after planting until the roots have had a chance to establish themselves. Depending on your area and your soil, we recommend that you start with two waterings a week for the first week or so, then back down to once a week unless your area is particularly dry or the weather is uncharacteristically warm. In grow zone 7 you may need to water more than someone in grow zone 3. After the first two to three months, back it down again to once every two weeks if you think your soil isn't drying out enough between waterings. It is better to err on the side of caution and water a little less than too much. Once your tree is established, it should be just fine with just supplemental water in hot weather or drought.

How Do I Fertilize Norway Spruce?
It is highly recommended to perform a soil test if possible before planting. That way you can know the makeup of your soil and what it will need in regards to fertilizer. Norway Spruce Trees respond well to some fertilizer in the early spring and again in late spring and summer. Do not fertilize after August, since the dormancy period in the winter is very important for a healthy tree, fertilizing too late in the season can interrupt that natural process. Even in evergreen trees such as the Norway Spruce, they still experience dormancy in winter. A well-balanced slow-release fertilizer such as Espoma Tree Tone should do the trick.

How Do I Mulch Norway Spruce?
Mulch is a very helpful tool to regulate water and nutrients in the soil around your trees. For a tree with strong shallow roots such as the Norway Spruce, mulch can also hide any spots where your lawn lost out and couldn't compete with the tree for resources. Use organic hardwood mulch such as cypress or other readily available hardwood, so that the mulch will deposit nutrients as it breaks down. Spread a 3-inch layer of mulch all the way out to slightly past the drip line. Make sure to leave at least an inch or two of space around the trunk, since mulch crowding in on a young trunk can be bad for its health and growth.
---
Additional Information
These large evergreen trees have been a staple in forestry for thousands of years. Even in America's young history, these were some of the first trees brought over from the 'old country' and planted as ornamental specimen trees for the new settlers. While they are not native to the states, they can be found in almost every eastern forest from zones 2 to 7. In forestry, these trees have been used as support timber in buildings, barns, and mines, as well as for paper and other uses.
Norway Spruce, the original Picea abies, grows in North America to approximately 65 to 75 feet tall, in ideal circumstances. Even in less than ideal environments, they will reach at least 40 feet high. They are hardy trees that can tolerate a wide variety of soils and moisture levels. They do best in well-draining soil and are considered mildly drought tolerant (but only once established). They are even deer resistant. Although they are not native, they do not sprout shoots, so they are not considered truly invasive. They have become a habitat for native animals over time, including hawks and owls.
Norway Spruce Trees are a popular choice for windbreak or privacy walls, especially alongside busy roadways because of their fast growth and dense branches. For anyone who has a large full sun area that could use some protection from wind and noise, a Norway Spruce will get the job done very quickly. You can plant them as close as 16 feet apart for a dense wall, or 25 feet apart in order to see the pyramidal shape of each tree with more definition. If you are planting two staggered rows, we recommend planting each tree at least 20 feet away from each other and from alternating rows. A dual row in this manner will fill in the gaps much faster, ideal for privacy.
FACTS ABOUT THE NORWAY SPRUCE
In its native Norway, Picea abies have been seen growing over 150 feet tall and living well over five hundred years. The oldest Norway Spruce is actually considered the oldest known living tree to date - Old Tjikko is a Norway Spruce growing from a root system that is over 9,550 years old. While the tree trunk itself is closer to 150 years, it is a clonal tree: its root system continuously grows new trunks over the years.
Norway Spruce cones are the longest cones of the spruce family, which is one of the ways you can distinguish this from other spruce trees. The cones are elongated and more narrow than others, spanning between 6 and 9 inches long. They start out from pinkish-red flowers that sit upright on branches. Then, after fertilization, the cones turn from a purple-green to a brown color and turn down to hang from the opposite side of the branch. The way these cones hang from the branches is reminiscent of Christmas ornaments.
Norway Spruce Trees are a very popular choice for Christmas trees, and this has roots in a tradition from Oslo, Norway. Olso sends Huge Norway Spruce Trees to London, Washington DC, and other cities of the two nations that came to Norway's aid in WWII. This gesture is why the trees in Trafalgar Square and other major cities are almost always Norway Spruce Trees. Also, these are popular for home use as well because they grow so fast.
There are over 150 different cultivars of trees descended from the Norway Spruce. Some of these include the Birds Nest Spruce and the Weeping Norway Spruce. If you have a smaller yard then the dwarf cultivars might suit your needs better - that way you can still enjoy this piece of history in your home landscaping.
---
Frequently Asked questions
How Fast Do Norway Spruce Grow?
How Much Sun Do Norway Spruce Trees Need?
How Do I Prune Norway Spruce?
How Long Do Norway Spruce Live?
What are Norway Spruce Susceptible To?
How Far Apart Should I Plant My Norway Spruce Trees?
---
Other Products you may be interested in
---
Customer Reviews