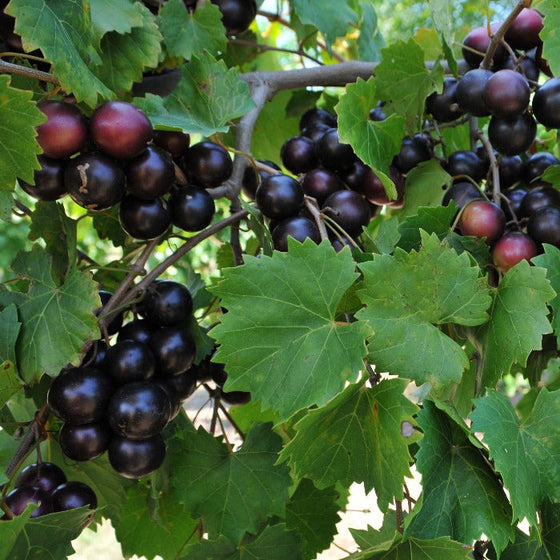 Images Depict Mature Plants
Muscadine Grape Vines for Sale Online
Muscadine Grape Vines (Vitis rotundiflora 'Carlos') are known for producing the Carlos Muscadine Grape. This fruit tastes sweet and is made into jams, preserves, and wine. The fruit is a metallic bronze color that grows in clusters and is complimented by glossy, deep green foliage. This grapevine can grow over 60 feet tall when properly cared for. This plant thrives in full sunlight, well-draining soil, and seldom watering.
---
Growzone: 7-9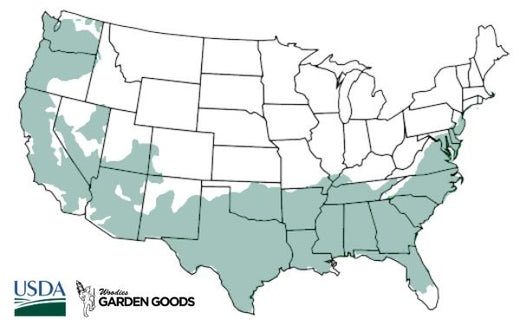 | | |
| --- | --- |
| Hardiness Zone: | 7-9 |
| Mature Height: | 40 to 60 Feet |
| Mature Width: | 4 to 5 Feet |
| Classification: | Vine |
| Sunlight: | Full sun |
| Fruit | Metallic bronze |
| Foliage: | Green |
| Soil Condition: | Average well draining soil |
| Water Requirements: | Moderate |
| Uses: | Fruit producing garden plant |
---
How to Care for Muscadine Grape Vine
Before you buy a Muscadine Grape Vine, be sure to read the recommended care guide to ensure your plant stays happy and healthy for years to come.

What is the best light for Muscadine Grape Plants?
Muscadine Grape plants light to be planted in full sun. They can tolerate some shade, but it is sure to decrease the amount of fruit produced. Ideally, your vine should receive at least 6 to 8 hours of sunlight a day.

How often should I water Muscadine Grape Vines?
We recommend watering your Muscadine vine regularly for the first year. You should give them about 1 inch of water (2 to 3 gallons) each week. Avoid spraying or misting the grapes and only water directly on the roots. Once your vines have been established, they will not need much water. Watch out for leaf drop, an early sign that you might be overwatering your plant. Always plant your vine in well-draining soil conditions to ensure the roots do not soak up excess water and rot.

Do I need to fertilize Muscadine grapes?
Applying fertilizer can help encourage the growth and production of your plant's fruit. Apply the recommended amount at the time of planting to ensure your new plant establishes with as many nutrients as possible. We recommend reapplying a few times a year during the growing seasons. Do not apply fertilizer at the end of the growing season as this may encourage new growth vulnerable to colder weather.

What kind of soil is best for a Muscadine Grape Vine?
Outdoor grapes can do best in sandy, well-draining soil. They also prefer acidic soil. Adding lime and sand to your topsoil will ensure your grape vine will receive the nutrients and drainage it requires for optimal fruiting.
---
Frequently Asked questions
How do I Prune my Muscadine Grape Vine?
What Diseases are my Muscadine Grape Vines Susceptible to?
How do I Harvest my Muscadine Grape Vine?
---
Other Products you may be interested in
---
Customer Reviews