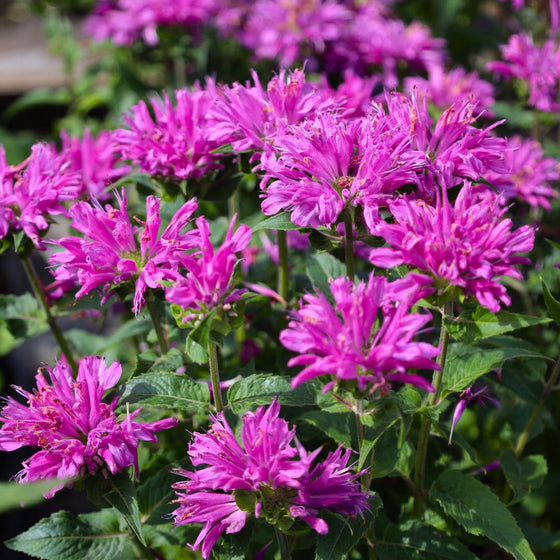 Images Depict Mature Plants
Monarda Petite Delight for Sale Online
Monarda Petite Delight is a dwarf bee balm. It's a clump-forming perennial that grows in an oval shape. This plant produces masses of lavender-rose flowers with dense, rounded terminal heads. Their vibrant-colored flowers complement the shiny, dark green foliage of the plant. Did you know the leaves on this perennial are delightfully fragrant and can be enjoyed on salads?
Monarda Petite Delight performs best in full sun or partial shade in moist but well-draining soil conditions. It is vital to deadhead spent flowers to encourage new blooms throughout the growing season. 
---
Growzone: 3-9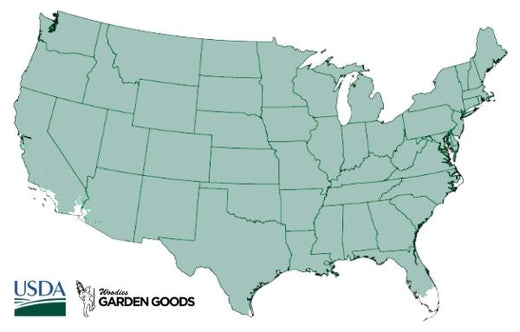 | | |
| --- | --- |
| Hardiness Zone: | 3-9 |
| Mature Height: | 1 to 2 Feet |
| Mature Width: | 1 to 2 Feet |
| Classification: | Perennial |
| Sunlight: | Full Sun to Part Shade |
| Habit: | Upright, clump forming |
| Flower Color: | Lavender, Rose |
| Flowering Season: | Summer to late fall |
| Foliage: | Green, glossy |
| Soil Condition: | Prefers dry, average to sandy soil |
| Water Requirements: | Water well until established. |
| Uses: | Extremely attractive when used as a focal point in the mixed border, mass planting. Attracts pollinators and hummingbirds. |
---
How to Care for Monarda Petite Delight
Before you purchase your Monarda Petite Delight, be sure to read the recommended care instructions to ensure your plant remains happy and healthy for years to come!

What is the best Light for my Monarda Petite Delight?
Monarda Petite Delight perennials thrive in full sun to partially shaded gardens or landscapes. We recommend planting your Bergamot in a location that can receive 6 to 8 hours of sunlight each day with some midday shade. Morning and evening sunlight is less harsh and better for your plants to receive than the intense midday sunshine. The more sunlight your plant gets, the more vibrant its flowers will be. However, too much sunlight could scorch your plant's blossoms and foliage.

What is the best Soil for Monarda Petite Delight Plants?
Monarda Petite Delight plants thrive best in humus-rich, moist, moderately fertile, well-draining soil conditions. They are not too fussy about soils as long as they are kept moist. Do not let your plant's soil dry out in the summer or winter. If their soil dries out, they could be susceptible to diseases or begin to wilt and look leggy. However, make sure they are in well-draining soil because if their soil is not well-draining, you could overwater your plants. If your plants are overwatered, they could get root rot disease, and if that is not taken care of quickly, it will kill your plants.

How Often Should I Water my Monarda Petite Delight Plant?
Monarda Petite Delight perennials must have consistently moist soil conditions. Meaning you should water your plants regularly. Be sure not to overwater your plants; if they are in well-draining soil, this shouldn't be an issue. Well-draining soil will allow any excess water to escape from your plant, so it does not sit in standing water. If that occurs, your plant could get root rot disease and die. Before the winter, give your plant a good, deep watering and surround the base with a layer of mulch. Doing so will help your plant stay moist during its growth dormancy period.

When Should I Fertilize my Monarda Petite Delight Plant?
Bee Balm perennials do not require frequent fertilization. However, feel free to sprinkle small amounts of any all-purpose garden fertilizer in the early spring. We recommend any 10-10-10 fertilizer to feed your plants. Avoid over-fertilizing your plants, too much fertilizer could burn their roots. If you do not catch root burn quickly, it will run up your plant and burn its flowers and leaves. Also, do not fertilize your plant in the winter. The winter is their growth dormancy period, and they will not require any fertilizer at this time.
---
Frequently Asked questions
Is my Monarda Petite Delight Plant Pollinator Friendly?
When Should I Deadhead my Monarda Petite Delight Plants?
Do Monarda Petite Delight Plants Suffer from Diseases or Pests?
---
Other Products you may be interested in
---
Customer Reviews