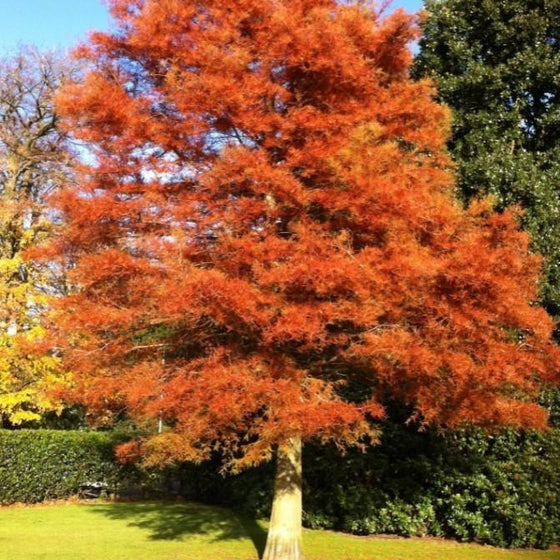 Images Depict Mature Plants
Metasequoia Amber Glow™ Redwood Trees for Sale Online
Amber Glow™ Redwood Tree is the perfect compact version of a Redwood tree that goes beautifully with many home gardens aesthetics.
Redwood trees are often too big to grow in a yard, but the Amber Glow Dawn allows you to enjoy the ancient history and beauty of a Redwood in a compact size. This deciduous tree is covered in needled golden foliage and gives an ornamental value in spring, summer, and fall!
Their bright green foliage has burgundy tips during the spring and summer for an eye-catching interest out of this world. This fast-growing, disease-resistant, highly-adaptable tree grows without much of a fuss.
Best suited for USDA hardiness zones 5-10, the Amber Dawn enjoys the bright sun and well-draining soil. These trees are tolerant of a wide variety of conditions though and can handle wet soils and drought better than most. Additionally, these trees can handle the full sun without burning.
When first planting your Amber Glow Dawn Redwood Tree, we recommend watering each week and applying a thick layer of mulch around the base to retain moisture. 
---
Growzone: 5-10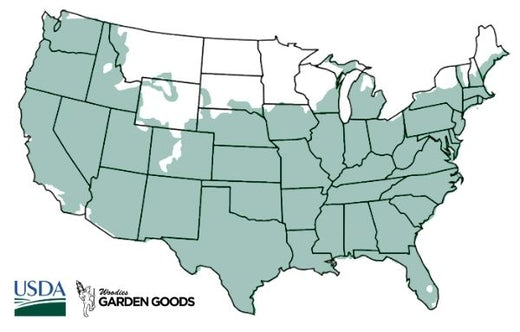 | | |
| --- | --- |
| Hardiness Zone: | 5-10 |
| Mature Height: | 15 to 20 Feet |
| Mature Width: | 7 to 10 Feet |
| Classification: | Broad leaved evergreen tree |
| Sunlight: | Full sun |
| Habit: | Compact habit, upright |
| Flower Color: | Yellow, bi-color |
| Foliage: | golden-yellow tinged with burgundy, orange |
| Soil Condition: | Any well drained soil, moist |
| Water Requirements: | Water well until established |
---
How to Care for Amber Glow™ Redwood
Be sure to read our planting instructions to ensure a healthy and happy plant for years to come!

How do I plant my Metasequoia Amber Glow Plant?
When planting your newly purchased Amber Glow plant, we suggest you first dig a hole twice as wide as the root system, but no deeper. A good rule of thumb is that you should see the soil the plant was grown in after back-filling the hole. You may need to add locally sourced compost or topsoil to the back-fill soil, depending on the quality of your existing soil. We do not recommend using compost as a back-fill or straight topsoil. More times than not, these products will retain too much moisture and cause root rot. There is no need to amend the soil, but you can add a thick layer of mulch around the base to retain moisture.

How do I water Amber Glow Trees?
When you first plant your Metasequoia Amber Glow, be sure to water it thoroughly. It is crucial to have a regular watering schedule while establishing the plant in its new home. Once your plant is well-established, you can stick to giving your about one inch of water each week. However, if you live in a dry, drought-prone area, you will need to give your plant more water. Rainfall is usually enough water for your plant to stay hydrated throughout the week. However, if you are still establishing your plant, you will need to add more water throughout the week.

How do I fertilize My Amber Glow Redwood Tree?
When fertilizing your Amber Glow, we suggest that you fertilize once in the spring and once in the summer. Be careful with products such as miracle-grow because they can burn newly planted plants when not used correctly. In the early spring, we recommend using a product like Espoma Tree-tone or Plant-tone. Doing so will give your plant a boost of nitrogen for healthy foliage. In the early summer, follow with an application of Espoma Plant-tone to provide the necessary nutrients. Any slow-release fertilizer can help prevent rapid sucker growth that is vulnerable to pests and disease.

How Much Sunlight Does My Dawn Redwood Need?
When finding the perfect location for your Amber Glow, the best place to plant it in your garden is in a full sun area. Your tree needs at least 6 to 8 hours of full, direct sunlight each day, preferably more if possible. If you do not plant your tree in a location where it can receive this amount of sunlight, it will not grow to its fullest potential and become leggy.
---
Frequently Asked questions
Is it Normal For My Amber Glow to Drop its Needles?
How Do I Know if My Dawn Redwood is Dying?
---
Other Products you may be interested in
---
Customer Reviews