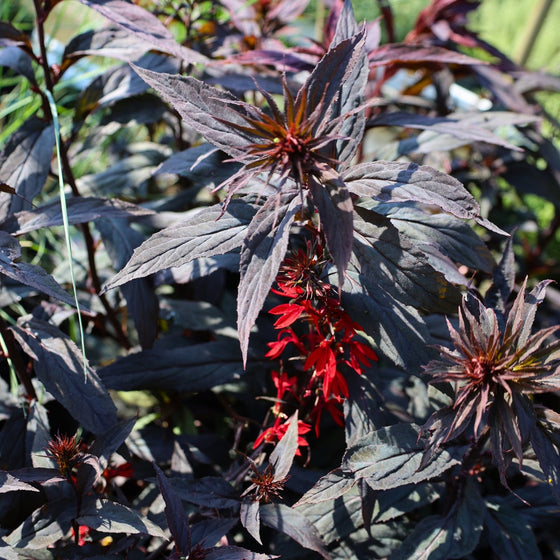 Images Depict Mature Plants
Lobelia 'Black Truffle' Plants for Sale Online
Lobelia Black Truffle (Lobelia cardinalis 'Black Truffle') perennials are striking additions to any garden or landscape. They produce dark burgundy-red foliage that compliments their bright red flowers. At the start of their growing season, the leaves start an almost black color, and as they mature throughout the season, they turn burgundy-red.
This perennial grows in a bushy, upright habit and thrives in wet soil conditions. Black Truffle Lobelia plants are deer resistant and are hummingbird magnets! If you plant Lobelia in your garden, you will notice tons of pollinators giving your perennials lots of love.
---
Growzone: 3-9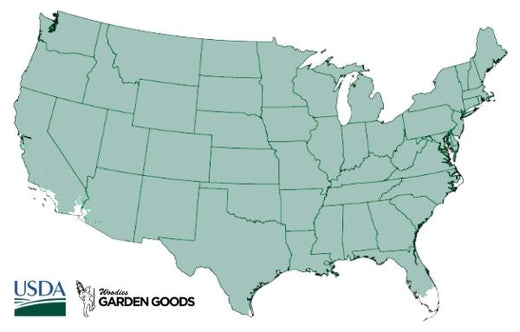 | | |
| --- | --- |
| Hardiness Zone: | 3-9 |
| Mature Height: | 2 to 4 Feet |
| Mature Width: | 1 to 2 Feet |
| Classification: | Flowering perennial |
| Habit: | Upright |
| Flower Color: | Red |
| Foliage: | Deep burgundy-red |
| Attracts: | Hummingbirds and butterflies |
| Soil Condition: | Prefers moist soil; can tolerate mild flooding |
| Water Requirements: | Water frequently, do not let dry out |
---
How to Care for Lobelia Black Truffle
Before you purchase your Lobelia Black Truffle plant, be sure to read the recommended care instructions to ensure your plant remains happy and healthy for years to come!

How do I plant a Lobelia Black Truffle Plant?
When you are transplanting your Black Truffle Lobelia, dig a hole twice the size of the root system. When you are placing your plant in the hole, make sure the original soil line is even with the surface of your plant's location. Also, the spot you choose for your Lobelia Cardinal plants must have wet soil conditions that are also well-draining. You can add a water-soluble fertilizer or a liquid fertilizer to give your plants the nutrients they need for a healthy transplanting process. Give your plant a good watering once they are in the soil.

How often do I water a Black Truffle Lobelia plant?
The most important care tip for Lobelia Black Truffle perennials is not allowing their soil to dry out. These plants thrive in wet soil conditions. Do you have an area of your garden or landscape that stays too wet for most plants to survive? Black Truffle Lobelia will thrive in this location. We recommend that you water your plants once the top 3 inches of soil are no longer damp. If you have an extremely hot summer, water your plants more frequently. In the winter, water your plants thoroughly before the first frost and add a layer of mulch, and your plants should be good to go for their dormancy period.

When Should I Mulch My Lobelia Black Truffle Plant?
Your Lobelia plants do not need mulch during their growing season from late spring through fall. However, you can add a layer of mulch around the base just before the first frost of the year to hold moisture in their soil. Because these plants thrive in wet soil conditions, adding mulch around them during the winter will help preserve the wet conditions and keep your plants thriving even in their dormancy season. You will only need to add a thin layer, about an inch thick, around the base of your plant. Leave about 2 to 3 inches of space around the plant to ensure it does not risk any fungus growth.

What is the Best Soil for my Black Truffle Lobelia Cardinal Plant?
Black Truffle Lobelia perennials thrive in moist, fertile, well-draining soil conditions. These plants like to be in areas of your garden that most plants could not survive because the conditions would be too wet. Therefore, if you have an area of your garden or landscape that stays consistently wet and you cannot plant any garden plants there, this is the best location for your Black Truffle Lobelia Cardinal perennials. However, the soil must be well-draining. Just because your plant likes wet soil does not mean its roots like to sit in standing water. If this occurs, your plants could get root rot disease.
---
Frequently Asked questions
Do Black Truffle Lobelia Plants Attract Pollinators?
How Do I Make My Black Truffle Lobelia Compact?
Is my Black Truffle Lobelia Prone to Diseases?
---
Other Products you may be interested in
---
Customer Reviews