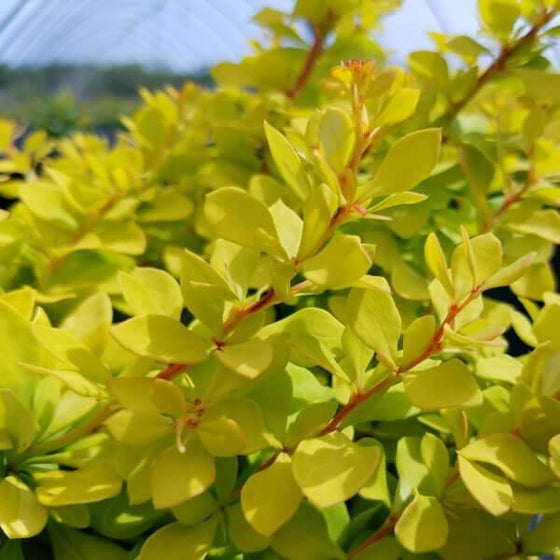 Images Depict Mature Plants
Worryfree® Lemon Glow® Japanese Barberry for Sale Online
The Worry Free® Lemon Glow® Barberry Shrubs are one of two varieties bred by the University of Connecticut to be truly and completely sterile and therefore non-invasive. The Lemon Glow® is a vibrant neon chartreuse yellow in summer and fall. It is perfect as a non-invasive sterile alternative to the Sunjoy Citrus Barberry. Its compact, rounded growing habit makes it ideal for borders, low hedges, and foundation plants.
Japanese barberry bushes became popular in US landscaping in the 1980s and 1990s, but many were found to spread voraciously and crowd out native shrubs in forest floors. Now, and after years of careful breeding and testing, you can enjoy the glamorous chartreuse yellow look of a lemon-lime barberry bush without worrying about any environmental impact.
---
| | |
| --- | --- |
| Hardiness Zone: | 4-9 |
| Mature Height: | 1.5 to 2.5 Feet |
| Mature Width: | 3 to 4 Feet |
| Classification: | Broad leaved shrub, sterile |
| Sunlight: | Full sun to part shade |
| Habit: | Rounded mounding habit |
| Foliage: | Yellow in summer and fall, lime green in spring |
| Flower Color: | Inconspicuous |
| Pruning Season: | Best pruned in late winter before new growth emerges to maintain shape |
| Soil Condition: | Any well drained soil |
| Water Requirements: | Water well until established, then drought tolerant, prefers dry over too wet |
| Uses: | Full sun brings out the best foliage color, sterile alternative barberry |
Growzone: 4-9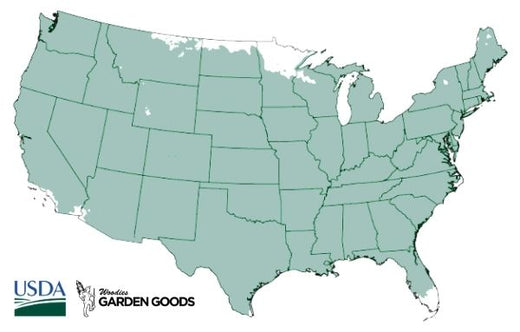 How to Care for Lemon Glow Barberry
When purchasing your WorryFree Lemon Glow Barberry, be sure to read the recommended care instructions to ensure a healthy and thriving shrub

How do I plant my Lemon Glow Barberry?
To plant a Barberry Lemon Glow Shrub, dig a hole twice as wide as the roots but not deeper. Depending on the quality of your existing soil you may need to amend with locally sourced compost or organic matter to the back-fill soil. It needs to be a 50/50 mix of compost and soil, since you want to avoid root rot. This mix will help the young feeder roots of Barberry Lemon Glow to spread through the loose, nutrient rich soil. Do not plant your shrubs too deep, as this can kill a young plant. You should still be able to see the soil the plant was grown in after back-filling the hole. Bio-tone starter fertilizer is helpful as it provides plants with mycorrhizae fungus - a naturally occurring beneficial fungus that colonizes on the new growing roots of plants. It creates a barrier between the roots of the plant and fungus and pathogens.

How do I water Lemon Glow Japanese Barberry Shrubs?
Watering your WorryFree Lemon Glow Barberry is very important before it is fully established. Soak your plant when first planting, since most of the water will run off at first. Later, check your plant every other day for the first few weeks to see if it needs water or not. You may not need to water every other day, depending on how well your soil drains or how high the water table is where you live. For each watering, we recommend the 5 count rule. A 3 gallon pot would need a 15 second count while watering from a typical hose, a 5 gallon pot a 25 second count, etc. If you have a lot of Lemon Glow Barberries planted together in a hedge or mass planting layout, you may want to consider a soaker hose that can slowly water them all together. Once established, your barberry will be relatively drought tolerant, but this doesn't mean it never needs to be watered. Simply put, if you are unsure if it is time to water again, it's ok to wait a little longer to be on the safe side.

What kind of sun exposure do Worryfree Barberry Lemon Glow shrubs need?
WorryFree Lemon Glow Barberries display a bright citrusy yellow color in the late summer and fall seasons. This color will develop best when planted in a bright full sun spot. It will tolerate partial shade once established, but it may not have the same neon yellow qualities as it would with more sunlight.

How do I mulch Barberry Lemon Glow?
A 2 to 3 inch layer of mulch will help to regulate soil temperatures and prevent weeds. Cypress mulch or round hardwood mulch will provide the best nutrients once it breaks down, but depending on your local availability any organic mulch will do the trick. Place mulch by building a donut mound around the shrub under its dripline, leaving a 1 to 2 inch space around the stem of the plant for growth.
---
Additional Information
WorryFree® Lemon Glow® Barberry Shrub

This low maintenance shrub is both beneficial to our native ecosystems and stunning, making it a top choice barberry. Lemon Glow® is one of two sterile, non-invasive Japanese barberry shrubs developed as a part of the WorryFree® Collection. The other is the Crimson Cutie® Japanese Barberry, and these two make a handsome pair with their contrasting colors.
These barberry shrubs grow in a naturally compact, mounded habit, so they require very little pruning or shaping. The neon yellow color that shines in the summer and fall make these perfect in many circumstances, from focal point specimen shrubs in smaller gardens to foundation planting or a low formal hedge. They would also make a beautiful border around a larger landscaping project in a front or backyard. Alternate them with other barberry colors to create a dynamic visual feast. Lemon Glow love full sun but will be just fine in partial shade as well, although not as vibrant.
Lemon Glow Barberry Shrubs are a well-behaved easy shrub, adaptable to a range of climates and soils. They are hardy from USDA zones 4 all the way to 9, and they are deer and rabbit resistant. Once established, WorryFree Lemon Glows are drama-free, only needing light pruning to shape and promote new growth. Fertilize in late winter before growth, and again in early summer if you would like. While many barberries should have their flowers removed before they can spread seeds, you do not need to worry about Lemon Glows: they are completely sterile and will not proliferate at all.
Having a non-invasise Japanese barberry is critical to hep protect our native ecosystems. Japanese barberries typically are very aggressive in their ability to spread, since the seeds are a favorite treat for birds. The birds travel, and deposit them far and wide. A Japanese barberry can spread like wildfire, and they can overpower vital native shrubs that local wildlife need. The importance of a sterile barberry like the Lemon Glow cannot be stressed enough. There is no seed for birds to eat and spread. This sterile fruit system took a very long for the University of Connecticut to develop and test, but they wanted to be sure that the Crimson Cutie and Lemon Glow barberries were truly non-invasive.
Enjoy WorryFree Lemon Glow Barberry Shrubs in spring with their fragrant flowers and green foliage all the way through summer and fall with their namesake glowing yellow foliage. These are a great choice for gardeners who want to protect their native landscapes.
---
Frequently Asked questions
How do I fertilize Barberry Lemon Glow Shrubs?
---
Other Products you may be interested in
---
Customer Reviews