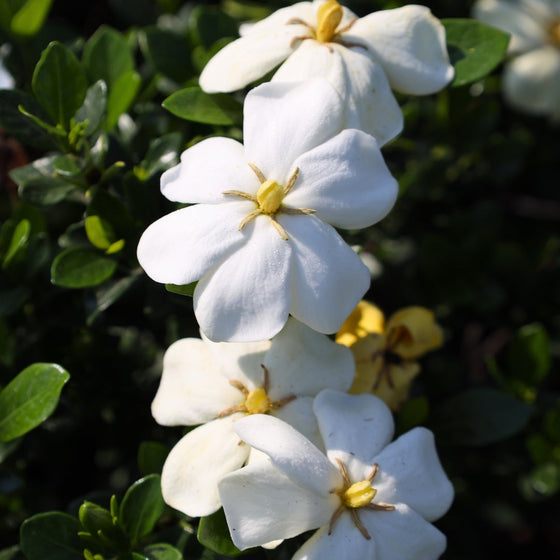 Images Depict Mature Plants
Kleim's Hardy Gardenia Shrubs for Sale Online
Kleim's Hardy Gardenia or "Cape Jasmine" are most valued for their resistance to cold climates. Their small evergreen shrub structure blooms thick dark green leaves and fragrant flowers shaped like little stars. When planted in the proper grow zones, the semi-dwarf gardenias grow 2 to 3 feet tall and wide, lasting decades long!
Thriving best in full sun and acidic soil, you won't have too much trouble watching your gardenia jasminoides bloom beautiful white flowers; you should watch out for spider mites, a commonly occurring problem found with these plants.
The most popular place Kleim's Hardy is planted is near entryways, patios, and in the foreground of garden borders. Placing them in well-drained soils will allow you to plant them anywhere virtually; they can even handle partially shaded landscaping. We recommend you plant them near heavy foot traffic areas so your guests can enjoy their fragrance every time they step foot in your beautiful garden.
---
Growzone: 7-11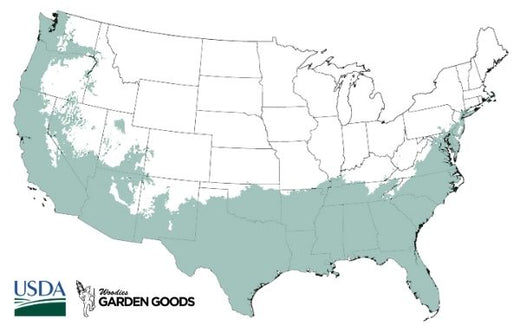 | | |
| --- | --- |
| Hardiness Zone: | 7-11 |
| Mature Height: | 2 to 3 Feet |
| Mature Width: | 2 to 3 Feet |
| Classification: | Evergreen shrub |
| Sunlight: | Full sun to partial shade |
| Habit: | Mounded, spreading |
| Foliage: | Evergreen |
| Flower Color: | Snow-white |
| Soil Condition: | Any well drained soil, likes acidity |
---
How to Care for Kleim's Hardy Gardenia
When purchasing your Kleim's Hardy Gardenia Shrub, be sure to read the recommended care instructions for a happy and thriving plant.

What kind of soil do Kleim's Hardy Gardenia Shrubs prefer?
Gardenias, such as Kleim's Hardy, like their soil to be more acidic and well-draining. Handle with care with transplanting these shrubs because their roots will grow best when undisturbed. When first planting your Gardenia, we recommend amending the local soil to ensure there is adequate drainage in your desired area. Peat moss or fir bark are great choices to help create a better drainage system in clay soil options. Because they like their soil to be on the more acidic side, this is a great time to perform a soil test. If your soil is more in the alkaline side (higher pH) then a soil acidifier can help balance your shrub's new habitat. Don't have a soil acidifier? No worries, try using lime instead!

How Much Water Do Kleim's Hardy Gardenias Need?
Gardenias are known to be fairly drought tolerant shrubs once they are established. When first planting, water thoroughly and then monitor your soil to see how quickly the top 2 inches dry out. A good rule of thumb is to water for a count of 5 for every 1 gallon pot size you plant. Keep your soil moist but not soggy for the first 4 to 6 weeks. Depending on your climate, you should water only once a week or up to every other day. If you are not sure when it's time to water or have a potted Gardenia, check your soil about 3 inches down for dryness. After your shrubs are well established, you should only need to water them infrequently in average climates and more frequently in extreme heat climates.

How Much Sunlight Does Kleim's Hardy Gardenias Need?
Depending on your location, Kleim's Hardy Gardenias can handle full sun all the way down to partial shade. Morning sun is the best for these plants because it is less harsh and less likely to cause any leaf discoloration. If you live in a northern state, plant in full to partial sunlight. If you live in a southern state, plant your shrub in partial sunlight to partial shade. Best practice is to allow your gardenias to get at least 4 to 6 hours of sun per day.

Should I fertilize my Kleim's Hardy Gardenias?
Best time to fertilize your Hardy Gardenias is every 3 to 4 weeks from April to November. Using a fertilizer high in nitrogen will allow your shrub to stay happy and healthy. Notice the leaves turning yellow? We recommend you mix a tablespoon of Epsom Salt with a gallon of water and apply around your plant. These moderately growing shrubs do not require fertilizing in early winter. Even thought they are evergreen, they still enter a growth dormancy and fertilizing could disrupt that process.
---
Frequently Asked questions
Can My Kleim's Hardy Gardenia Survive a Freeze?
Do Kleim's Hardy Suffer From Any Diseases?
Do I Need to Prune My Kleim's Hardy Gardenia Shrub?
---
Other Products you may be interested in
---
Customer Reviews