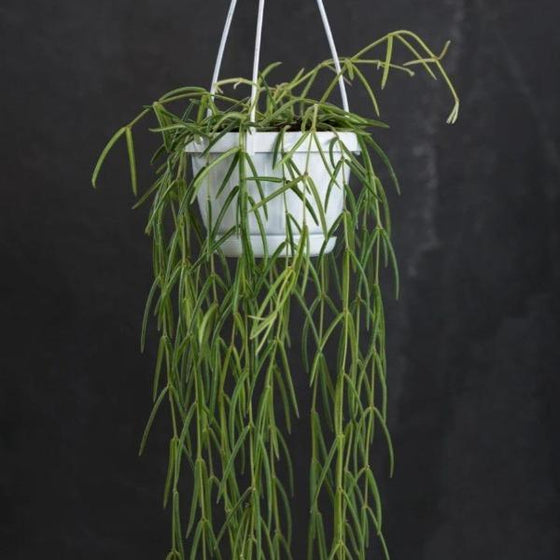 Images Depict Mature Plants
Hoya Linearis Plants for Sale Online
Hoya Linearis is a Hoya plant that produces long, thin, waxy leaves and is ideal as a hanging plant. As your Hoya Linearis succulent matures, it will bloom white star-shaped flower clusters. This grass-like semi-succulent Hoya will cascade down the edges of a planter or shelf and can grow well past 5 feet long. They love bright light but don't leave them in direct sun for more than a few hours.
---
| | |
| --- | --- |
| Hardiness Zone: | 9-11 |
| Mature Height: | 3 Inches |
| Mature Width: | 5 Feet |
| Classification: | Succulent |
| Sunlight: | Fluorescent to bright indirect |
| Habit: | Cascading |
| Flower Color: | White |
| Foliage: | Green; thin |
| Soil Condition: | Likes to dry out some between watering |
| Uses: | Attractive plant to be featured or in the background of any room in the house, does well with minimal care |
Growzone: 9-11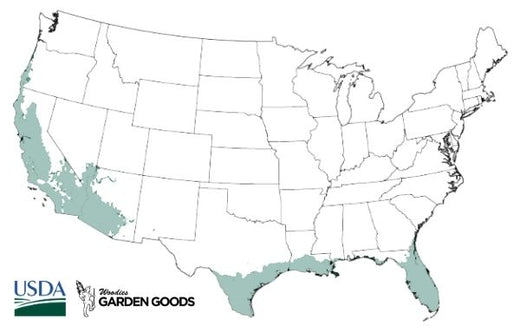 How to Care for Hoya Linearis
Be sure to read our planting instructions to ensure a healthy and happy plant for years to come!

What are the watering requirements of Hoya Linearis Plants?
Hoya Linearis Plants should be watered relatively infrequently, as the plants like to dry out some between watering. t is important not to water the foliage of these plants, or to over-water them as this will lead to leaf damage or plant death. If you're unsure, it is always better to let the plant go dry instead of drenching it with water and water when the top few inches of soil are dry.

When should I fertilize my Hoya Linearis?
Any type of fertilizer offers nutrients that help plants with the transition to a new environment. Jack's Classic Indoor plant food works well as a powder, quick release fertilizer that is mixed with water to quickly provide nutrients to a plant that has been in a container for an extended time. On the other hand Osmocote Indoor/Outdoor is an option as a granular, slow release fertilizer that can be applied while potting and planting.

What is the best potting soil for Hoya Linearis Succulents?
The best soil for Hoya Linearis Plants is a well balanced mix of peat moss, perlite and vermiculite that dries some between watering but takes a long time to compact; Hoyas do best in light-weight soil. Typically, any reputable potting mix will work well and includes those ingredients.
What light is needed for Hoya Linearis Plants?
Hoyas thrive when placed in bright, indirect light; an east facing window is best. While the Hoya Linearis can survive in less light, it will not grow as well.
---
Other Products you may be interested in
---
Customer Reviews