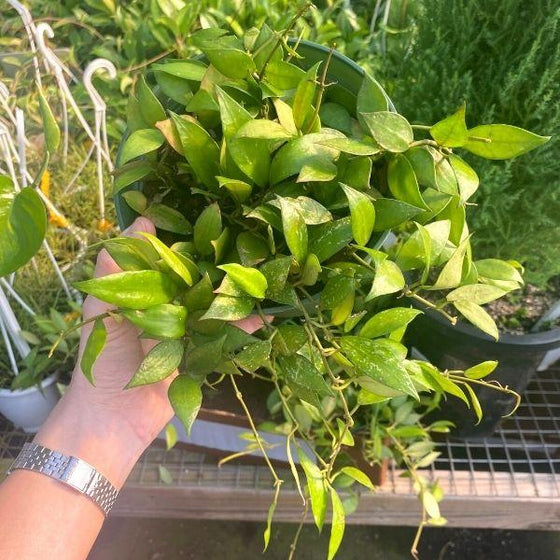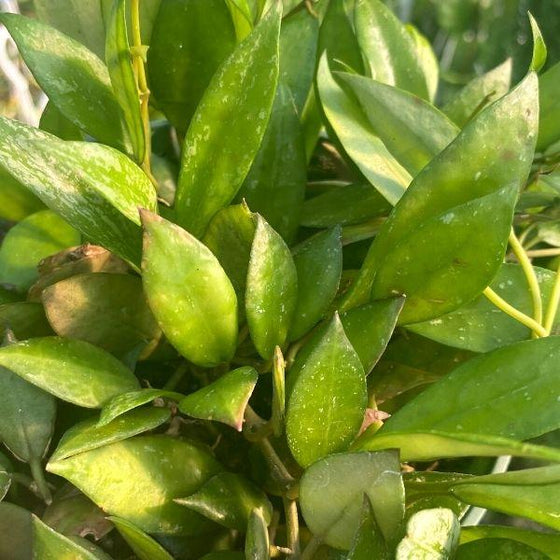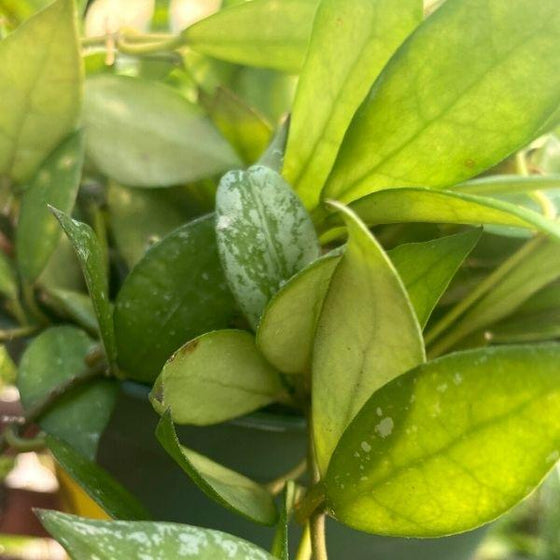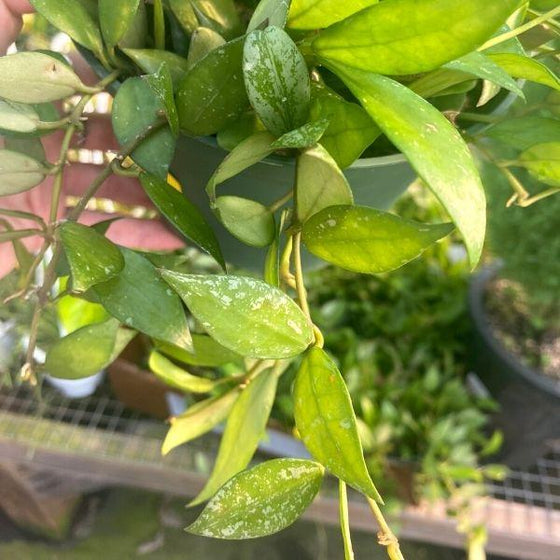 Images Depict Mature Plants
Hoya Gracilis Plants for Sale Online
Hoya Gracilis, also known as the Hoya Memoria, is a unique trailing houseplant known for its narrow and flat deep green foliage speckled with white variegation. On occasion, this houseplant will produce pinkish red, scented flowers. The best way to care for your Hoya Gracilis is to keep it in bright, indirect light and allow it to dry out in between watering. These wax plants go beautifully in hanging baskets or on the edge of a shelf, so they have plenty of space to trail as they grow.
---
| | |
| --- | --- |
| Hardiness Zone: | 9-11 |
| Mature Height: | 6 to 8 Inches |
| Mature Width: | 30 to 36 Inches |
| Classification: | Succulent |
| Sunlight: | Fluorescent to bright indirect |
| Habit: | Cascading |
| Flower Color: | Dark Pink and white |
| Foliage: | Green with white speckles |
| Soil Condition: | Likes to dry out some between watering |
| Water Requirement: | likes to go dry |
| Uses: | Attractive plant to be featured or in the background of any room in the house, does well with minimal care |
Growzone: 9-11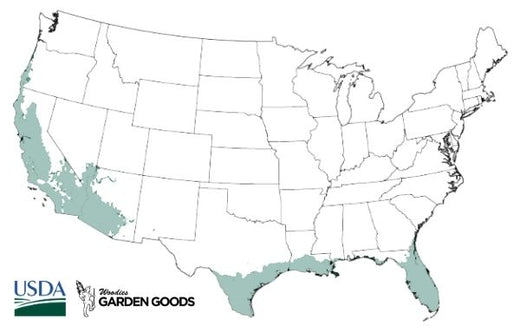 How to Care for Hoya Gracilis
Be sure to read our planting instructions to ensure a healthy and happy plant for years to come!

When Should I Water my Hoya Gracilis Plant?
Your Hoya Gracilis should receive water relatively infrequently, as the plants like to dry out some between watering. The easiest way to tell if your plant needs water is by the weight of the container. If the container is heavy and the foliage is upright, chances are good the plant doesn't need water, whereas a light pot and limp foliage mean the plant needs some water. Sometimes, water pours out of the container without being retained by the soil. If you're unsure, it is always better to let the plant go dry instead of drenching it with water. Moisture meters are another easy way to tell if plants need to be watered and usually come with a guide to indicate what number or level of moisture plants require.

What is the Best Soil for Hoya Gracilis Plants?
Hoya Gracilis houseplants thrive best in a well-balanced mix of peat moss, perlite, and vermiculite. Let your houseplants' soil dry between waterings; its soil takes time to compact. Typically, any well-rated potting mix will work well and includes the ingredients listed above. When potting your plant, try adding a granular, slow-release fertilizer to help your plant thrive during the transplanting process. If your soil already has fertilizer incorporated into it, do not add additional fertilizer. If you do so, you could risk overfertilizing your houseplant. Overfertilizing could cause damage permanently.

How Much Sunlight Does my Gracilis Hoya Plant Need?
Your Hoya Gracilis thrives best in bright, indirect light. A small amount of direct sunlight will not damage your plant but try your best to avoid it at all costs. Too much direct sunlight will be too hot and scorch your plant's leaves. On the flip side, try to avoid dark areas of your home or fluorescent lighting. Hoya houseplants need sunlight to grow, thrive, and eventually blossom flowers as they mature. Ideally, your houseplant should be in a south or east-facing windowsill. If you bring your Hoya outdoors during the summer, make sure you are placing it where it will receive bright, shaded light, like a tree. Hanging your Hoya under a shady tree will give it just the right amount of sunlight without any direct overexposure.

What type of Fertilizer do Hoya Gracilis Plants Need?
Hoya plants are light feeders, especially Hoya Gracilis, and do not require much fertilization. Even when your plant is blooming, it will not need as much fertilizer as some flowering plants do. Do not fertilize your plant when it is blooming. Adding fertilizer to their soil while blooming could cause damage to new blossoms that have yet to emerge. The best time to fertilize your Hoya Gracilis is during the transplanting process. You can use potting soil with fertilizer mixed in, or you can add a small amount of granular fertilizer to help add any extra nutrients your plant may need after transplanting.
---
Other Products you may be interested in
---
Customer Reviews