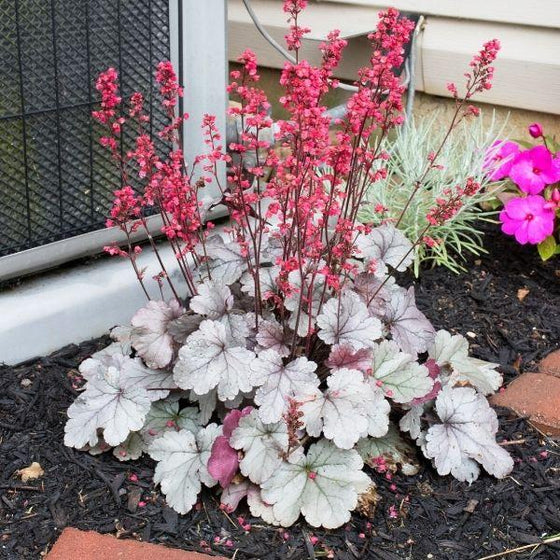 Images Depict Mature Plants
Heuchera Coral Bells 'Silver Gumdrop' Plants for Sale Online
The Proven Winners Heuchera Dolce 'Silver Gumdrop,' also known as Coral Bells, is a perennial plant with dramatic silver-purple iridescent foliage. Unlike other silver Heucheras, 'Silver Gumdrop' produces hot pink flowers in the springtime. Typically, these perennials will bloom white or cream flowers. Later in the season, the silver leaves will take on a rosy overtone for additional interest in your garden.
Coral Bells is an evergreen perennial ideal for woodland gardens as it prefers partial shade but can tolerate full sun. Its tight, compact growth and low mounding habit make it a versatile addition to your garden as well as a lovely choice for vase cuttings and floral bouquets. Heuchera Silver Gumdrop is a smaller cultivar of the species and looks beautiful used as edging along pathways.
---
Growzone: 4-9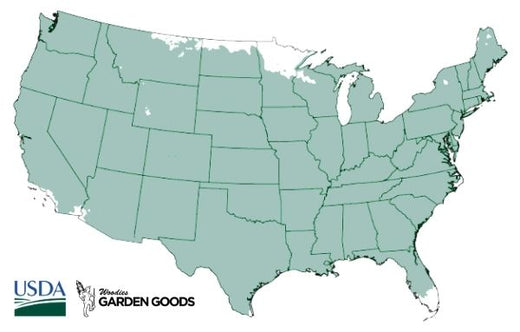 | | |
| --- | --- |
| Hardiness Zone: | 4-9 |
| Mature Height: | 8 to 26 Inches |
| Mature Width: | 18 to 24 Inches |
| Sunlight: | Partial shade to partial sun |
| Water Requirements: | Water well until established |
| Foliage: | Silver-purple |
| Flower Color | Rosy pink |
| Habit: | Mounding |
---
How to Care for Heuchera Dolce Silver Gumdrop
Before you purchase your Heuchera Coral Bells 'Silver Gumdrop' perennial, be sure to read the recommended care instructions to ensure your plant remains happy and healthy for years to come!

How Often Should I Water my Coral Bells Silver Gumdrop Plants?
Heuchera Silver Gumdrop perennials thrive in evenly moist and well-draining soil conditions. However, consistently wet soil (soil that is too wet) will cause root rot disease and kill your plants if not taken care of quickly. When it comes to the regularity of watering your Heuchera plant, water them on an average basis but not too frequently. If you are unsure if you should water your plant or not, we recommend waiting a day or two to avoid the risk of overwatering.

How Much Sunlight Should My Heuchera 'Silver Gumdrop' Receive?
In general, Coral Bells Silver Gumdrop perennials thrive in shaded areas of a garden or landscape. However, brightly colored varieties, like Silver Gumdrop, do best in the morning sun to ensure their most vibrant color development. It is crucial to know if you plant your perennial in full sun, its color could washout, and the heat and light will cause their leaves to scorch. Optimal sunlight for your brightly colored Heuchera would be a few hours of morning sunlight and partially to fully shaded time in the afternoon. Some evening sun exposure is okay since the sun's rays are not as intense as midday.

When Should I Prune My Heuchera Dolce Silver Gumdrop?
We recommend pruning your perennial as soon as you notice the blossoms beginning to die off. Your Heuchera will produce new flowers, but you can help expedite the process by pruning off the entire flower stalk. Doing so will allow your plant to focus its energy on growing new flower stalks and blossoming flowers, rather than focusing energy on dead or dying stalks and flowers. Also, if you notice any dead or dying foliage or branches, feel free to prune them off. Doing so will allow your plant's energy to focus on growing healthy instead of focusing on fixing what is already dead or dying.

What is the Best Soil for my Heuchera Silver Gumdrop Plants?
Heuchera Silver Gumdrop perennials thrive best in well-draining soil that is rich in organic matter. It is crucial to keep your plant's soil evenly moist but not too wet. Overly wet soil conditions for your plant will cause root rot disease; if not caught early, it can kill your plants. If you are unsure if it is time to water, wait a few days to ensure your plant's soil does not get too wet. Your plant will survive with dry soil for a little bit without any damage.
---
Frequently Asked questions
Does my Heuchera Plant Attract Pollinators?
Is my Dolce Silver Gumdrop Coral Bells Deer Resistant?
Why Does my Coral Bells Silver Gumdrop Plant Keep Dying?
---
Other Products you may be interested in
---
Customer Reviews