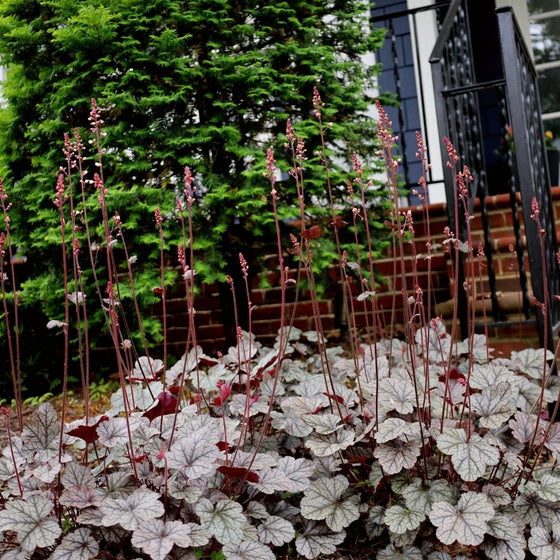 Images Depict Mature Plants
Heuchera 'Silver Scrolls' for Sale Online
Heuchera 'Silver Scrolls' looks great in the border in clumps, as edging, or in nooks in the rock garden. Getting its common name from the shape of the foliage, this hybrid coral bells cultivar has conspicuous metallic and burgundy leaves. These form a mound that spreads 12 inches wide, out of the center whitish flowers spring up in early summer, reaching 24 inches high.
While this perennial can endure some sun, it really prefers partial shade, especially in the afternoon. Too much sun can lead to scorching, browning, or wilting of the foliage.
---
Growzone: 4-9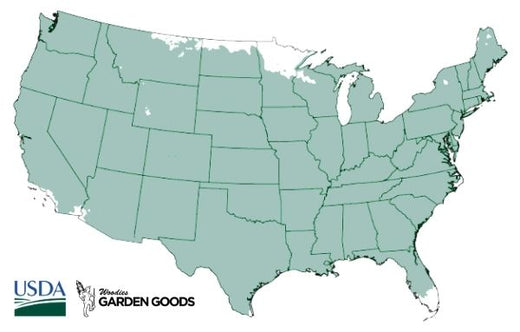 | | |
| --- | --- |
| Hardiness Zone: | 4-9 |
| Mature Height: | 12 to 24 Inches |
| Mature Width: | 8 to 12 Inches |
| Sunlight: | Full shade to part shade |
| Water Requirements: | Medium |
| Common Names: | Coral bells, alumroot |
---
How to Care for Heuchera Silver Scrolls
Before you buy a Heuchera Silver Scrolls Plant, make sure to read about the recommended care instructions to keep this plant healthy and thriving.

How do I plant my Heuchera Silver Scroll?
When you receive your perennial from Garden Goods Direct, it will arrive in a plastic nursery pot. Using this, dig a hole that is twice as wide but no deeper than the container. Loosen the bottom of the Heucheras root system using your hands and place in the center of the hole. Back fill with topsoil mixed with the original so Give the plant a slow, deep watering to allow the roots to settle.

How to prune Heuchera Silver Scrolls?
Throughout the season, remove spent flowers at the base of the stem to encourage new blooms. Heucheras reliably bloom on the seasons new growth, so prune to the ground during late winter or very early spring before growth starts. Fall pruning, especially in colder climates, can result in a quick flush of new growth that prevents dormancy and makes winter freezes potentially deadly.

How often should I water my Silver Scroll Heuchera?
Silver Scroll alumroots loves to stay in moist soil so water frequently, especially when planted in a sunny location or warm climate where the water in the soil evaporates quicker. It is important that you do not let the soil dry out between waterings.

When should I apply mulch to my Silver Scrolls Coral Bells?
While some Heucheras can be evergreen in warmer climates, they need to be protected in the winter months of cooler climates. Applying a organic mulch around the plant after the ground freezes will help protect the root system. Be sure to leave a gap between the mulch and the plant to prevent root rot.
---
Frequently Asked questions
How do I divide my Silver Scroll Heuchera?
---
Other Products you may be interested in
---
Customer Reviews