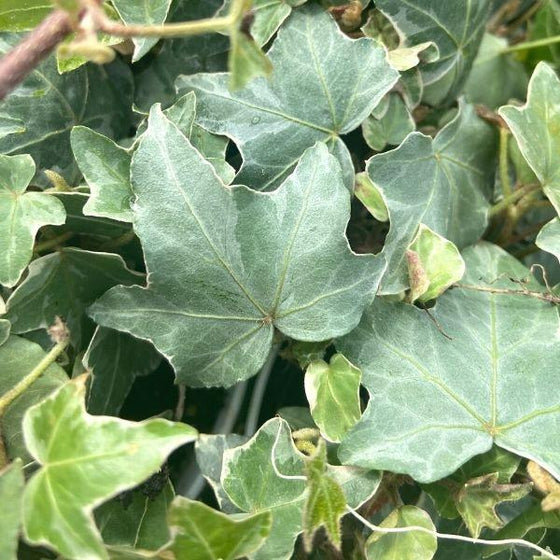 Images Depict Mature Plants
Glacier English Ivy for Sale Online
Glacier Ivy (hedera helix 'glacier') produces frosty-green and white variegated foliage that is very useful when contrasting with other dark foliage plants or bright flowers. They are often grown as houseplants for their attractive vining foliage, but can also be used as a reliable ground cover for any location. These annuals are also great for erosion control on rough slopes and steep banks.
This fast-growing annual has a widespread growth habit which makes it perfect for creating a romantic nook when grown on a trellis or fence. According to the Humane Society of America, Ivy plants can be toxic to pets when their berries or leaves are ingested. Take a look at our pet-friendly plant options to ensure you choose the best plant for your garden and your family.
---
Growzone: 5-11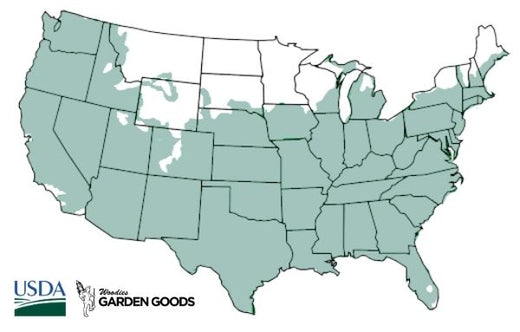 | | |
| --- | --- |
| Hardiness Zone: | 5-11 |
| Mature Height: | 4 to 6 Inches on the ground |
| Mature Width: | 8 to 12 Feet as a groundcover |
| Classification: | Perennial groundcover |
| Sunlight: | Full sun to full shade |
| Habit: | Spreading |
| Spacing: | Plant 12 Inches apart when planting as a ground-cover |
| Flower Color: | Inconspicuous |
| Foliage: | Variegated green and white |
| Soil Condition: | Average well-draining |
| Water Requirements: | Water well until established |
| Uses: | Extremely attractive when used as a ground cover, trellis plant, erosion control |
---
How to Care for Glacier Ivy Plants
Before you buy a Glacier English Ivy, make sure to read about the recommended care instructions to keep this plant healthy and flourishing.

How do I plant a Glacier Ivy Plant?
When planting Glacier ivy, we recommend you dig a hole twice as wide as the root system, but not deeper. The most common cause of plant death after transplanting is planting your new plant too deep. When Glacier ivy is shipped, it is sold in plugs which makes planting much easier. Simply remove the plant plugs from their containers, use a stick or something similar to push them upwards from the bottom. Next, break up the soil a little bit at the bottom and place it in the hole with its original soil. Make sure you give your new plant a good, through the water to allow their roots to settle.

How do I water Glacier English Ivy?
When your plant is new, you should be watering it daily for a few weeks. After that, your watering schedule can adjust to every 2 or 3 days, depending on your climate and soil type. For example, clay soils hold moisture much longer than sandy soils, so expect to water more in sandy soils. Apply water directly to the root zone to ensure your plant soaks up the majority of the water it is given. If you water their foliage too frequently it could promote disease and mold on your plant's leaves.

How do I fertilize Glacier English Ivy?
To ensure your ivy plant grows to full maturity, we recommend fertilizing every so often. To encourage strong growth, fertilize between March and September. Fertilizing outside of that timeframe could damage your plant while they are in their growing dormancy period. Feel free to use either a long-time fertilizer that is placed in the soil or liquid fertilizer.

How do I Prune Glacier Ivy?
Glacier ivy spread quickly, making it a plant very comfortable with pruning. This gives you full control of how long you want their vines or vegetation to grow. Especially if you use this plant as a houseplant, you can choose how big or small you want its presence to be. The best time to cut back your ivy plant is in the spring. Begin by thinning out any weak branches. Next, cut above the leaf nodes and always cut with sharp shears. If you want your plant to grow bushy begin cutting their shoot tips from time to time when they are young.
---
Frequently Asked questions
Should I Mist My Glacier English Ivy?
Is Glacier Ivy Toxic to Animals?
Can I Grow Glacier Ivy Inside?
---
Other Products you may be interested in
---
Customer Reviews