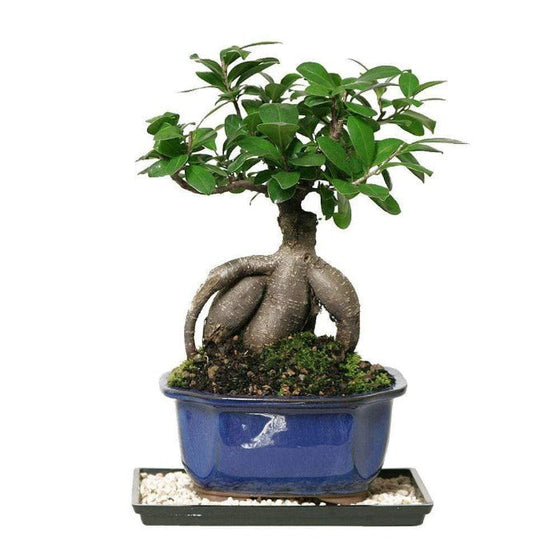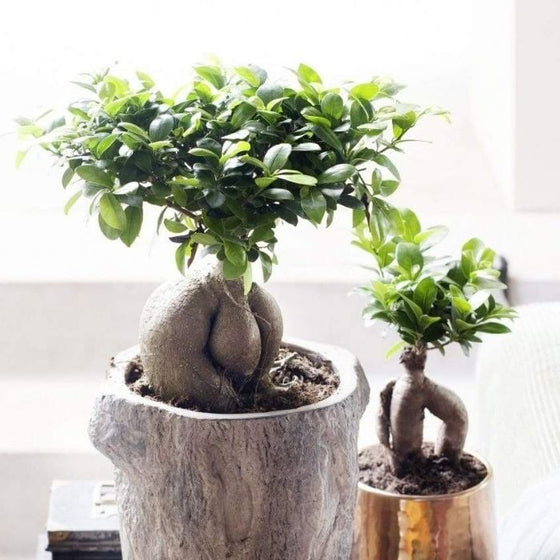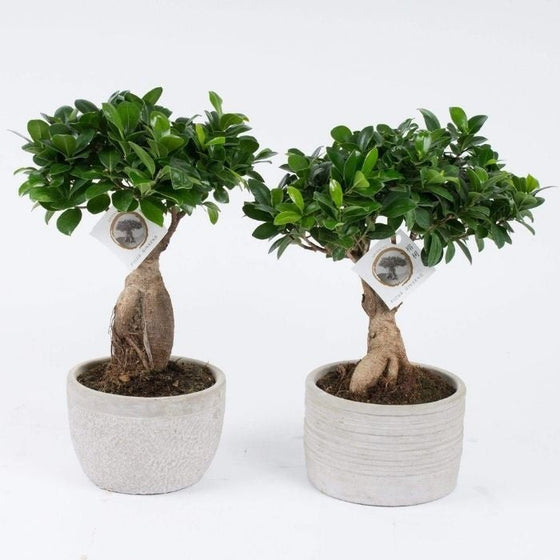 Images Depict Mature Plants
Ficus Ginseng Plants for Sale Online
Ficus Ginseng is an excellent choice for bonsai tree growers. Ficus Ginseng is well known for its strong roots, stems, and small oval dark green leaves that grow up the stem. In comparison to the Ficus Benjamina, this plant has much more oval leaves. The Ficus Ginseng will have two or more heavy, thick exposed aerial roots that appear to look more like tree trunks than a typical root.
The Ficus Ginseng is ideal for first-timers or newcomers to the world of bonsai growing. It is especially suited to anyone looking to grow a bonsai tree as a hobby since it is commonly regarded as the easiest bonsai tree to grow because it is very tolerant.
---
| | |
| --- | --- |
| Hardiness Zone: | 9-11 |
| Mature Height: | 16 to 40 inches |
| Mature Width: | Under 12 inches |
| Sunlight: | Abundant indirect light |
| Indoor Temperature: | 60 to 75 Degrees |
| Humidity Level: | Prefers a humid environment, Mist occasionally |
| Water Requirements: | Allow to dry out between watering. |
Growzone: 9-11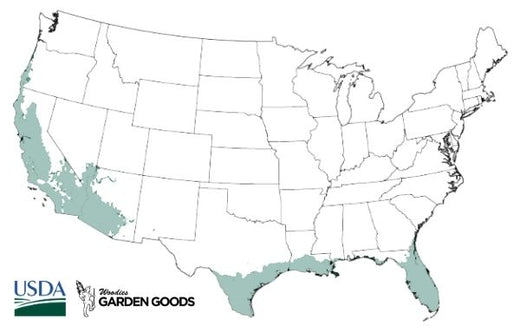 How to Care for Ficus Ginseng
Be sure to read our planting instructions to ensure a healthy and happy plant for years to come!

When Should I Fertilize My Ficus Ginseng Plant?
Bonsai plants grow in very little soil, so it is essential to replenish their nutrients occasionally. We recommend using any multi-purpose liquid fertilizer for your Ficus; they aren't too picky and work with very generic fertilizer options. Make sure to dilute the mixture by fifty percent with water before applying it to your plant's soil. You should only need to apply fertilizer to your plant once a month during its growing season. Be sure to cut way back on fertilizer during the winter. Doing so could disrupt their dormancy period.

How Often Should I Water My Ficus Ginseng?
Whenever you notice your plant's soil is slightly dry, it is time to water thoroughly. If your plant is in an especially warm environment, a more frequent watering schedule will be required. However, do not water to the point where your Bonsai is dripping. Too much water could cause fungal issues and root rot disease. You can also mist your Ficus daily, but make sure you do so in the morning. Misting in the morning will help prevent your plant's leaves from burning because water droplets attract sun rays, and too much mid-day sun could damage your plant.

How Much Light Does My Ficus Ginseng Bonsai Require?
Bonsai plants require a good amount of light, and Ficus Ginseng is no exception. As an indoor plant, place it on a windowsill to get the best lighting opportunities throughout the day. If you do not get sufficient natural light in your home, try using artificial plant lights. These will help your plant get the right amount of light each day. If you want to take your tree outdoors during the summer, be sure to place it where it will get plenty of sunshine. Bonsai plants do not tolerate shade at all.

What Kind of Soil Does My Ficus Ginseng Need?
Ginseng Ficus trees thrive best in soil mixed with 60 percent aggregate and 40 percent organic matter. There are plenty of premixed options, but you can also make this mixture on your own. Use pine bark, lava rock, and a product called akadama. Akadama holds water and slowly breaks down over time. Be careful not to overwater your bonsai; this could lead to root rot disease and seriously damage your plant.
---
Other Products you may be interested in
---
Customer Reviews