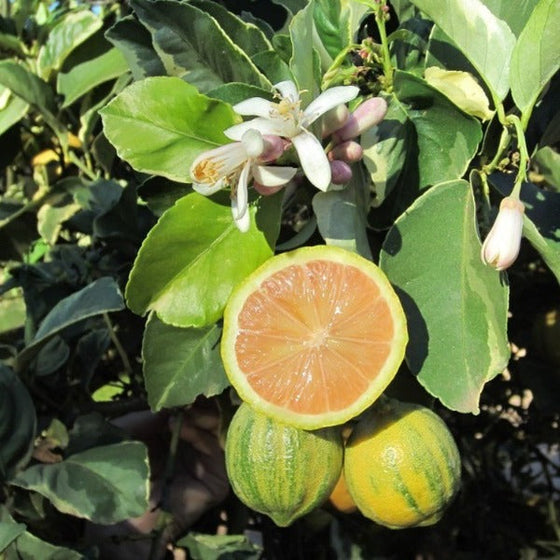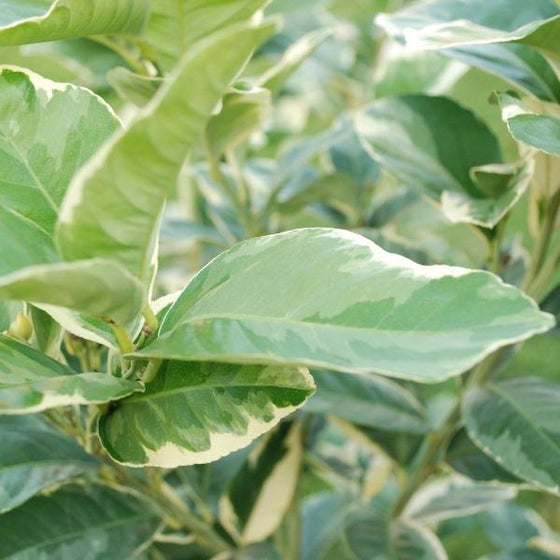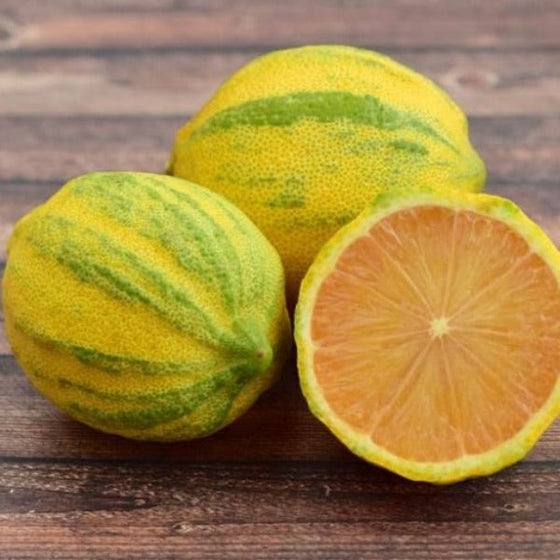 Images Depict Mature Plants
Pink Lemon Trees for Sale Online
Pink plants are trendy these days, and this includes pink fruit varieties. The Eureka lemon is your typical grocery store lemon, tried and true and delicious in cooking. But its variegated counterpart is anything but typical. This lemon features unique green stripes all around the yellow fruit, and inside is pink flesh. It is not as tart as a normal lemon, and if you leave your pink variegated lemon on the branch for a little longer to ripen, then the flavor will mellow out to a sweeter flavor, like a lemon-flavored hard candy that only makes you pucker a little bit.
The white flowers are intoxicatingly fragrant as well, and the variegated leaves make this the perfect ornamental tree, indoors or outdoors. If you live in zones 8 or colder, plant your tree in a container (at least 15 inches wide) so that you can bring it inside during the winter. Eureka Variegated Pink Lemon trees love full sun and need a good, steady watering schedule.
NOTE: Does not ship to Arizona (AZ), California (CA), or Texas (TX) due to Phytosanitary rules and regulations.
---
| | |
| --- | --- |
| Hardiness Zone: | 9-11 |
| Mature Height: | 10 to 15 Feet |
| Mature Width: | 10 to 15 Feet |
| Sunlight: | Full sun |
| Water Requirements: | Likes to stay evenly moist, especially in the first year |
| Foliage: | Green with white variegation |
| Flowers: | White, fragrant |
| Fruit: | Yellow rind with green stripes, more stripes on younger fruit; pink flesh |
| Habit: | Rounded |
| Uses: | Outdoor ornamental shade tree in hot zones, or container gardens up to zone 4 if brought inside in fall & winter; Indoor ornamental |
Growzone: 9-11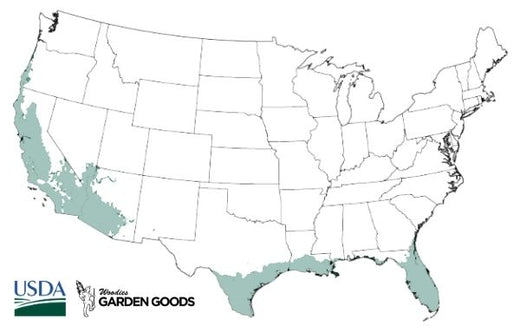 How to Care for Eureka Variegated Pink Lemon Tree
Be sure to read our planting instructions to ensure a healthy and happy plant for years to come!

How do I water my Eureka Variegated Pink Lemon Trees?
How much water your Pink Lemon Tree needs depends on how well established the roots are. When you first plant your tree, whether in a large container so it can come inside in the winter or in the ground if you live in warmer zones, make sure to keep the soil around your tree evenly moist. When the top 2 to 3 inches of soil has dried out, it is time to water again. In hot summer heat this might mean you will need to water daily. It is important to check the actual moisture in the soil, however, so that you do not run the risk of overwatering. After the first year your lemon tree will be more tolerant of some drought, but not completely drought tolerant. If planted in a container, check the moisture in a similar manner, and make sure there is lots of drainage for excess water to escape. Keep the soil moist but not soggy. If the air in your home is dry, it is a good idea to spritz a little water into the foliage every few days so that your tree gets the humidity it needs.

How do I fertilize my Pink Lemon Trees?
A fertilizer specifically formulated for fruit, nut and citrus trees such as Espoma Citrus-tone will help ensure bigger fruit and a bigger yield from your Pink Variegated Lemon Tree. When first planting your tree, mix your citrus fertilizer into the amended soil at the bottom of the hole, whether it is in a container or the ground. The amount you need will depend on the size of your tree. Then, wait until there has been 8 to 10 inches of new growth before fertilizing again. The best times to use a citrus fertilizer are before it buds with new flowers in the late winter to early spring, then again in late spring before the fruit start to grow, and then one last time after you harvest your lemons to encourage new growth in general. With this schedule in mind, you can use fertilizer ever two months or so, and then pause during the winter when your tree is not growing. To fertilize an established tree, mix the granules into the soil around the drip line of the tree, midway under the biggest branches. Stay at least 6 to 8 inches away from the trunk.

What type of soil is best for my Eureka Lemon Trees?
Lemon trees such as a Eureka Pink Variegated Lemon Tree do not have any strict soil requirements, but they will do best in soil that offers both good drainage and lots of organic matter. When first planting your tree, dig a hole that is twice as wide and the same depth as the root ball of your tree, and replace 1/3 to 1/2 of the native soil at the bottom of the hole with organic matter such as peat moss or humus. You can also add in perlite, cactus mix or orchid mix at this point to encourage more drainage. Then, position your tree and backfill the hole with the same mix of native soil, organic matter and your choice of soil amendment for drainage. Do not plant the tree too deep - once it is properly planted you should still see the top of the soil it arrived in.

How to prune a Lemon Tree?
Pruning annually or biannually will help encourage healthy growth and better fruit yields. Pruning both helps air circulate through the branches and stops the tree from expending energy into weak, dead or diseased branches. You can even pinch off a few early fruits so that more energy it focused towards growing bigger lemons. Disinfect your pruning shears, and prune either as soon as you see dead or diseased branches, or in late winter before new growth has begun. You can remove up to a quarter or a third of the branches, and it is best to focus on removing branches that cross over others and rub, and focus on branches that block airflow to the center of the canopy. Keep the cuts clean and at a 45 degree angle.
---
Other Products you may be interested in
---
Customer Reviews