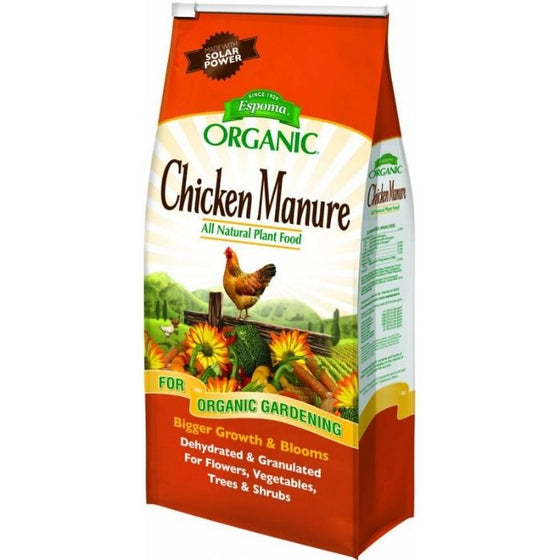 Espoma Chicken Manure for sale online
Espoma 3-2-3 Chicken Manure is specially formulated for long-lasting use and top performance results. Made with all-natural and organic ingredients, the pelletized manure provides hassle-free application and is ideal for organic gardening.
Chicken manure delivers quality nutrients such as calcium, magnesium, and sulfur. It doesn't stop there; it also provides micronutrients such as copper and zinc. Studies reveal these results, too. Increased levels of copper, manganese, and zinc appear in the soil after 4-5 years.
For use on:
Vegetable & flower garden beds; around trees & shrubs.
When to use:
Begin application in the spring. Feed trees & shrubs spring and fall. Feed flowers & vegetables monthly throughout the growing season.
For Flowers, Vegetable, Trees & Shrubs.
Garden Beds: Mix into the top 4 inches of soil at a rate of 5 lbs. per 100 sq. ft.
Flowers & Vegetables: Apply 2.5 TBSP. per plant.
Trees & Shrubs: Apply 1 cup per foot of branch diameter around the drip line – Double for plants larger than 3 feet in diameter.
---
Customer Reviews