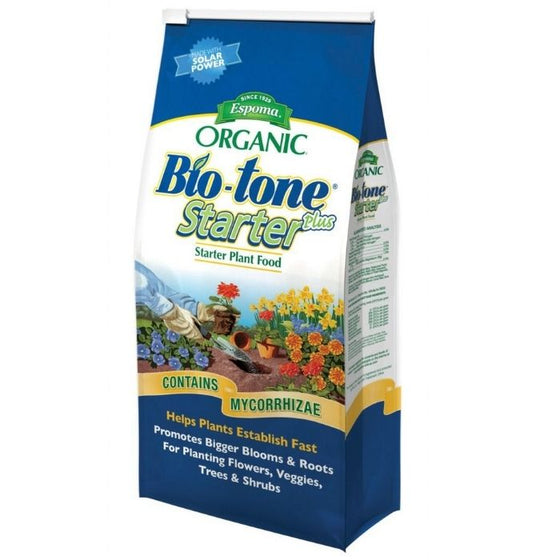 Espoma Bio-Tone Starter Plus for Sale Online
Ensure Success with this easy-to-use, organic fertilizer! Bio-tone Starter Plus is an all-natural fertilizer. Espoma Bio-tone Starter Plus will increase root mass and help avoid transplant loss in difficult planting conditions. The ideal starter plant food was initially designed for professionals.
Obtain a larger root mass for your plants.
All organic, natural fertilizer with no artificial filler.
Help keep plants alive during transplant.
Boosts flower production and size.
---
| | |
| --- | --- |
| Brand: | Espoma |
| Use: | Everything from Flowers to vegetables to trees and shrubs. |
| Application: | Use at time of planting to ensure the plant gets the maximum nutrients |
| Derived from: | Feather Meal, Poultry Manure, Bone Meal, Alfalfa Meal, Greensand, Sulfate of Potash, Sulfate of Potash Magnesia |
---
How to Use Espoma Bio-Tone Starter Plus
When purchasing fertilizer for your garden, make sure to read our recommended advice on how to properly feed your plants so that they live their best lives.

Which plants benefit from being fed Espoma Bio~tone Starter Plus?
The nutrients in Espoma Bio~tone Starter Plus will aid any plants that your plant in your garden beds and landscape.

How do you use Espoma Bio~tone Starter Plus?
Espoma Bio~tone Starter Plus should placed into the bottom of the hole that your new plant is going to be planted in.
---
Additional Information
Espoma Bio-tone is a gardener's best friend. Use it with everything you plant. Espoma Organic Bio-Tone Starter Plus Plant Food is an effective organic fertilizer that has high amounts of plant nutrients, good bacteria, and fungi to help the plants digest it. This properly and precisely formulated mix encourages large root masses while helping plants establish fast. It has a high amount of ectomycorrhizal and endomycorrhizal, a fungus that forms a symbiosis with the plant's roots and helping in retaining water and absorption of key minerals.
An all-natural supplement for plants, the bio-tone starter plus plant food gets all the good bacteria that they need to prevent transplant loss and help the plants establish bigger blooms and have deeper roots. It has a combination of the bacterias the plants need and the fungi that help the gardeners to work in poor soils, even in new construction.
---
Other Products you may be interested in
---
Customer Reviews