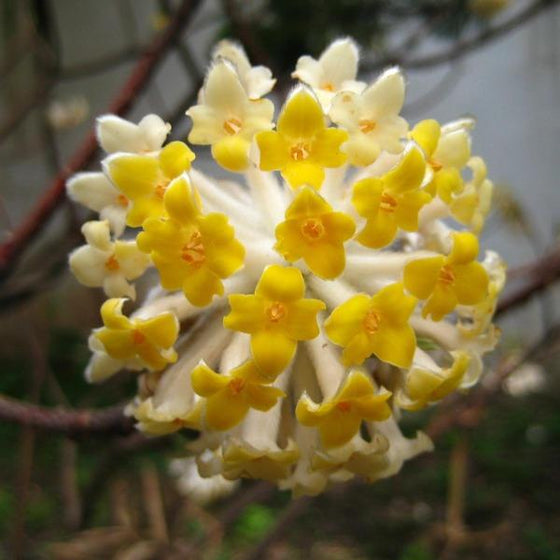 Images Depict Mature Plants
Edgeworthia chrysantha Paper Bush For Sale Online
Edgeworthia chrysantha, or paperbush, has been sought after by plant collectors for many years. The Paper bush produces exquisitely fragrant creamy-white to yellow flowers in the late winter. Paperbush brings architectural flair to the landscape with its multi-stemmed habit and cinnamon-colored stems. The rounded form creates an elegant silhouette, especially after the leaves drop in the fall.
Typically used in the back of the border, but it looks great when planted along pathways, where you can better experience the foliage during the growing season and then enjoy 6 to 8 weeks of sweet fragrance in late winter. Paperbush flowers while most of the garden is sleeping. Edgeworthia is a long-lived and very low-maintenance jewel of the winter landscape.
---
Growzone: 7-9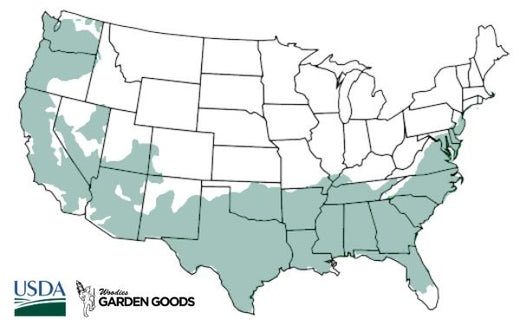 | | |
| --- | --- |
| Hardiness Zone: | 7-9 |
| Mature Height: | 6 to 10 Feet |
| Mature Width: | 6 to 10 Feet |
| Classification: | Deciduous shrub |
| Sunlight: | Full Shade to partial Sun |
| Habit: | Rounded |
| Foliage: | Green |
| Flower Color: | White and Yellow |
| Soil Condition: | Any well drained soil |
| Water Requirements: | Water well until established |
---
How to Care for Edgeworthia chrysantha
Before you buy your Edgeworthia chrysantha Paper Bush, make sure to read these recommended care instructions to keep this plant healthy and thriving.

How do I prune Edgeworthia?
Maintenance of Edgeworthia is minimal once established. Pruning is generally not needed, however you can prune the paperbush in the spring, after flowering to give it a more open habit.

How do I plant my Edgeworthia?
Edgeworthia will generally do well in a wide range of soils, as long as they are well-drained soils. The most common cause of plant death after transplanting is planting the new plant too deep. That is why we do not recommend planting in a hole any deeper than the soil line of the plant in the pot. Dig a hole twice as wide as the root system but not deeper. Depending on the quality of your existing soil, you may need to mix compost or topsoil into the backfill soil.

How much water does an Edgeworthia need?
When first planting your Edgeworthia, give the roots a good, deep watering. This is not to be rushed. Most of the water you put on the plant at first will run away from the plant until the soil is soaked. A general rule of thumb is to count to 5 for every one gallon of pot size. Check the plant daily for the first week or so and then every other day thereafter. Water using the counting method for the first few weeks.

How should I fertilize my Edgeworthia?
We suggest Bio-tone starter fertilizer. iIt is a great starter fertilizer that provides plants with mycorrhizae fungus. It is a naturally-occurring, beneficial fungus that colonizes on the new growing roots of plants. It creates a barrier between the roots of the plant and fungus and pathogens that can cause root rot. We love this product and use it on all plants we install in our own gardens. Bio-tone is a gardener's best friend and can help guarantee your success.
---
Additional Information
With the alluring scent of its winter flowers Edgeworthia, commonly called Paper Bush, is a fragrant winter flowering shrub. Loads of unique yellow and white flowers in winter make Edgeworthia chrysantha a "must-have" for woodland gardens. Interplant with Camellias and Witch hazels for a truly spectacular winter show.
---
Frequently Asked questions
How do I mulch Edgeworthia?
---
Other Products you may be interested in
---
Customer Reviews