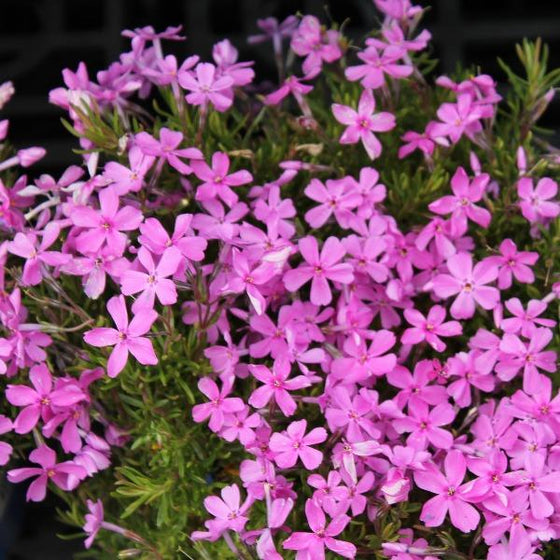 Images Depict Mature Plants
Emerald Pink Creeping Phlox Plants for Sale Online
Phlox subulata Emerald Pink creates an elegant carpet of soft hot-pink flowers every spring, creating a wash of bright spring color across your garden. This evergreen perennial will look beautiful all year long with its dark green needle-like winter foliage.
Plant Emerald Pink Creeping Phlox as a groundcover, along pathways or slopes, in rock gardens, and between specimen focal points. you can plant this hardy performer almost anywhere! This moss phlox is native to the east coast United States, all the way from Maine to Louisiana.
---
Growzone: 3-9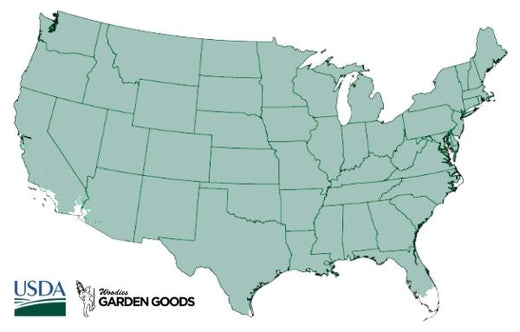 | | |
| --- | --- |
| Hardiness Zone: | 3-9 |
| Mature Height: | 4 to 6 inches |
| Mature Width: | 18 to 24 inches |
| Classification: | Evergreen perennial |
| Sunlight: | Full Sun, tolerates partial sun |
| Habit: | Creeping |
| Flower Color: | Pink |
| Flowering Season: | Early through Late Spring |
| Foliage: | Dark green, petite, slender |
| Soil Condition: | Prefers average to sandy soil, rock gardens |
| Water Requirements: | Water well until established |
| Uses: | Mass planting, ground cover, underplanting, rock gardens, cottage gardens, container gardens, slope support, edging, pollinator gardens |
---
How to Care for Phlox subulata Emerald Pink
When purchasing your Emerald Pink Creeping Phlox, be sure to read the recommended care instructions to ensure your perennial thrives in its new home year after year.

What are the watering requirements for Emerald Pink Creeping Phlox?
Phlox subulata are native to rocky and sandy environments, and they are drought tolerant once they are successfully established. When first planting Emerald Pink Creeping Phlox, give the plants a good deep watering. Check the plant daily for the first week or so, and then every other day there after for its first season. Water each plant approximately for a count of 5 for the first few weeks. Once established, make sure to simply keep an eye on the moisture level of your soil - if it is a hot climate or a dry season, you'll need more water than a cooler climate or wet season. If there is a lot of rain naturally, you may not need to water at all!

When should I trim my Creeping Phlox flowers?
Emerald Pink Creeping Phlox bloom with a beautiful ocean of pink flowers every spring, and they only grow to be about 4 to 6 inches tall. These flowers work exceptionally well as cut flowers, so feel free to trim a few blooms and place them in a small vase in your home to enjoy both indoors and outdoors. When the flowers begin to fade in late spring or early summer, go ahead and trim them all. Deadheading, or removing dying flowers, also prevents Creeping Phlox from spreading through your yard, as it can be an effective self-seeder when the dead flowers are allowed to dry completely and go to seed. A light shearing after the bloom cycle will encourage lush new foliage growth, which bring rich dark green interest to your garden for the rest of the year. As far as pruning, you'll only need to remove dead or old wood so that the plant will focus its resources on new growth. This is a spreading plant as well, so be prepared to remove anything that is threatening to take over spaces where you don't want it. Emerald Pink Creeping Phlox works best when allowed to spill over rock walls or spread as a groundcover along slopes and hillsides.

When should I fertilize my moss phlox?
Emerald Pink Creeping Phlox only needs fertilizer once a year so that it has nutrition before the blooming season. Use a balanced all-purpose fertilizer such as Espoma Flower-tone or Rose-tone in early spring.

How much sun does my Emerald Pink Creeping Phlox need?
Creeping phlox are happiest in full sun, front and center. South side gardens with lots of sun or open lawns are a phlox subulata's best friend. It will tolerate partial sun or dappled shade (especially in hotter climates), which means it can still work well as an underplanting groundcover below your taller perennials, shrubs or trees.
---
Additional Information
Emerald Green Creeping Phlox
Emerald Green Creeping Phlox is a dream for anyone needing a steadfast, drama-free groundcover for those difficult spots in your garden. The phlox flowers are a bright effervescent pink color, and they bloom from early spring all the way through late spring. You can plant a veritable ocean of bright spring pink. This works well as a compliment to taller perennials such as coneflowers or tulips to create many levels of color and interest in your garden. Emerald Pink Creeping Phlox also looks simply romantic when it drapes over rock walls or along rocky slopes in the bright sun.
This evergreen perennial will maintain interest all year long with dark green needle shaped foliage. The mat-forming growth habit creates a moss-like appearance, earning phlox subulata the nickname moss phlox. If you have any problematic spots that you would prefer to cover with a handsome green carpet, look no further than Emerald Pink Creeping Phlox.
Emerald Pink Phlox is a eastern native perennial, reaching from Minnesota to Georgia. The fragrant hot pink blooms attract pollinators, such as bees, hummingbirds and butterflies. They are deer resistant but you'll need to keep rabbits at bay. After the plants have a chance to become established, they are drought tolerant and salt tolerant. They thrive in sandy or rocky terrain just as well as in loamy or average soils, as long as they have plenty of drainage.
The best time to plant your Creeping Phlox is early to mid spring, since this is the season when this plant shines. It will look at home in both cottage gardens, wild naturalistic gardens, and in mass plantings in landscaping designs. While you will have a bright pink sea for 3 to 4 weeks out of the year, you will still have a handsome green layer for the rest of the year as well.
This versatile low-growing perennial is a must in any sunny garden where you are looking for layers of interest or to cover problematic spots, or when you want to soften the look of a rocky area. They also make perfect bank covers and slope support.
---
Frequently Asked questions
What is attracted to Emerald Pink Creeping Phlox?
---
Other Products you may be interested in
---
Customer Reviews