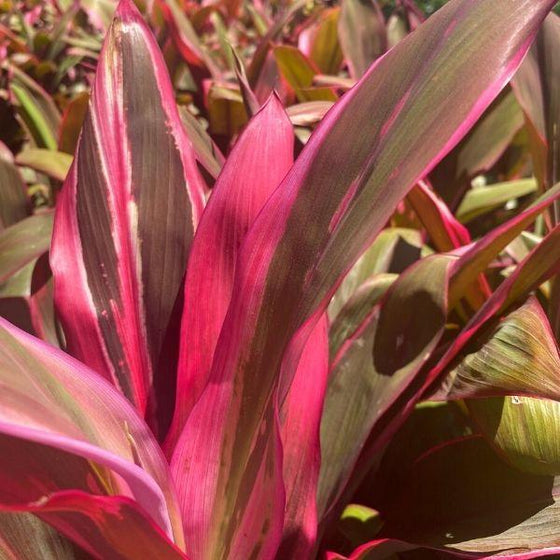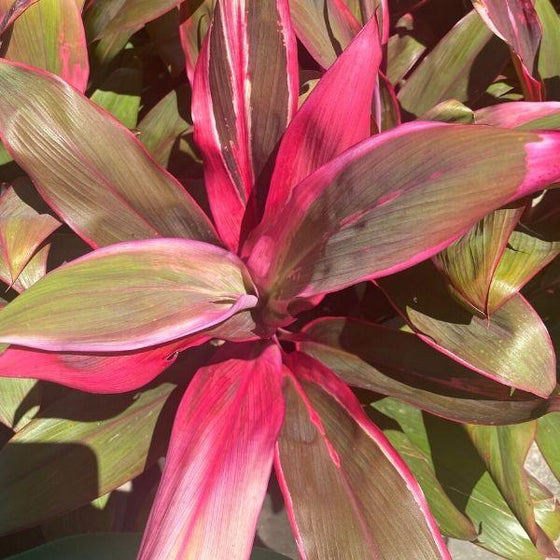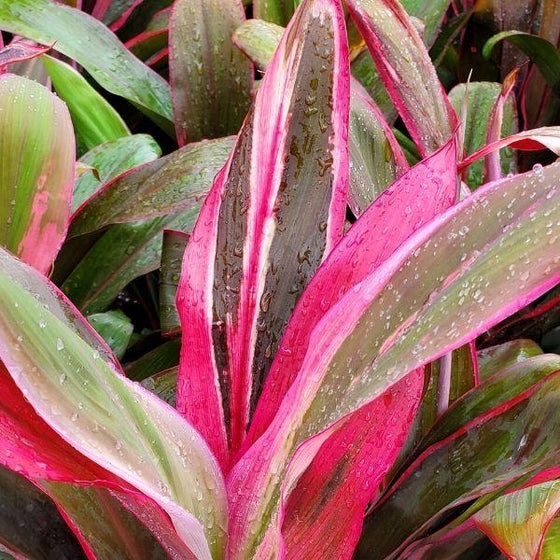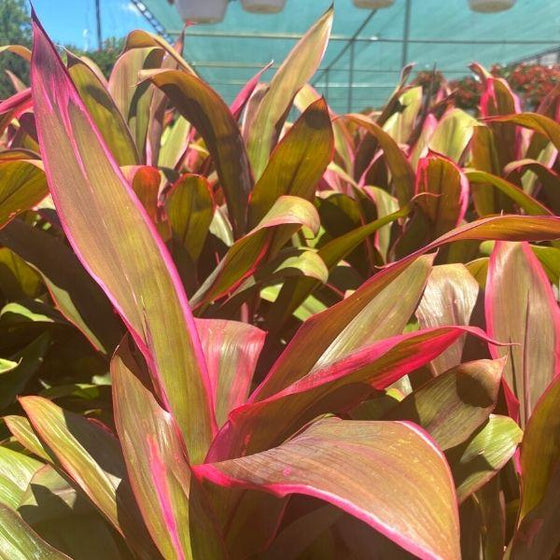 Images Depict Mature Plants
Cordyline Maria Plants for Sale Online
Cordyline Maria Plants (Cordyline fruticosa 'Maria') are tropical houseplants that thrive outdoors in hardiness zones 9 through 12. Maria plants have electric pink, leathery lance-shaped leaves. Their appearance adds a pop of colorful tropics to any indoor or outdoor space. Cordyline Maria houseplants are extremely easy to grow. These plants require bright, indirect sunlight and well-draining, moist soil conditions. They can also be outdoors in the warm summer months. Cordyline plants produce small flowers in the summertime, but when they are houseplants, this rarely occurs.
---
| | |
| --- | --- |
| Hardiness Zone: | 9-11 |
| Mature Height: | 3 to 5 Feet |
| Mature Width: | 2 to 3 Feet |
| Classification: | Colorful foliage |
| Sunlight: | Sun to part shade |
| Habit: | Upright |
| Foliage: | Variegated |
| Soil Condition: | Regular potting mix |
| Water Requirements: | Likes to dry out occasionally |
| Uses: | Best in vertical spaces, like corners or hallways |
Growzone: 9-11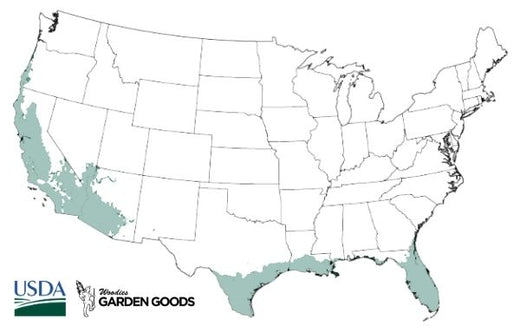 How to Care for Cordyline Maria
Before you buy a Cordyline Maria Plant, be sure to read or recommended care instructions to ensure your houseplant remains happy and healthy for years to come!

What is the best soil for Cordyline Maria Plants?
Cordyline Maria plants prefer to be in well-drained but moist soil conditions. It is best to find a rich and organic potting mix instead of dry or sandy soil mixes. If their soil remains too dry, it could be too compact, and once that happens, it can be challenging to rehydrate your plant's soil and roots. However, it is important not to overwater your plants. Overwatering your houseplant could cause root rot disease, a disease caused by too much standing water around your plant's roots. Planting your Ti Plant in well-draining soil and a container with drainage holes should help you avoid root rot disease.

What is the best light for Cordyline Maria Plants?
Cordyline Maria plants perform well in fluorescent light like office buildings, atriums, or anything away from direct sunlight. These houseplants can handle bright, indirect light found in a northern or partially shaded eastern windowsill. Southern or western exposure would work as long as your plant is away from the window or the window receives plenty of shade throughout the day. Too much bright, direct light could dull the vibrant pink color on your plant's foliage.

How do I water Cordyline Maria Plants?
Cordyline Red Star Plants like to stay slightly moist, not too wet or too dry. Too many yellow leaves mean the plant is wet too often, whereas brown tips to the leaves mean it has been kept too dry. They recover well from drying out occasionally. If the container is heavy and the foliage is upright, chances are good the plant doesn't need water, whereas a light pot and limp foliage mean the plant needs some water. It is crucial not to water the foliage of these plants because this could lead to leaf damage or diseases. It is also important not to over-water your plant because this could lead to root rot disease and ultimately death. If you're unsure, it is always better to let the plant go dry instead of drenching it with water.

How do I fertilize Cordyline Maria Plants?
Any all-purpose fertilizer will work for Cordyline Maria Plants. Indoor houseplant fertilizers fall into two groups: water-soluble, liquid quick release, and granular, slow-release fertilizers. Jack's Classic Indoor plant food works well as a powder, quick-release fertilizer mixed with water to quickly provide nutrients to a plant that has been in a container for an extended time. Osmocote Indoor/Outdoor is an option as a granular, slow-release fertilizer while potting and planting. Any fertilizer offers nutrients that help plants with the transition to a new environment.
---
Frequently Asked questions
Can I Make My Cordyline Maria Plant Bushy?
Why are my Cordyline Leaves Turning Brown?
Can I Plant My Cordyline Maria in my Garden?
---
Other Products you may be interested in
---
Customer Reviews