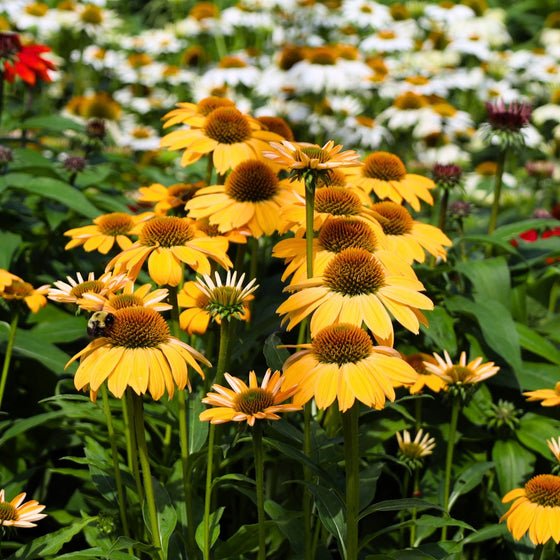 Images Depict Mature Plants
Echinacea Sombrero Granada Gold for Sale Online
Echinacea Sombrero Granada Gold has deep golden yellow petals surrounding a brown center. While they bloom throughout the summer season, these perennials attract a plethora of pollinators to their cone-shaped blooms.
For optimal blooms, your Echinacea prefers to be planted in full sun gardens with well-draining, fertile soil. We recommend removing spent blooms to give your plant more energy to put towards newer blooms! The Granada Echinacea typically blooms from mid-summer through to early fall!
The magnificent summer bloomers are easy to grow, drought tolerant, and work in a range of garden designs. The members of the Sombrero series of Echinacea were bread to be extra long blooming while maintaining a clean, compact shape. This growth habit makes them perfect for container gardens on patios, or plant them a foot and a half apart for a continuous look in a border garden.
Additionally, the hardy stems and bright yellow blooms make the Granada Coneflower perfect for cut flower arrangements.
---
Growzone: 4-9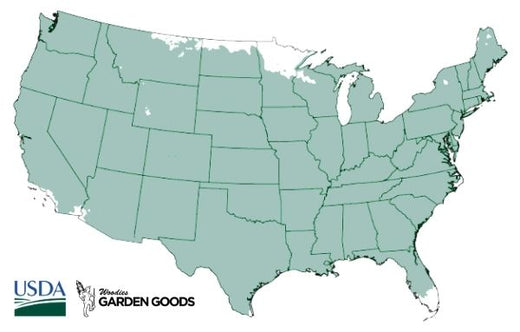 | | |
| --- | --- |
| Hardiness Zone: | 4-9 |
| Mature Height: | 2 to 3 Feet |
| Mature Width: | 20 to 26 Inches |
| Sunlight: | Full sun |
| Water Requirements: | Average |
| Bloom Time | Summer |
| Selling Points: | Long-blooming; fragrant; attracts butterflies and pollinators |
---
How to Care for Echinacea Sombrero Granada Gold
Be sure to read our planting instructions to ensure a healthy and happy plant for years to come!

What is the best light for Echinacea Sombrero Granada Gold?
This coneflower thrives in areas of your garden that receive full sun. While it can tolerate a number of light conditions, plant in full sun for optimal blooms.

What soil should I plant my Coneflower Sombrero Granada Gold?
One of the reasons this hybrid coneflower is so beloved is that it is tolerant of a very wide range of soils but ideally it should be planted in rich, well-draining soil. When planting, it is recommended to add some organic material such as compost or topsoil to the existing soil for added nutrients.

How often should I water my Echinacea Sombrero Granada Gold Plant?
Water weekly after planting but once the roots of your Sombrero Coneflower have established, the plant will be drought tolerant and can live off of low amounts of water. If you live in an especially sunny or warm area be sure to adjust accordingly.

Do I need to prune my Coneflower Plant?
As always, you can remove spent flowers (deadheading) or dead and dying stems, but coneflowers are able to thrive if left unpruned. However, if you would like, pruning in the early spring can improve the number and length of the yellow blooms.
---
General questions
What do the pot sizes mean?
---
---
Other Products you may be interested in
---
Customer Reviews