Best Plants for Gardening Beginners
Gardening is a wonderful way to get outside, take advantage of the beautiful summer weather and stay active. Seeing the fruits of your labor grow into colorful flowers and foods is enough to turn anyone into a gardener for life.
But starting a garden can be a daunting task. Not to fear, though! Garden Goods Direct can help.
We know (and carry!) plenty of plants suited for beginning gardeners. You don't have to be an expert to grow gorgeous flowers and delicious vegetables. In no time at all, you'll have a green thumb and a garden to be proud of.
What Are the Benefits of Gardening?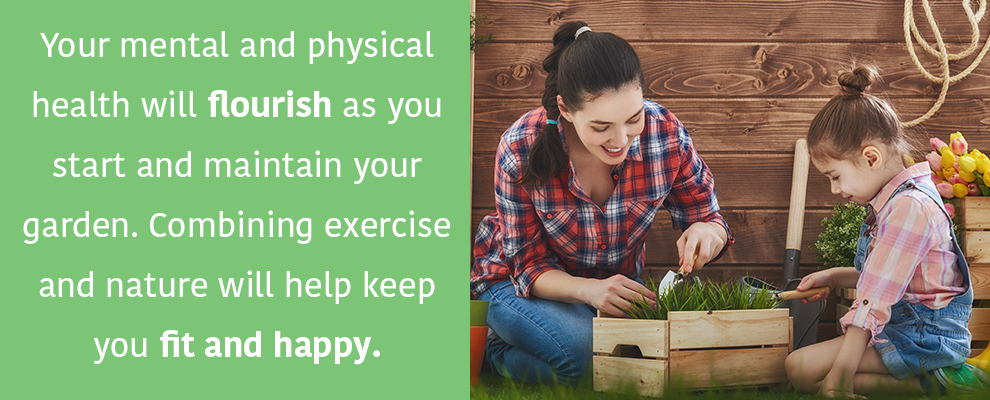 Your mental and physical health will flourish as you start and maintain your garden. Combining exercise and nature will help keep you fit and happy. This isn't a matter of expertise — it's a matter of getting outside and working with the earth.
While gardeners who have been doing this for a while also experience long-term positive effects, brand new gardeners will be able to appreciate some of the other wonderful benefits of gardening.
Mental Health Benefits
Stress Management: Being outside, working with plants and digging into the earth combines physical and mental exercise, which helps relieve stress.
Brain Activity: The planning, thinking and organizing helps keep your mind active. Interacting with nature has been proven to improve memory, concentration and mood.
Satisfaction: After some work with your garden, you'll soon see small plants bloom into dense, vibrant flowers and grow into full, healthy vegetables.
Physical Benefits
Heart: The physical activity helps reduce your risk for heart disease. You'll keep your heart healthy with exercise, and even more so if you eat the vegetables you plant!
Strength: Working with tools will promote hand-eye coordination and maintain strength in your hands.
Vitamin D: Sun exposure will help you get your daily dose of Vitamin D. It's good for the immune system and keeps your bones and teeth strong.
Sleep: Because of the reduced stress and exercise, you'll have an easier time falling and staying asleep.
Natural Surroundings and Food Production
As you continue to garden and watch as your plants grow into flowers and foods, you can enjoy the natural aesthetic you created. And you'll be growing your own food! Talk about farm-to-table — there's nothing better than going to your garden and gathering vegetables for a meal.
How to Set up a Basic Garden
Once you've decided to start gardening, you have to p out what kind of garden you want to grow. Do you want a flower bed full of golden marigolds, pink snapdragons and white impatiens? What about your very own vegetable garden where you grow tomatoes, squash and cucumbers? Or maybe both?
Flower and vegetable gardens should be kept separate, but they can be part of the same garden. Flowers draw in bees and other pollinators that promote vegetable growth and protect your veggies from being eaten. In turn, vegetables have beautiful flowers that will add some spark to your garden. Also, planting flowers and vegetables together takes away the amount of space between plants — which inhibits weed growth!
Flower Garden
Plan Your Plot: When you start your plot, take note of how much sun it gets during the day. It could be in direct sunlight, partial sunlight or even be a shadier area. Make sure the flowers you plant match the sunlight requirements, so your flowers will thrive in their new home. Also, take the watering requirements into account.
Get Proper Nutrition: The soil needs to be rich in nutrients, which can be added by you. Take note of your climate and the season when the flowers should be planted.
Organize Different Areas: There's a bit more to gardening than throwing some seeds into the ground and covering them with soil. Plan where you're planting the seeds. Rows or sections can help you with your garden maintenance, and the flowers won't be squished and competing for sunlight.
Vegetable Garden
Plan: It's better to have a smaller, manageable garden that you can maintain. While having a big garden might be tempting, the amount of work and surplus of vegetables could overwhelm you. Unless you're planning on feeding the rest of your neighborhood, it's best to start with a small garden.
Size: According to the Old Farmer's Almanac, a 16x10 feet garden is suitable for beginning gardeners and has plenty of space to plant enough food that would sustain a family of four.
Basics: Much like starting a flower garden, make sure your plot gets plenty of sunlight and has nutrient rich soil. Space out your vegetables, so they have equal access to resources.
Crop yield: Some vegetables could produce more than one crop in a season. Some examples are zucchini, lettuce, peppers and tomatoes.
Flower & Vegetable Garden:
When planting flowers and vegetables in your garden, there are a few tips and tricks to make your plants benefit each other and simplify your time spent managing the garden.
Similar Needs: Try to match your plants in terms of their sun, water and nutritional requirements. Taller vegetables can provide some cover for flowers that need partial sun and shade.
Marigolds: This beautiful, beginner-friendly flower helps keep away any unwanted pests in your garden. They will deter them from getting into your vegetables.
Mulch: Even though planting flowers and vegetables together helps prevent weed growth, mulching will add an extra layer of security.
Seeds or Plants? While beginners can start with seeds, you might want to consider starting with a small pot and waiting for a bit of growth before transporting it into a bigger garden. If you buy plants, make sure to handle them with care and dig bigger holes in the ground to make room for the roots.
How to Determine a Good Beginner Plant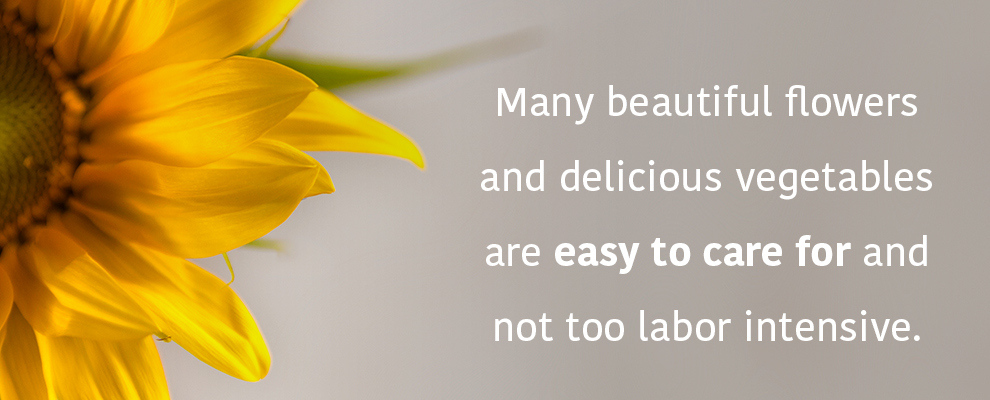 You've got your garden plot, the soil is set and you're ready to start planting. But what plants are good for beginners? What if you get a plant that's difficult, time-consuming and stressful? Once again, some preliminary research will help you in your goals of having a garden with beginner-friendly plants.
Luckily, many beautiful flowers and delicious vegetables are easy to care for and not too labor intensive. You don't need to be an expert to be able to grow and enjoy a zucchini in the middle of summer. There are plenty of beginner flowers and vegetables, so a new gardener can absolutely grow a successful and useful garden.
Sunlight requirements: Choose plants that aren't too specific about how much sunlight and shade they should get. Depending on where your garden is set, you'll have to determine if the plant will be able to survive there.
Water requirements: Look for plants that don't need constant attention. For most, regular rainfall paired with some occasional help from the watering can will be enough. Avoid plants that require a strict watering schedule and that won't wilt and die if you go on vacation for a few days.
Maintenance: While some flowers are happy in a range of climates and soils, some have particular instructions to keep them alive and blooming. Fill your garden with less demanding plants that won't take up all your time and effort.
Types of Flowers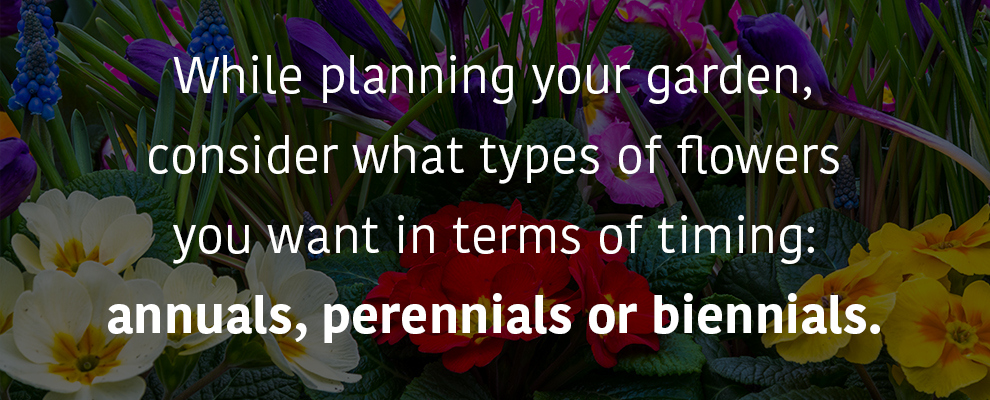 Flowers all have their own requirements for care and unique appearances, and they also have different ways they grow. Some appear for a few seasons, and others last a couple of weeks. There are some flowers that you need to plant each year and others that you plant once and they'll sprout up every spring. While planning your garden, consider what types of flowers you want in terms of timing.
Annuals: These flowers last one year, so every spring you'd have to replant them. This might seem a bit time consuming, but also consider that annuals tend to stay in bloom for a longer period. If you put the work in at the beginning of spring, you'll have a reward that lasts a few months. Popular annuals include flowers such as Petunias, Geraniums, Begonia, Marigold, Celosia.
Perennials: While these flowers usually only bloom for a few weeks, they do not need to be replanted each year. They can last for about three to five years before needing a replacement. Because they only need to be planted once, you save time on setting up your garden each year. You could use that time to focus on reducing weeds, keeping the soil healthy and maintaining other flowers. Excellent choices to start your perennial garden include Daylily, Bee balm, Catmint, Black-eyed Susan, Salvia, Sedum, Coneflower.
Biennials: These flowers have an unusual two-year life cycle and require time and patience. In their first year, biennials remain green plants and do not bloom. Then, they have to survive the winter and get to the next spring. At that point, they'll bloom and start seed production. Some popular biennials include Canterbury Bells, Forget-Me-Not, Sweet Williams, Foxglove.
Beginner Shrubs
Non-flowering shrubs are a great way to add seasonal color to your garden without having to wait for a plant's bloom cycle. Nandinas, Barberries, and Euonymus are staples for decorating commercial spaces, since you can essentially paint the area in low-maintenance color.
Bring this landscaping trick to your home by mixing and matching low-maintenance shrubs with colorful foliage. Admiration Barberry will being a vivid pop of red while Lemon Lime Nandinas will provide a brilliant chartreuse. Loropetalum is another easy shrub with a rosy purple color to the foliage. 
Beginner Flowers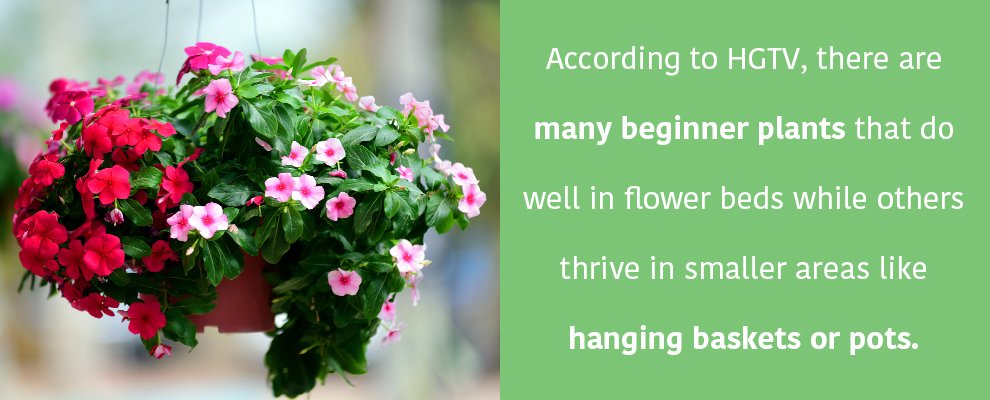 Flowers that are perfect for beginners are low maintenance and thrive in plenty of sunlight. In other words, flowers that are nearly impossible to kill. According to HGTV, there are many beginner plants that do well in flower beds while others thrive in smaller areas like hanging baskets or pots. Of course, any flower can be added to the garden, but flowers in hanging baskets and pots are beautiful decorations on decks or porches.
Garden Types
Sunflowers: Because of their large seed size and flourish with a lot of sun, sunflowers make the perfect flower for beginning gardeners. If you wanted to involve your children or grandchildren with gardening, they could handle these seeds without trouble.
Pansies: Able to grow in the cool beginning of spring and remain throughout the summer and into the chillier weather of the fall, all pansies need is the sun and nutritious soil. They add amazing pops of color to your garden and can add a lovely accent next to any larger flowers.
Marigolds: With bright yellow and orange flowers from May through October, Marigolds are a timeless classic for a reason. Besides being the toughest flower on the block and requiring little more than an occasional watering, they produce beautiful vibrant warm colors that at pop to your flower bed.
Snapdragons: These lush, colorful flowers are ready to stay beautiful from spring until fall. Like pansies, they can tolerate cooler weather and are a great garden staple.
Daffodils: Standing out with a bright yellow color, daffodils are a spring flower and smell delicious. They should be planted in the fall and while they only last a few weeks early in the season, they're a great flower to kick off the spring and summer seasons.
Basket/Pot Types
Begonias: Happy in sun or shade, begonias will fill any small space with thick foliage and intense color. These flowers will brighten up any porch!
Geraniums: Comfortable in the sun and some shade, geraniums are here to stay from spring until it gets too cold in late fall.
Beginner Vegetables
Growing your own vegetables is a fantastic way to stay healthy and take pride in your hard work. The satisfaction from going outside and choosing what to cook overtakes the stress of having to run to the grocery store to buy ingredients. Many vegetables are easy to grow and delicious to eat.
Tomatoes: Make sure you get a tomato cage so you can keep the plant sturdy and upright. If not, you'll still get tomatoes, but they'll sprawl out all over your garden! Harvesting is simple — pluck when deep red and enjoy!
Zucchini: While this plant needs space because they tend to get big, all the zucchini needs is a lot of sunlight and water! Make sure the seeds are spread out, so they have room to grow. And get them out of the garden before they're too big to cook!
Radishes: Able to grow in soil that's not rich and loamy, radishes don't need a lot of space to grow and can be harvested after about six weeks.
Squash: This vegetable takes some time to grow, but it's worth it. Be sure you give your squash room to grow, sunlight, water and patience. Like zucchini, harvest before they're too big to sauté.
Cucumbers: Nothing makes a garden salad fresher than a cucumber straight from the garden. Cucumbers need access to sunlight, so make sure to plant it away from larger, leafier plants. They will start showing up after about one month but will keep producing throughout the summer.
Herbs
Whether you want something to season your vegetables or add flavor to a drink, herbs are easy to grow and add some pizzazz to your garden!
Mint: This plant doesn't need a lot of sunlight and loves water. But watch out — it might try to take over your garden if you don't manage it! Some solutions are to plant it in a pot. If you want the mint in your garden, consider putting the mint in a pot and burying that to keep the border.
Basil: Fresh basil on ripe tomato slices is one of the summer's most scrumptious dishes. Give it a lot of sunlight and water, and you're well on your way for having basil all summer.
Parsley: Another staple kitchen spice, parsley is easy to grow and looks great in clumps mixed in with other herbs such as Sage and Rosemary.
What We Provide
We're here to help you and your garden! As a one-stop-shop for all your gardening needs, we're ready to help you get started on growing the garden you want. Whether it's flowers, vegetables or supplies, we've got it and will send it to you.
We also give you all the information you need on your plant(s). You can be sure to properly care for your plant because we give you information such as height and weight, growing zone, its nutritional requirements and more.
Still intimidated? That's okay! Know that we have your back and are ready to help you grow the garden of your dreams. One of our nursery experts is waiting to hear from you, so shop our wide range of shrubs, trees, perennials and more now!