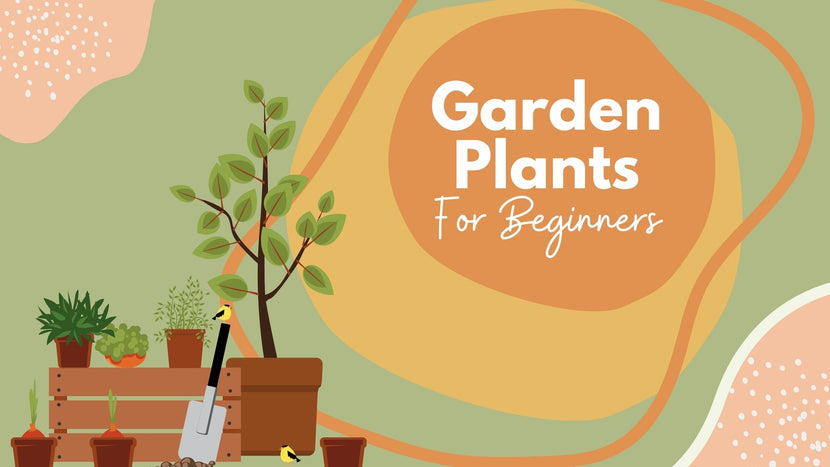 Best Plants for Gardening Beginners
Gardening is a wonderful way to get outside, take advantage of the beautiful weather and stay active. Seeing the fruits of your labor grow into colorful flowers and foods is enough to turn anyone into a gardener for life.
Gardening, though rewarding and fun, however, is in no way simple. Whether it's finding plants that thrive in your soil type, or determining the best placement and watering needs for each plant, there's always work to be done to plan out and care for your dream garden.
For you beginner gardeners, it can be difficult to even know where to begin! To help out, the Garden Goods Direct team has compiled a list of, in our opinion, the best garden plants for beginners.
You don't have to be an expert to grow gorgeous flowers and delicious produce. By following a few simple guidelines, and selecting hardy, low maintenance plants you'll have a green thumb and a garden to be proud of in no time.
What Are the Benefits of Gardening?
Before we dive into our favorite easy-care, beginner-friendly garden shrubs and perennials, we want to briefly discuss why you may even want to start a garden in the first place! There are so many benefits to growing and tending to a garden that you may have never realized!
From bettering your mental health, to improving your physical well being, all the way down to protecting and contributing to your local ecosystem, gardening is way more than just a hobby. It is a lifestyle.
Best of all, you don't have to be an expert to reap the benefits. Gardening isn't a matter of expertise— it's a matter of getting outside and working with the earth. While gardeners who have been doing this for a while also experience long-term positive effects, brand new gardeners will be able to appreciate the wonderful benefits of gardening just the same.
How to Determine a Good Beginner Plant
You've got your garden plot, the soil is set and you're ready to start planting. But what plants are good for beginners? What if you get a plant that's difficult, time-consuming and stressful?
Once again, some preliminary research will help you in your goals of having a garden with beginner-friendly plants. Luckily, many beautiful flowers and delicious vegetables are easy to care for and not too labor intensive.
You don't need to be an expert to be able to grow and enjoy a flourishing outdoor oasis of color, lush foliage and plentiful blooms. There are plenty of beginner perennials and yard shrubs available to new gardeners so they can grow a successful and rewarding garden with little prep or prior plant knowledge.
Sunlight requirements: Choose plants that aren't too specific about how much sunlight and shade they should get. Depending on where your garden is set, you'll have to determine a plant's lighting preferences and decide if the space is sufficient.
Luckily, many plants are readily adaptable to less-than-ideal circumstances, even if you don't have the perfect lighting, your landscape plants will likely be able to adapt and survive.
Water requirements: Look for plants that don't need constant attention and water regularly. For most, regular rainfall paired with some occasional help from the watering can will be enough once they are established.
Avoid growing plants that require a strict watering schedule so they won't wilt and die if you go on vacation for a few days. A plant with a strong drought tolerance will easily help you gain confidence as a beginner gardener.
Maintenance: While some garden plants are happy in a range of climates and soils, some have particular instructions to keep them alive and blooming. Fill your garden with less demanding plants that won't take up all your time and effort.
Shrubs For Beginners
Non-flowering shrubs are a great way to add seasonal color to your garden without having to wait for a plant's bloom cycle. Whether it's ideal conditions of moderate rain and warm temperatures in early spring, or it's frigid and harsh in the dreaded months of winter, these hardy evergreen shrubs can withstand the elements and keep your yard looking alive and beautiful year round.
Boxwood and Holly shrubs work great in commercial spaces and residential zones alike, since you can essentially paint the area in low-maintenance color. As evergreen shrubs, the easy garden plants will stay green and happy year-round with little to no maintenance whatsoever.
Additionally, some great low maintenance, evergreen shrubs that make for a great backdrop to your flowering garden include Skip Cherry Laurel bushes and Euonymus shrubs. The Silver King Euonymus shrub is a great option for those looking to add a little flare and stray from the use of plain green yard shrubs.
Spice up a boring landscape with the addition of these easy-care evergreen shrubs. The shrubs also look great in mixed borders and as backdrops to your colorful yard plants.
In addition to these hardy non-flowering shrub options for beginners, there are some magnificent and flourishing flowering shrubs to consider adding to your garden this spring!
If you want a little more flare without all the work, some great and easy-to-grow flowering shrubs include Winter Heather, Viburnum, Forsythia and Butterfly Bushes!
For a more bold statement, go with the bright Pink Winter Heather or the warm tones of the Lynwood Gold Forsythia. Whereas if you're looking for more subtle beauty, opt for the Viburnum and Itea.
These shrubs will all bring color and beauty to a landscape, but won't have you constantly stressing over their care needs, watering schedules and light requirements. These shrubs are easily adaptable, fairly drought tolerant and hardy to the elements.
Perennials For Beginners
Flowers that are perfect for beginners are low maintenance, and can thrive in either sunny spots, or partially shaded shaded spots that many cannot. Additionally, hardy perennials can handle a wide range of soil types and are usually drought tolerant.
In other words, flowers that are nearly impossible to kill are our favorite choices for those just entering the garden world. There are a wide variety of low maintenance, high reward perennials that will easily bring beauty, fragrance and life to your yard.
Some of our favorite easy-care, sun-loving perennials for beginners include Lirope, Daylilies, Coneflowers (Echinacea), and Coreopsis. These stunning perennials bring bold color, fragrance and beauty to a garden and can tolerate conditions of full sun. They work in a wide variety of sunny garden projects ranging from container gardens, mixed perennial plantings, and flowerbeds.
In choosing an easy-care perennial for your yard, our number one tip is to choose plants that are native to your area! Ultimately, native plants are going to be the easiest to care for and are best equipped to survive in your specific climate.
Many times, those with shaded yards may feel like their opportunities for gardening are minimal, because sun often seems like a garden necessity. However, when it comes to easy shade-loving perennial plants that we would recommend for beginners, there are still so many beautiful blooming plants to choose from!
Our favorite low-maintenance, shade-loving perennials include Hosta, Lobelia, Hellebores and Dicentra. Each one of these shade perennial plants brings a unique and beautiful element to a garden while also boasting extremely easy care regimens!
A fan favorite, and a perfect choice for beginners in the garden. is the exotic and mystical Bleeding Heart Dicentra! Boasting the most unique heart-shaped blooms and a laidback care regimen, your garden will surely be the talk of the town.
Plant some of these shade-tolerant plants in your yard this season and watch as your landscape transforms into a flowering oasis of life and color!
Shop Garden Goods Direct
Whether you are just looking for a few yard staples to incorporate into your yard this year, or you're looking to become a full-fledged garden design professional, the GGD team is here to help! Gardening planning just got that much easier.
As a one-stop-shop for all your gardening needs, we're ready to help you get started on growing the garden you want. Whether it's shrubs, perennials, trees or garden supplies, we've got it and can have it conveniently delivered to your door!
Still intimidated? That's okay! Know that we have your back and are ready to help you grow the garden of your dreams. Feel free to contact us regarding any questions or concerns regarding your garden needs!