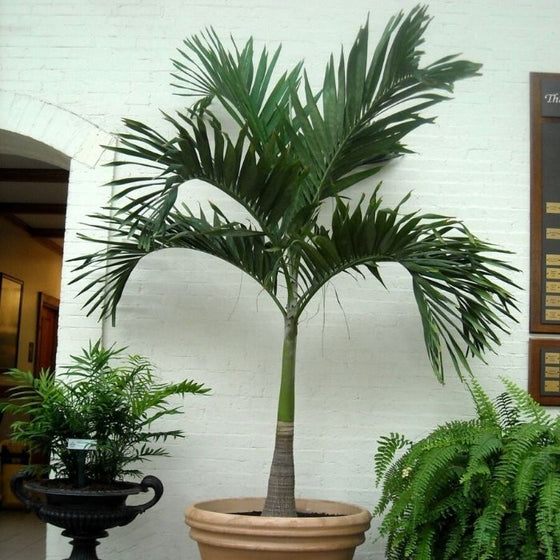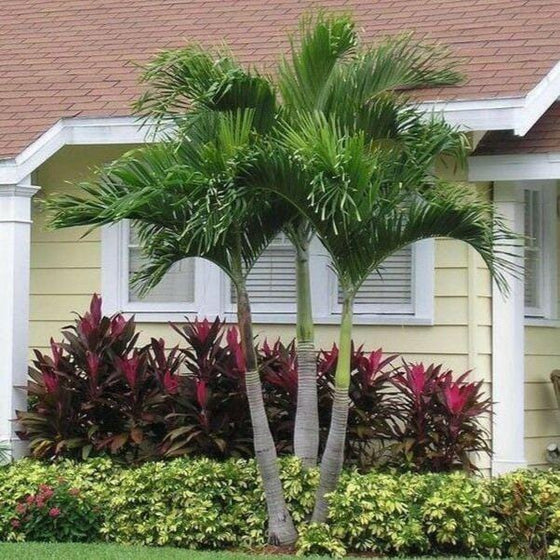 Images Depict Mature Plants
Christmas Palm Trees for Sale Online
Christmas Palm Trees (Adonidia merrillii) are popular tropical palm trees prized for their beautiful fronds and ease of care. The Christmas Palm is named for the red seeds it produces when conditions are ideal. Adonidia merrillii loves full sun so place it by a pool, in a sunroom, or on your outdoor patio in the summertime heat and it will thrive! Native to the Philippines, Christmas Palm is sometimes referred to as Manila Palm. They are low maintenance and self cleaning so when a leaf dies, it drops on its own. Many people prefer Christmas Palm Trees for their pool deck because they don't leave a mess of leaves in the water. They are relatively compact palms that are often used for tight spaces. Additionally, they are often found clumped together with two or three palms planted closely so that they grow in a more outward habit. When you buy your Adonidia Christmas Palm online, place it in a container outside for the summer and bring it indoors before first frost.
---
| | |
| --- | --- |
| Hardiness Zone: | 9-11 Outdoors 4-11 Indoors |
| Mature Height: | 15 to 20 Feet |
| Mature Width: | 15 to 20 Feet |
| Classification: | Evergreen Palm Tree |
| Sunlight: | Full sun |
| Habit: | Upright palm |
| Flower Color: | Green, blooms outdoors |
| Soil Condition: | Well draining, cactus or succulent mix (part sand) |
| Water Require: | Average, water regularly |
| Uses: | Excellent indoors, outdoor patio, sunroom, or pool deck |
Growzone: 9-11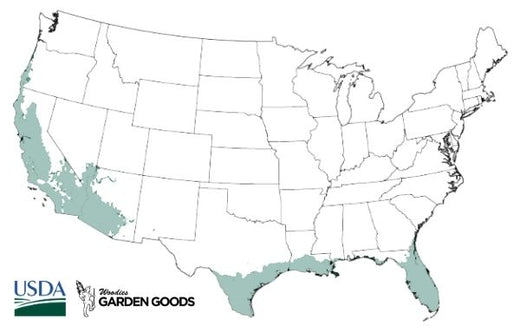 How to Care for Christmas Palm Tree
Be sure to read our planting instructions to ensure a healthy and happy plant for years to come!

How much does light does a Christmas Palm Tree need?
Christmas Palm tree does well with lower indirect light. An eastern or northern facing window would be ideal. Southern exposure would work, as long as some shade is provided (otherwise leaves will burn or turn brown from too much light).

What type of soil would I need for the best growth on my Christmas Palm Tree?
Use a rich soil that drains well for a Christmas Palm. If using a basic houseplant mix for a Adonidia, try adding some sand. Using cactus/ succulent soil mix will already have sand mixed in.

How much water does a Christmas Palm need?
Christmas Palm Trees like to stay wet or moist, however it's roots do not like to stay constantly submerged. Additionally, Adonidia do best in high humidity, but can grow well in basic household humidity. Several ways to increase humidity for Christmas Palms are placing the plant near a humidifier or setting the palm on a tray with pebbles that's filled with water. Just be sure that the plant is sitting above the water

What type of fertilizer should I use for Christmas Palm Trees?
Any all purpose, foliage fertilizer will work for Christmas Palm Trees. Indoor houseplant fertilizers fall into two groups: water soluble, liquid quick release, and granular, slow release fertilizers. Jack's Classic Indoor plant food works well as a powder, quick release fertilizer that is mixed with water to quickly provide nutrients to a plant that has been in a container for an extended time. Osmocote Indoor/Outdoor is an option as a granular, slow release fertilizer that can be applied while potting and planting. Any type of fertilizer offers nutrients that help plants with the transition to a new environment. All of these fertilizers may be used when planting Christmas Palm.
---
Other Products you may be interested in
---
Customer Reviews